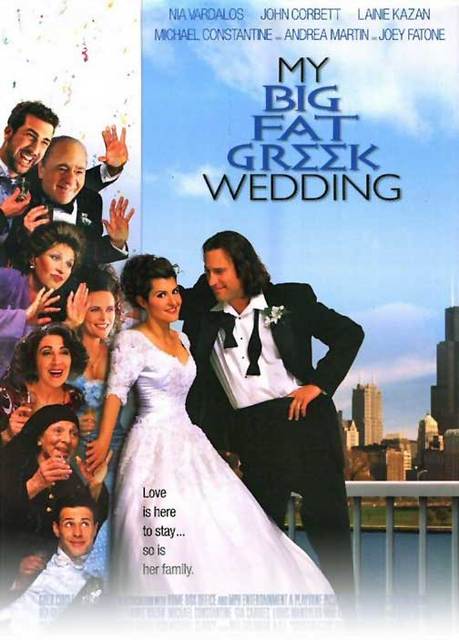 Year Produced: 2002
Director: Joel Zwick
Producers: Gary Goetzman, Tom Hanks, Rita Wilson
Writer: Nia Vardalos
Studio: Playtone, Gold Circle Films, MPH Entertainment, HBO Pictures
Distributors: IFC Films, Hollywood Pictures
Language: English
Country of Origin: Canada, United States
Cast:
Nia Vardalos as Fotoula Portokalos/Toula
John Corbett as Ian Miller
Lainie Kazan as Maria Portokalos
Michael Constantine as Kostas Portokalos/Gus
Ian Gomez as Mike
Andrea Martin as Aunt Voula
Stavroula Logothettis as Athena Portokalos
Louis Mandylor as Nick Portokalos
Gia Carides as Cousin Nikki
Joey Fatone as Cousin Angelo
Bruce Gray as Rodney Miller
Fiona Reid as Harriet Miller
Arielle Sugarman as Paris Miller
Jayne Eastwood as Mrs. White
Supporting:
Christina Eleusiniotis as Toula Portokalos at Age 6
Marita Zouravlioff as Toula Portokalos at Age 12
Kaylee Vieira as Schoolgirl
John Kalangis as Greek Teacher
Synopsis/Plot/Storyline:
Fotoula/Toula Portokalos (Nia Vardalos) is a Greek; and she knows the fact very well, being reminded by her big and loud family's existence in her life since young. In school, she was constantly ridiculed for her weird lunch boxes and all she wished for was to be accepted by the normal kids in her school. In her teen years, she grudgingly drags her feet to Greek classes while her peers enjoy other activities and her house stood out like a sore thumb in a typical American neighborhood.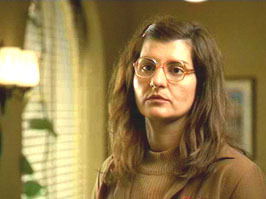 Toula remains unmarried at the age of 30 and works in her family's restaurant, Dancing Zorba; while her sisters were married earlier, as practised by the typical Greeks. She stood out from the other Greeks despite her father's constant nagging about her unmarried status; which was abnormal for her age in the Greek culture. However, Toula wanted more things in her life besides being married for the sake of fulfilling the demands of her culture and more than that, she wanted to find true love that swept her off her feet when it happens. Besides romance, Toula also wanted to achieve more things in her life and to establish her own career.
Her age and physical appearance made Toula developed a rather low self esteem when dealing with others; especially with men and when she laid her eyes on a handsome man who dined in her restaurant (John Corbett), she ended up making a fool of herself and hiding from him due to her previous experiences with social awkwardness although the man found her antics enchanting.
Bored with her typical daily work at the restaurant, Toula sought the help of her mother to persuade her father to allow her to enrol for computer classes; and her supportive mother manipulated her father into believing that he was the one who came up with the idea.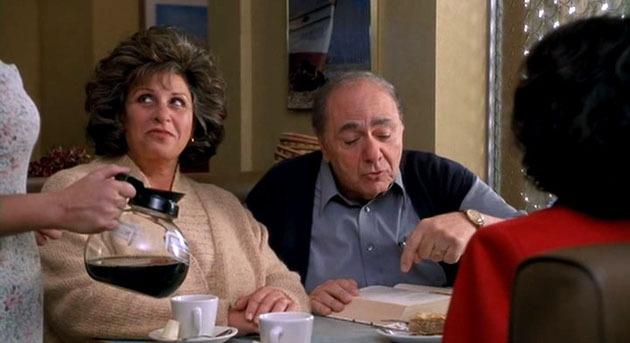 When Toula expressed her interest in working in a travel agency run by her aunt, her mother again wrestled her father's mind into believing that he suggested the idea and Toula was delighted to have finally found a new place in her life as she fitted comfortably into her job.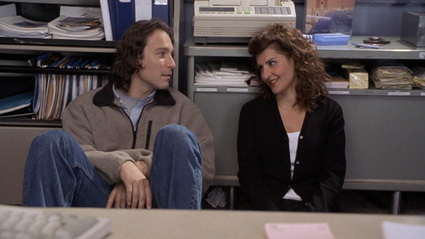 At the same time, Toula decided a change was inevitable and started to spruce up her own appearance to give herself a fresh outlook. Dropping her old-fashioned spectacles for contact lenses and dressing up in a more modern style, Toula soon became a more confident person.
When the handsome man walked past her travel agency and tried to get to know her, Toula was pleased with him being interested in her. They soon started dating; and Toula found out that the handsome man was Ian Miller, a school teacher and their little romance soon blossomed into something more serious than just a fling.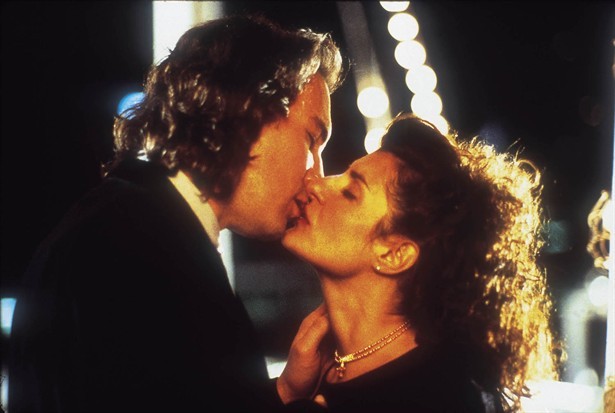 Toula was apprehensive in telling her family about Ian; especially her father as Ian is not Greek and tried to hide their relationship from them.
However, her father, Gus, soon found out and he was clearly displeased with the fact that Ian was not Greek and tried to stop Toula from seeing Ian; which failed. Ian then proposed to Toula who delightfully accepted, and as they embark on their journey to plan the wedding, that was when the series of unfortunate events follows.
When Toula and Ian arranged for their parents to meet at Toula's place in what was said to be a private event, Toula, along with Ian's parents were horrified by the large gathering with what seemed to be the entire of the Portokalos family! Ian's parents; Rodney (Bruce Gray) and Harriet (Fiona Reid) was overwhelmed by the culture shock unfolding in front of them but they tried to adapt to the large amounts of food and drinks and also the rowdy environment and even ended up getting drunk after accepting drink after drink. Toula's father, Gus, on the other hand, also was shocked to discover the fact that Ian was vegetarian!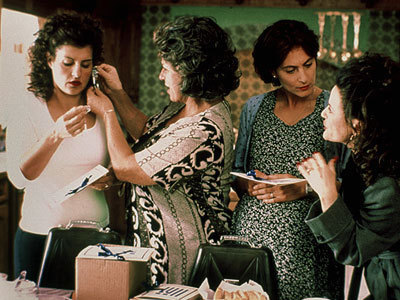 As the wedding planning continued, Toula was surprised by the antics pulled by her big and interfering family in her plans, which included her mother deciding and ordering the invitations with Ian's parents name misspelled. Then the second shock comes when Toula's cousin Nikki (Gia Carides) orders all tacky blue bridesmaid dresses on her own, intending to surprise Toula with what they believed to be beautiful.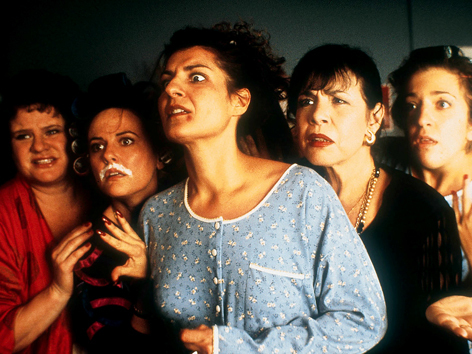 Her wedding day soon arrived, and Toula was still not spared from the drama as she wakes up to find a big zit on her face and the whole family tries to help her hide it.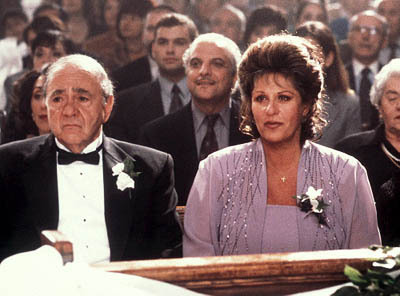 The wedding ceremony took place in the Greek Orthodox Church; which Gus wanted and Ian agreed to (he was also baptized to please Gus), followed by the noisy and happening reception.
When Gus gave his speech and announced that he had bought Toula and Ian a new house; handing them the keys during the reception, Toula was touched and hugged her father.
It was shown several years later that Toula and Ian have a daughter, Paris, whom they raise in Greek style and as they left the house with their daughter, Toula's old house and her parents were just next doors; indicating that Gus had bought them the house beside them.
Toula was happy with the fact, and had learnt to accept her own birth rights and family; that though they were rowdy and tend to be humiliating, they will always be a part of her and that they are a family.
Christy's Review:
A movie entailing all the juicy details of wedding planning; including that of families' intervention and the overall ups and downs of a journey towards the wedding day. Any bride who had planned their own wedding would definitely be able to share in the sentiments of the frustrations and dilemma of being torn between her own family and also fulfilling her own dreams of being a bride. The movie, besides showing that part about the bride's struggles, was also about accepting one's identity and family.
I find this a heart-warming drama, and focuses on all the right aspects of the general perception of a wedding; besides the romance and comedy on two different people waiting to behin their lives together. It is a story of acceptance, of understanding and bridging the differences.
My Big Fat Greek Wedding is not just a romantic comedy alone; but it is a compelling story about how a bride-to-be struggles to deal with her own family and discovering her identity before joining two families together. Marriage here, is depicted in a realistic light that it is not about two people alone but it is a union of the families attached to the two individuals; and like it or not, they come in a package.
True, there are times when we are frustrated by people who love us the most, but they are still those who are dearest to us and that is a fact that can never be changed at all in our lifetime.
This is not a story about wedding nor romance, nor the hilarious antics; it is about love, and acceptance, and for that, this movie in my opinion, is highly entertaining and successful.
Likes about the movie:
The antics of the Portokalos family; which comes across as a highly eccentric family but one filled with love and warmth.
Dislikes about the movie:
Nothing much, as the movie is just entertaining for the two hours! Okay, maybe the Portokalos was a little too noisy for my liking sometimes too :p
Verdict:
Highly recommended for brides-to-be, and especially if you are one facing the crisis of your family driving you crazy. Of course, this is a movie for families and all ages too, as it teaches much apart from romance and laughs.
Rating: 4/5