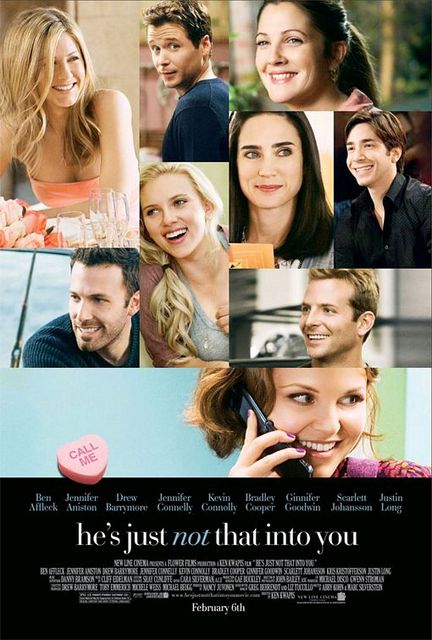 I absolutely LOVE this movie!
I've read the book before this and was looking forward to the movie when I heard that it's about to be out.
It took me a while before I finally settled down to watch this movie, and boy, do I love this whole movie.
I think I've said enough to show you how much I am really into this movie!
The story is based on the book with the same title written by Greg Behrendt and Liz Tuccillo; sharing the opinions and tips/pointers on knowing the level of interest a guy is in a girl or vice versa.
Made into a Hollywood film with a whole load of huge names, BAM, you have this movie which explores into man/woman relationships.
There are several plots but they are all intertwined together; with the respective characters connected to another character and the list goes on.
The movie starts with a narration by Gigi (Ginnifer Goodwin) who shared the distorted views girls used to have about boys from all the feedbacks obtained by our elders.
Girls are taught a lot of stuff growing up. If a guy punches you he likes you. Never try to trim your own bangs and someday you will meet a wonderful guy and get your very own happy ending. Every movie we see, Every story we're told implores us to wait for it, the third act twist, the unexpected declaration of love, the exception to the rule. But sometimes we're so focused on finding our happy ending we don't learn how to read the signs. How to tell from the ones who want us and the ones who don't, the ones who will stay and the ones who will leave. And maybe a happy ending doesn't include a guy, maybe... it's you, on your own, picking up the pieces and starting over, freeing yourself up for something better in the future. Maybe the happy ending is... just... moving on. Or maybe the happy ending is this, knowing after all the unreturned phone calls, broken-hearts, through the blunders and misread signals, through all the pain and embarrassment you never gave up hope.
(Quoted from imdb.com)
We see Plot 1;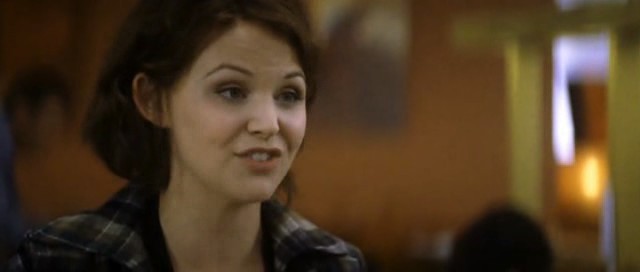 Gigi who was this girl who was eager to have a steady relationship with a man that she starts going out on dates and trying to hook up with every single guy she went out with. Yeah, it sounds desperate and she IS desperate. She started out as this annoying girl who's always waiting for guys to call or just throwing herself at every single guy that comes her way or she brushes against at the pub. She was struck with Conor (Kevin Connolly) but he never called her even though he said he would.
She started checking out his information and went to the bar where she knew he hung out and that was where she met Alex (Justin Long) who runs the bar. She waited for him; trying to chance upon him and Alex told her that Conor just isn't interested in her and that she should not be wasting her time around him.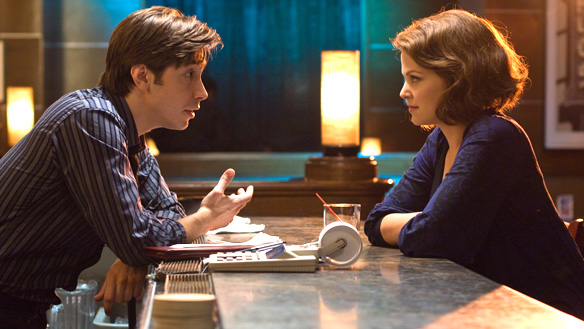 Gigi came up with excuses on why she thinks Conor does not call and Alex shared with her his views on how a guy would show that he cares if he really cared at all. Gigi was heartbroken but she moved on. At the same time, she started consulting Alex over every date she went and received all the wise pointers which left her with practically nobody.
When Alex asked her out; telling her that he would like to introduce his cousin Bill to her, Gigi jumped to the conclusion that Alex had been giving her signs that he is interested in her.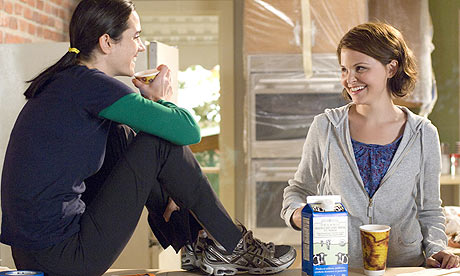 She played along and even enjoyed being the hostess at Alex's party. After all the guests left, she stayed back to clean up and then hurled herself at the surprised Alex who pushed her away and told her that he never had anything for her and the two had a row. Gigi was hurt and ran off, telling Alex that she'd rather be like herself than be like him; desperate and silly but yet a lot closer to love than he is.
The two broke off all their previous communication they shared and Alex found himself thinking of Gigi, a lot. He missed her and was checking his phone more than a hundred times a day; and even his emails. His colleagues/staff warned him and he knew, that deep down inside, he had fallen for Gigi, hard. Gigi, on the other hand, went out on that date with Bill and was glad that this could finally be a normal and stable relationship she wanted until Alex turned up at her door that night after her date with Bill.
Alex confessed to her and the two kissed, becoming the sweetest couple in the entire movie thereafter! =)
They're definitely my favorite couple...I loved them! =D
Plot 2: Janine (Jennifer Connelly) - Gigi's best friend cum colleague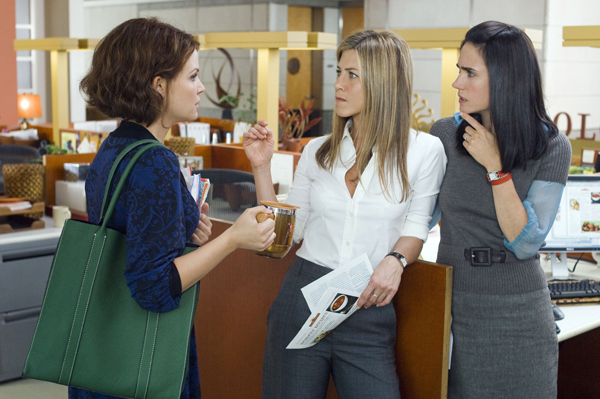 Janine married early; to her high-school sweetheart who was her hunk of a husband now, Ben (Bradley Cooper). Ben, on the other hand, thought his marriage was all, until he bumped into hot yoga instructor, Anna (Scarlett Johansson) at the local grocery store.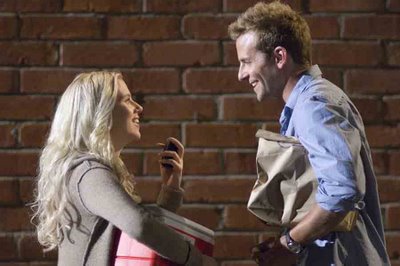 Anna, on the other hand, was pursued relentlessly by Conor, a guy whom she had an on-off relationship with.Ben realized that he was attracted to Anna; and despite reminding himself that he was married, he found himself wanting to see her and created opportunities to be with her. They soon found themselves involved in an affair; behind Janine's back. Janine had an OCD behavior; where she freaks out when she sees cigarettes as her own father had died of lung cancer. She was suspicious of Ben's behavior and believed that he was smoking behind her back. Ben then suddenly confessed that he slept with Anna, and Janine was furious. However, she tried to save her marriage and tried to spice things up with him by surprising him at the office with a sexual invitation. Unknown to her, before her arrival, Ben was about to be engaged in the same sexual act with Anna who was thrown into the closet while hearing Ben and his wife in the office. Anna was disgusted and swore Ben off forever. She then turned back to Conor, but the relationship didn't happen and she became a PRO in a pub in the end; while Ben was also divorced from Janine who got herself an own apartment and was content with her own new life.
Plot 3: Beth (Jennifer Aniston) - Gigi and Janine's friend/colleague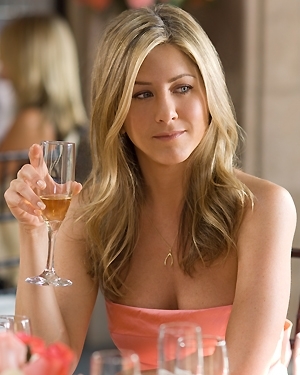 Beth had been co-habitating with her boyfriend, Neil (Ben Affleck) and had been secretly wishing to get married just like all her other girlfriends. However, Neil thinks that things were perfect just the way they were and had no intention/plan to get hitched.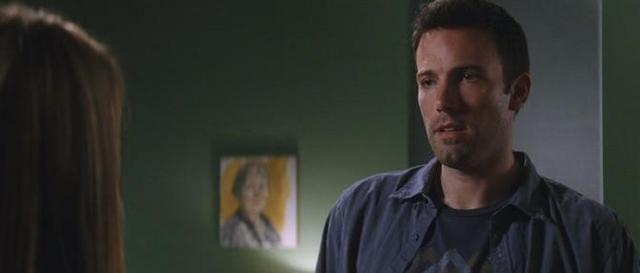 This caused a rift between them and they broke up. Beth was ridiculed by her cousin for being available and not married while most of them were. When her father had a stroke, she took great care of him and was frustrated with how uncaring her own siblings/brother-in-laws were. At this time, Neil showed up to help her and she was touched and realized that she would rather have a guy like him; unmarried than to have married those men like her brother-in-laws. The couple made up and Neil soon proposed; as he realized that he could not live without her.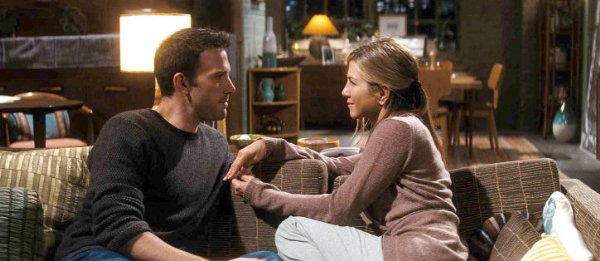 It was again, a happy ending for this couple =)
Plot 4: Mary (Drew Barrymore) - best friend of Anna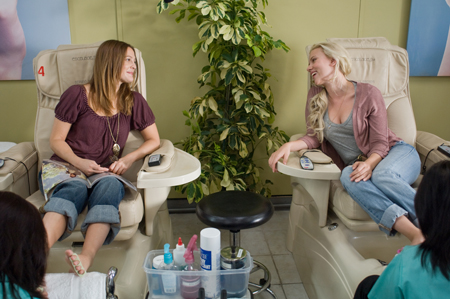 To be frank, this role of Mary seemed to be a little on the lowlight for Drew; as she could be doing much more. It seemed like this character was just to add a little bit of decor to the whole movie as there was no really character/plot development for her. Mary was just a simple girl who wanted to find a guy to start a relationship; like Gigi. She was like Dear Abbey; close to every single guy around her but unfortunately, they were mostly homosexuals who were not interested in her. She runs an ad for Conor; but the two had never met in person before.
It was only towards the end when they bumped into each other at a cafe that they know and then, they became a couple?
See, like what I said, it seemed like a little bit abrupt for a plot like this, ain't it?
Overall, I loved how the stories are being told and I must say each and every actor/actress played their role really well.
I don't need to repeat my favorite couple here; but I must say that I was a little annoyed with the role played by Scarlett. It was probably one of the thrashy roles I have seen her in as I've always imagined her as the sweet and innocent girl (think Boleyn girl).
My favorite quotes from the movie; from imdb.com:
Mary: I had this guy leave me a voicemail at work, so I called him at home, and then he emailed me to my BlackBerry, and so I texted to his cell, and now you just have to go around checking all these different portals just to get rejected by seven different technologies.
Mary: It's exhausting.Gigi: We are all programmed to believe that if a guy acts like a total jerk that means he likes you.

Gigi: A girl will never forget the first boy she ever likes.

Gigi: How stupid is it that a girl has to wait for a guy's call anyway, right?

Mary: He MySpaced me.
Nathan: Ouch!
Mary: Oh.
Joshua: Oh girl I don't know about that... My trampy little sister says MySpace is the new booty call.

Gigi: Hey Conor, It's GiGi, I just thought that I hadn't heard from you, and I mean how stupid is it taht a girl has to wait for a guy's call anyway, right? Cause we're all equal right? more than equal. more women are accepted into law school now then men. Call me, oh this is GiGi, call me.


I LOVE all these quotes between Alex and Gigi =)
Gigi: Maybe his grandma died or maybe he lost my number or is out of town or got hit by a cab...
Alex: Or maybe he is not interested in seeing you again.


Alex: I'm sorry I'm late.
Gigi: No, it's okay. I like a little time before a blind date; prepare myself mentally;
[He puts a hand on her shoulder]
Gigi: remind myself not to tell the story about my molars.
Alex: Ah, Gigi, he's not coming. But you can tell me the story about the molars; I'd love to hear it.

--------------------------------------------------------------------------------
When Alex rejects Gigi...=(
Gigi: I would rather be like that, then be like you.
Alex: Excuse me? What's that supposed to mean?
Gigi: I may dissect each little thing and put myself out there so much but at least that means that I still care. Oh! You've think you won because women are expendable to you. You may not get hurt or make an ass of yourself that way but you don't fall in love that way either. You have not won. You're alone. I may do a lot of stupid shit but I'm still a lot closer to love than you are.

Gigi: Hey sorry to bug you again! Uh quick question.
Alex: What's going on?
Gigi: Ok I'm making out with this guy, PG stuff. but he mentions he's going out of town so he's gonna be out of touch.
Alex: Run.
Gigi: But maybe he is going out of town.
Alex: To where? New Guinea? Where's he gonna be that he's gonna be out of touch?
Gigi: Opens bathroom door - Where are you going out of town to again?
Gigi: Pittsburgh
Alex: Run.
Gigi: So what now I'm just supposed to turn from every guy who doesn't like me?
Alex: Uh. Yeah!
Gigi: There's not gonna be anybody left.

When Alex realizes he missed Gigi...
Alex: Hey, Kelli Ann. Uh, did I get any calls?
Kelli Ann: Since you asked me 11 mins ago, no, not a lot of phone traffic.
Alex: [obsessively checks phone for signal]
Kelli Ann: Oh, my God.
Alex: What?
Kelli Ann: What's her name?
Alex: Who?
Kelli Ann: The girl... Alex.
Alex: There's no girl.
Kelli Ann: You can't hide it, man. I know strung out, and YOU are strung out.
Alex: Please.
Kelli Ann: This is amazing. You can't focus. Right? Jumping every time your phone rings. Checking your e-mail a hundred times a day. Wishing you could write songs.
Alex: [laughs]
Kelli Ann: No. Feeling the need to bring up her name in random conversations. It's always the same and it has happened to you, my friend.
Alex: Shit.
Kelli Ann: Welcome to my world, asshole. Let me get the door.

Gigi: [Answering machine answers, Gigi's voice:] Or call my cell, or try me at work but definitely leave a message here first. Thanks!
Alex: Hey, Gigi. It's Alex, um, how's it going?
[He starts to pace]
Alex: Uh, just wondering how you're doing. I haven't talked to you in a little while and, uh, just wondering how you're doing.
[He sits on the couch]
Alex: So... I was hoping to talk to you... obviously. But you're out, I guess. So, just call me some time. Or tonight, uh, in around... uh, I'll be in around... that's, that's... not... now. It's Alex. Okay.
[He hangs up the phone]
Tyrone: Dude.
Alex: [He looks down] I know.

My FAVORITE (I could rewind and watch this again..LOL!=)
Gigi: [opens the door, thinking it's Bill] Did you forget something?
Alex: Yeah...
Gigi: Really? What did you forget?
Alex: [pulls out a promotional pen from his pocket] This.
Gigi: So you came all the way here at 11 o' clock in the night to give me a promotional pen?
Alex: Yeah... Yeah, I did. I thought I would come up with some really great excuse to get over here. That's how it's done, right?
Gigi: [smiles] Sometimes.
Alex: Look, I can't stop thinking about you. I... It's a problem. I drive by your place; I call and hang up; I've turned into...
Gigi: Me.
Alex: Yeah.
Gigi: A wise person once told me that if a guy wants to be with a girl, he will make it happen, no matter what.
Alex: That's true.
Gigi: But when I was hurling my body onto yours, you did not seem to want to make it happen.
Alex: Okay, yeah, here's the thing about that... You were right. I'd gotten so used to keeping myself at a safe distance from all these women and having the power that, that I didn't know what it felt like when I actually fell for one of them... I didn't know.
Gigi: Look, I just went out with your friend Bill. He might be just exactly what I need. No drama, he calls; he does what he says...
Alex: [stepping closer] I can do that stuff too...
Gigi: But you didn't! And that same wise person told me that I'm the rule. That I have to stop thinking that every guy will change, that I have to stop thinking that...
Gigi: [Alex kisses her]
[smiles]
Gigi: ... I'm the exception...
Alex: [whispers] You are *my* exception.
[they kiss again]

One good quote from the movie is from Alex:
So trust me when I say if a guy is treating you like he doesn't give a shit, he genuinely doesn't give a shit. No exceptions.
So, girls, do you have a guy who's truly into you or NOT? Else, RUN....