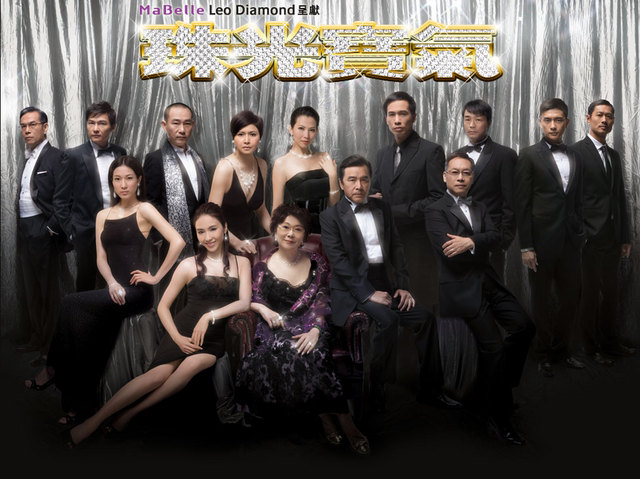 Please be prepared for this is going to be one long drama review I am about to write as I have recently just completed watching the drama and also, there is a total of 82 episodes; I will try to summarize.
At the same time, I will also be sharing the "I-don't-get-it-part" which somehow occurs a lot in this mega blockbuster drama from TVB's 2008 production.
Since I have mentioned and also from the poster itself, this is yet another huge budget drama by the popular broadcast station in Hong Kong. This time, the drama is sponsored by a jewellery company which leads us to believe that of course, this drama is about jewellery.
(Like duh, why else the name Gem and also the poster where you see all the glittery stuffs, right?)
Besides, the glamourous highlights of the jewellery and also the sporty/trendy cars used in the drama, the 82-episodes production also feature a huge and very strong cast; from old veterans to the new favorites.
The drama even had its tagline as follows (taken from Wikipedia)
You may wish to be a famous socialite.
You may wish to have fame and fortune.
But is that really what you will wish for at the end?
A rather familiar tagline we have heard in way too many mega budget series revolving around the lives of the rich and famous.
This story is no different; it is again about the glamourous lives of these socialites and also the ugly sides of businessmen when it comes to personal benefit.
The main characters of the story are the 3 Hong Sisters; Sylvia, Constance and Jessica who were played by Maggie Siew, Gigi Lai and Ada Choi respectively.
They were raised in a middle income typical Hong Kong family; where their father works in a jewellery production factory and is a man of a simple mind where he believes in happiness and honesty; being righteous to oneself and others.
Their mother, however, has high hopes on her three daughters, whom she groomed to be able to marry the rich in the future.
This was implanted in their minds since young; but eldest daughter Sylvia/Hong Nga Yin is against her mother's wishes and believed that she is just materialistic.
However, Sylvia married Tim who happens to be captain pilot and this kept their mother Pak Siew Yau from interfering with her life.
Second daughter Constance Hong Nga Tung is one who believes in true love and is willing to sacrifice anything for love, flees the country and eloped with her so-called true love, Frankie who later cheated on her and she had to return in disgrace to her family.
Youngest daughter is the apple of the mother's eye as she is the only one abiding her mother's requirements and married a businessman, Patrick to a wealthy life.
When all three daughters faced a failed marriage (Sylvia's husband cheated and divorced her; initially blaming on her lack of commitment but later found out that Tim had been cheating all along, Constance's husband cheated on her and she had to fly back to HK alone, and Jessica's husband faced failure in his business and used Jessica as his armour while he fled the country), they moved back to stay with the parents and their mother started to hook them up with all the rich men through the functions she attends.
The mother herself is also close to some of the rich tai-tais whom she befriended at those women associations which runs charity events.
Jessica managed to charm one of the rich guys but it didn't work out in the end.
She ended up working in a PR company (since she had declared bankruptcy) and that was when she hooked up with Martin, an elder and influential business tycoon who was even older than her father!
The family was against their relationship, especially when the mother wanted to match make Constance with Martin's only son, Terrence who owns another company.
It was a tug of a war and Jessica was angered by her mother's favoritism over her second sister. Pulling some tricks, the scheming Jessica got her way and Constance had to sacrifice her love for Terrence.
However, the defiant Terrence refused to give in and blamed Jessica for causing all the hurt. He allegedly accused Jessica of being overly materialistic and only married his father for the sake of wealth; causing further drift between him and Constance. Nevertheless, their true love persists and they soon got married.
Prior to this, the mother and sisters objected to Constance's relationship with another guy, Derek, who fell in love at first sight with her.
He was actually a befallen jewellery producer's son who accused the current owner of swindling his father's share of the company. Due to his accusations, he was deemed the perfect target for some of the businessmen; especially Calvin who tried to please one of the tycoons by helping him with the lawsuit.
Calvin was Sylvia's nemesis in the beginning but with a twist of fate, she started working for him and they fell in love, much to the protest of her mother who did not have any liking for Calvin as he build his wealth on his own and did not have a huge reservoir behind him; as the mother would have liked with most of her daughter's suitors.
With the daughters' new relationships, that was where the true drama starts as all their lovers are arch rivals with each other and the women are caught in between, and in a bid to protect their lovers, they had to outwit each other and also at the same time, betray their own sisters to protect the man they loved and their own benefits.
It was a long fight and is wealth really worth it to ruin a close siblings' relationship?
When the mother fell prey to dementia, that was when the sisters had to come to their senses and make the choice between wealth and fame or their own blood link.
A truly interesting drama, but yet nothing out of the ordinary from what we have read and watched so far. I hope I have kept the summary of the story simple and yet, not revealing too much of a spoiler for those of you who have not watched the drama.
But do be prepared; there is a total of 82 episodes; and full of drama; not like your usual dose of Kindred Spirit, Virtues of Harmony, War of the Genders, kinda genre where you can expect lots of light hearted humor.
This is full of business talks, scheming ways to win, and also exploitations in any way possible among human beings.
It tends to get a little big draggy towards certain point; and if you feel that you can't take it, don't think of watching it.
Let's go into the character analysis; you'd have to do that since this is a long running drama, and furthermore, the cast is something to boast about even if you find the storyline is not.
The HONG family
Louise Lee Sze Kei as Pak Siew Yau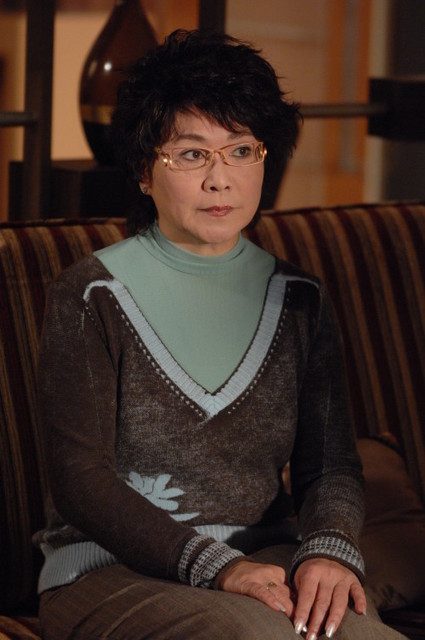 She is the root of all the stories in this drama. Unlike her usual typical roles of playing a weak woman who can't stand for her rights in preceding dramas, Lee plays a manipulative and strong opinionated woman who thinks far into the future.
She plans ahead for all three of her daughters and thinks that she is only doing so for the best of their lives.
She aims for the life of the rich and famous; and trains her daughter to think the same way. Despite her materialistic mind, I am surprised that she married a simple man who is an employee in a jewellery factory.
However, it was no secret that she was truly in love with her husband as she listens and there was such a sweet exchange of love between them. She is fully supportive of her husband, and her own family.
A very strong character of a woman this is, despite being money-oriented and materialistic, nothing could stop her from protecting only her family from any harm. She could be wishing for all money, but her love for her husband and her daughters are so genuine that it is touching.
I liked her character; although at times, I find her unreasonable especially when she forced Constance to break up with Terrence just because of Jessica's marriage. Yet at the same time, contradictingly, I understand her reason which is due to the pressure that Constance will have to go through and also on Jessica if they end up becoming in-laws. At the same time, sometimes I felt she is too biased towards Jessica as compared to the other daughters.
You will tend to sympathize with her more towards the end; when she loses her memory but that was actually the different side of her that you didn't see throughout the drama.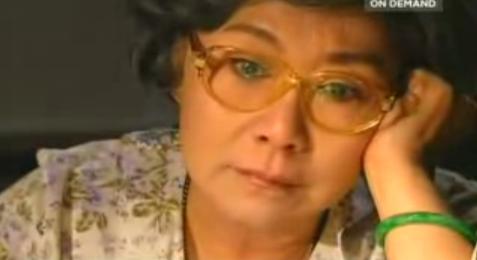 It was an interesting transformation from her scheming ways in the beginning towards the frail her in the end.
David Chiang as Hong Ching Yeung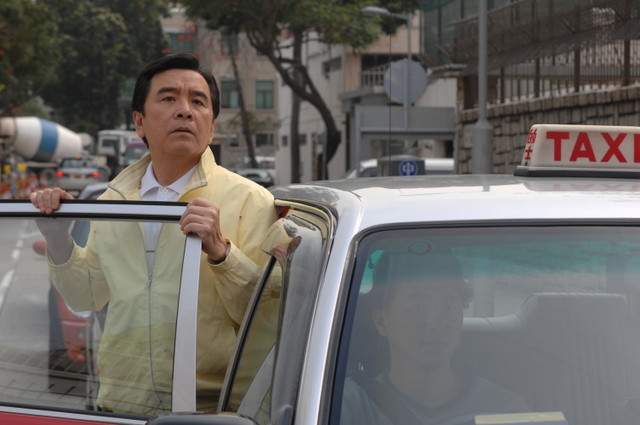 This is like one of the most likeable and favorite character in the drama.
He is such a nice man; and a great family man - he's a role model!
He's a great husband, a wonderful father, and a very nice employee/co-worker and boss.
He was so considerate towards all his daughter's needs; and I've always felt that his favorite daughter is Constance because she is the most similar to him in terms of their jewellery interests.
He was never angry at them no matter they have done and he has never scolded them (that is, until the very end), he never made them feel bad for whatever they have been disgraced for. In fact, he was like the soft guy that everyone runs to hug when they have problems or need a shoulder to cry on in the family.
He had made his own mistakes in investment and in his judgement against his boss; but he admitted and got back up again. It was apparent that he was such a soft and nice-going father/character that you will think that he's so bully-able.
However, when he turned angry at his daughters after their mother suffered from dementia, it was change that we see that he is also capable of anger. It was so realistic that end of the day, we are all humans.
Maggie Siew Mei Kei as Sylvia Hong Nga Yin (Eldest Daughter - Du Mei)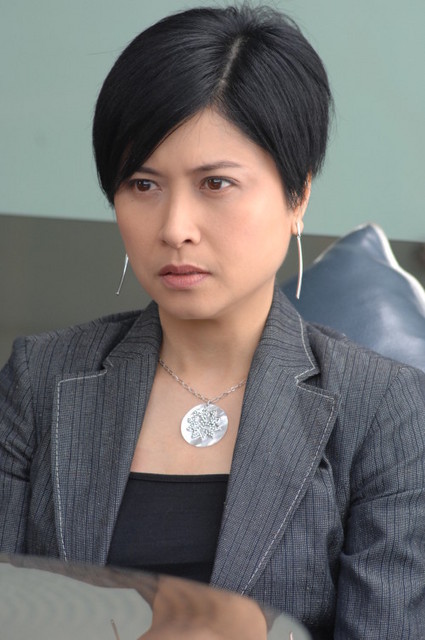 She was an obstinate person; the daughter who always went against the mother's wishes. She was stubborn and in a way, I felt she was just like her mother, which is why they are at loggerheads with each other.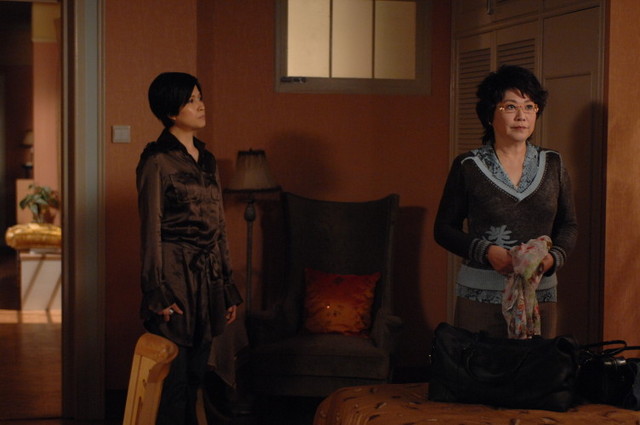 Sylvia disagrees with her mother's perception of marrying rich and went ahead to marry Tim, a pilot whom her mother reminded her to think twice. Out of spite, she married in haste and thought she had made a good decision. In truth, she was a workaholic and she worked as a PR manager; handling all the new artistes. She was so busy at work that she neglected her husband and resulted in him having an affair. When the husband wanted to end the marriage, Sylvia tried to save the marriage but to no avail due to the interference of Calvin. But with or without Calvin, as we realize either, the marriage would still come to an end anyhow.
She concentrated more on work after her marriage ended and moved back home where she bonds with all the sisters and her family. She hated Calvin initially but when she started to work for him and all the weird gestures he has been giving her, she took things up in her hand and made the move to ask him out and they started a relationship. However, it was short-lived as Sylvia thinks it was too much of playfulness in Calvin which gave her a sense of insecurity. That being done, she cared for him a great deal and went to great extents to protect him and to help him to succeed at the expense of manipulating her own sisters.
Actually, she was a rather pitiful character in my opinion; being the eldest in the family. It is not easy being the eldest where you have to shoulder most of the pressure on your own and not let your own emotions show. At the same time, you can't even fail in front of your siblings and to show them that you are incapable. That was what exactly Sylvia is feeling; she has to constantly prove herself that she is knowing and that is why she worked hard to achieve her own success.
She could not fail; because she knows the price if she were to fail. She lost her first marriage; and blamed herself tremendously for it; feeling ashamed when her own sister reprimanded her for it and yet, at the same time, she was unable to face the reality until Jessica slapped some sense into her.
She then found love in Calvin, whom she boldly initiated the relationship and yet, she was insecure and wanted a breakup; which was so depressing for her. She sacrificed so much for him, yet he didn't even forgive her when he found out the truth and continued to hurt her.
I felt this character was like the one trying to be tough but actually, she is just another weak lady; who needs to be comforted and loved.
I felt she was pretty strong in the beginning but she was definitely aimless most of the time; trying to determine what is the best for herself that she always ends up being so hurtful and abusive to everyone around her.
She was the only one who didn't get a lot of love in return; and was the only one who gave and gave and end up being hurt each time.
A really pitiful 'trying-to-be-strong-but-i-am-also-weak' character
Gigi Lai Chi as Constance Hong Nga Tung (2nd Sister - Yee Mei)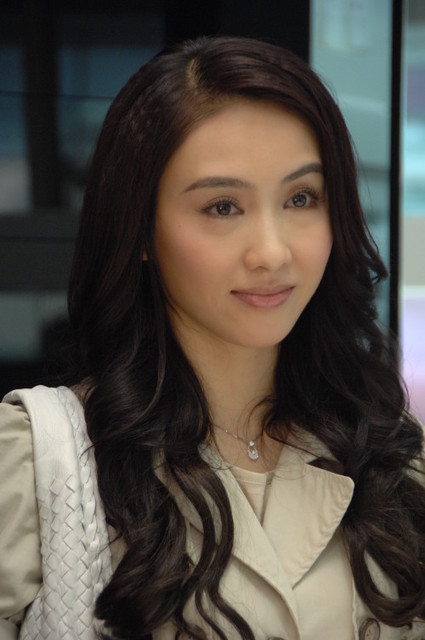 This is your typical fairytale wannabe damsel in distress; she is too naive to believe that there is always a good in everything (actually that was kinda like me).
She believes in true love and sacrifice helplessly for the sake of love. She is innocent and pure in her thoughts, and she never thought of the fact that people are manipulative in getting what they want. She thought she found her one true love and eloped; since her mother disapproved of the artistic guy who is not reliable in his character. True enough, he disappeared and she flew back to HK, and found that he was cheating on her. Heartbroken and ashamed, she had nowhere to turn to, and her sister reprimanded her for being so foolish and naïve. She came to her realization and moved back home to her family. When her brother-in-law got into trouble with his business, she took the extra step to approach another businessman, Terrence Ho, to ask for his help, I believe to invest in her brother-in-law's company. That was how she got acquainted with him. She initially hated him but then found a friend in him. She was then pursued by Derek, Chan Kai Fatt whom she accepted out of persuasion by her best friend cum colleague and also due to the little things he have done for her which she sees as thoughtful and a symbol of love. However, when she found out that he dumped his girlfriend to be with her, she was once again upset and broke up with Derek (which anyway, was a very brief fling). She then quit her job as Derek caused a lot of trouble and she didn't want to cause inconvenience for her father (who worked there as well) and the owner whom Derek was trying to sue. She then started hunting for a job and Terrence came in at this time to offer her a job as his secretary. She almost accepted but she was upset with Terrence's view of her sister, Jessica and things turned ugly in their friendship. She accepted a job offer in a Japanese company which in short, was taken over by Terrence's company and she still ended up as his secretary. That was when Terrence started to pursue her, confessing his feelings for her. She was initially reluctant, but relented after all the touching things he had done for her. She is one for all the touching and lovey dovey acts; and she is soft-hearted. When things turn complicated, her sister marries Terrence's father, she took the easy way out and broke up with Terrence, suffering a great deal out of it. Finally, she realized that she truly loved Terrence, she got back together with him and they got married. It was a blissful period for our love struck princess until she was sent some photos of him making out with Sharon. It was soon cleared, with Jessica's help and she was on her way to Paris to make up with Terrence (it was supposed to be a surprise for him) and she caught him in bed with his childhood friend, Elise and that was the end of their marriage. She had suffered enough and that was when we start to see Constance getting more clear-headed.
She started making her own stand, and defended herself. It was a different Constance we see compared to the yes-girl in the beginning. She was fickle-minded and indecisive, and so easily moved by action that it was a really weak character. But somehow, I don't hate her for it, despite the numerous bashings against her in forums. I believe this character was depicted very well; showing the weaker side of human beings. It is easy for us to say how stupid she looks, how naïve she is. But are we all that intelligent beings? In that case, will there still be suicide cases out of love?
The name kind of suits her; Constance – Constantly hurt by others (it made me wonder, is TVB trying to be creative with their English names?)
It was a realistically weak character; but we also start to see how she was angered by how manipulative and deceiving her sisters are, and she decides to stand up to them too. But she is always the nicer one, with a conscience, I guess we always tend to have a sibling who will always be the in-between, huh?
In a way, I guess a great person like her would have a great ending, that's why she was the only one who had guys pursuing her like crazy. She believed in what she thought was right, and she did find her true love as well.
She is one of my favorite characters and I love her style (apparel, hairstyle, accessories, not to mention her pretty face )
Ada Choi Siu Fun as Jessica Hong Nga Sze (Youngest sister - Sheuk Mei)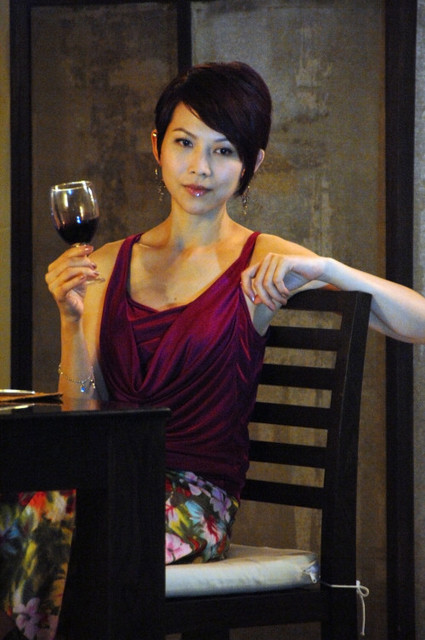 Manipulative, sly and scheming are what I would use to describe the youngest Hong sister, played to perfection by Ada. Somehow Ada is always good in this kind of characters, I can't imagine anyone else playing this role except her. She is truly still one of the gems in TVB. Jessica is a materialistic girl by nature and she sees nothing in a man unless he is loaded in both his pockets. That is why she turned a blind eye towards the love of their childhood friend (who was also their father's apprentice), Wo Ho (Wong Hei). She took her mother's advice and married rich, marrying a businessman, Patrick. Little did she know that failure would befall her husband and she tried in many ways to help her husband from the failure; even including lying to her family and betraying them, cheating her father from his hard-earned savings meant for starting his own jewellery shop. Unbeknownst to her, Patrick had already escaped to another country without her, leaving her behind to bear the declaration of bankruptcy and Jessica took the final step to file for a divorce, to rid herself of all his mess. Moving back with her family, she was once again brought under the wing of her mother who tried to bring all her daughters back to the rich and famous socialites' community. She caught her attention on a rich man's son, and manipulated her way to rid her 2nd sister, Constance of the picture when she mistaken that he was more interested in her. It turned out to be the other way round, he was actually interested in Jessica and there was a hope of development. Jessica's job in the PR company opened her eye to the glamorous world once again and she befriended Martin, Ho Fung, one of the most influential business tycoon in HK and she started to plan to get closer to him. She succeeded in her plan and soon, she caught his eye so much that he wanted her by his side forever. The parents were of course, astounded by their relationship as Martin was even older than her father. The father was rather bitter about their relationship and the mother, was upset since she had her eye on Martin's son, Terrence to be with her 2nd daughter, Constance. Jessica was frustrated with her mother's favoritism and went against her wishes, obstinately marrying Martin on one of her business trips so that they could no longer stop her. She did that at the expense of her sister's unhappiness. She could never convince Terrence to accept her and they were arch nemesis from the beginning to the end, it didn't change as Terrence was convinced she was only with his dad for the sake of money, which was true. Jessica led a blissful life and she was soon pregnant; however her bliss was cut short when she accidentally hit a boy on the road while rushing to her father's aid (he was involved in some case) at the police station. She was so panicky that her mother assured her that things will be fine, and obeying her mother, she allowed her mother to take up the charges of murdering the boy in a car accident. When Constance found out, she could not accept it and Jessica started seeing a threat in Constance. After 2 years, when Constance is back, Jessica is still paranoid that her sister would someday betray her to the law. In her bid to be strong and powerful, she started to go beyond the boundary to gain her influence. In a way, I think she was the one responsible for Martin's death since she hungered for his assets. She went berserk after her son, Shun Shun's death and believed that Terrence was behind it.
This is another character you would love to hate (love-hate) kind of relationship. She is strong, cunning but yet, you admire her for her street-smart ways in getting anything and out of everything. She used her wits and charm to achieve her goals, and that is one woman you need to be careful with.
The Gentlemen in the Leading Ladies' Lives
Since this drama centers on the 3 women, I will have to introduce it in such a way that they are the men behind the 3 sisters but that doesn't mean that the men are all weaklings, that they were just dependent on the women. They are their very own character and they were just the gentlemen who were intertwined in the 3 ladies' lives.
Patrick Dunn/Tang Chi Fung as Tim /Yip Fu Tim
The first husband of Sylvia and he was a pilot. He was tired of his wife's non-commitment to the family due to her full occupation with her job. He blamed her for the marriage downfall, claiming that she spent more time with her job than him. He asked for separation and made Sylvia felt so guilty. I was like, what is wrong with this man? Isn't he a pilot himself? If Sylvia doesn't have time at home, how much time does he spend at home anyway, with all his travelling?
It could be due to the lack of communication, but I think either way, he is at much fault as his wife or even if there was a problem in the marriage, there is still no reason for him to cheat on his wife. It is so unfair of him to blame the whole thing on Sylvia. Is he totally guiltless or faultless as well? He has been cheating on her for years, he has even had a kid by another woman and another on the way, and he blames Sylvia for his cheating? This is just one ridiculous and despicable man!
I don't care whether he is a handsome pilot or what, I despise this character!
Thank goodness he was not the match for Sylvia, and glad they divorced in the beginning. He doesn't deserve her!
Bowie Lam Po Yee as Calvin Ko Cheung Seng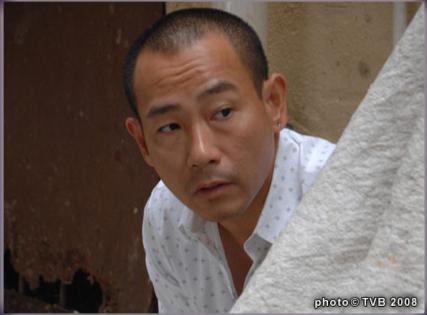 He is a playful guy who was actually brought up in a very poor environment. His dad died young and his mum had to be a whore to support him. He had to be sent to buy cigarettes while his mum brings clients back home. He was so depressed as a young boy and he worked so hard to build his own success and wealth. He started off a chef and then started his own business. He despises people (especially guys) who were born with a silver spoon in their mouth, and who know nothing than to spend their father's money. He was despicable in the beginning; but later you learn of his background, you know his strong character roots from his past. He was playful with other women but he was truly in love with Sylvia, the woman he thought was his best friend's girl. When she pursued him, he fell hopelessly in love with her and would do anything for her. He was so hurt when she broke up with him and yet at the same time, he was even more hurt when Sylvia told him that she loved his best friend instead.
It was really sad to see Calvin so hurt and heartbroken. He found comfort in Catherine's love, but he never really did love her. He married her out of spite, since Sylvia has already married his best friend. He just married her out of gratitude and to help her to stand up after her brother's death. The one he truly loved till the end was actually Sylvia. He gave up hope after he found out that Sylvia lied to him and it was all a set up to strengthen his business empire by setting him and Catherine up (because Catherine could help him financially and influentially). It was touching how he finally picked himself up and returned to the Calvin we know.
This is actually a miser of a character, laughing out loud on the outside for the world to see, but crying and feeling so insecure inside. I admire him for his diligence and determination in striving for his own success; although I am not that agreeable with the part of simply sleeping around with women.
Kenny Wong – Sunny Yau Yat Tung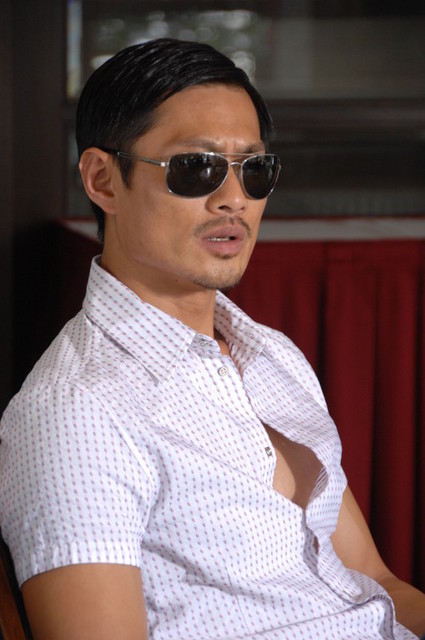 He is Calvin's old friend and is a skilled yachtsman. He was initially happy to have met up with Calvin who used him as a tool to fight with Terrence. When Calvin won the race, he neglected Sunny who was so disappointed in this old friend. His faithfulness won the confidence of Calvin who then appointed him as his right hand assistant. Sunny was misunderstood by the whole world that he was pursuing Sylvia whereas in reality, he was actually a homosexual who was in love with Calvin. He teamed up with Sylvia in the plot to make Calvin choose Catherine who can help him in his career. It hurt him as much as it hurts Sylvia to see Calvin with another woman. However, even he could not contain his anger when he saw the way Calvin treated Sylvia when he found out about their plot.
He was actually the most pitiful character in the drama (2nd actually, compared to Wo Hor). An individual with a unique sexuality and he was so deeply in love with Calvin that he did not want to scare him or hurt his image if he reveal his identity. He had to force himself to pretend to like Joey and Sylvia, to avoid Calvin being hurt by unwanted rumors.
He even went to the extent to agreeing to a paper marriage with Sylvia to convince Calvin that Sylvia is not in love with him anymore. He was a son-in-law well-liked by the Hong Family; too bad he was not a real son-in-law.
A true example of how you don't have to be with someone when you love them. I really admire his courage and character and how he is just content to see Calvin happy.
Rocky Cheng as Frankie/Fan Lei Kei
This was a brief character who was introduced as a scumbag who cheated on Gigi. He was two-timing her and even insulted her when they met in HK.
Nothing much about him; a rat, period.
Eddie Kwan Lai Kit as Chan Kai Fatt/Derek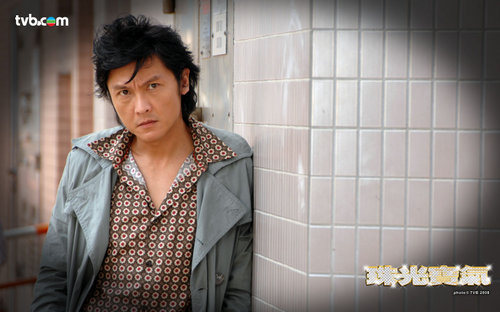 His father was one of the co-owner of the jewellery company with Mr Suen and he had always suspected that Mr Suen swindled his father of his share and grabbed the company as his own. He was so intent on revenge that he became one of the ponds in Calvin's plan to please the rich tycoon Sung Sai Gei. He runs a magazine stall by the roadside with his longtime girlfriend whom he jilted when he set his eyes upon Constance. He was so mean to his girlfriend although he treated Constance with so much love.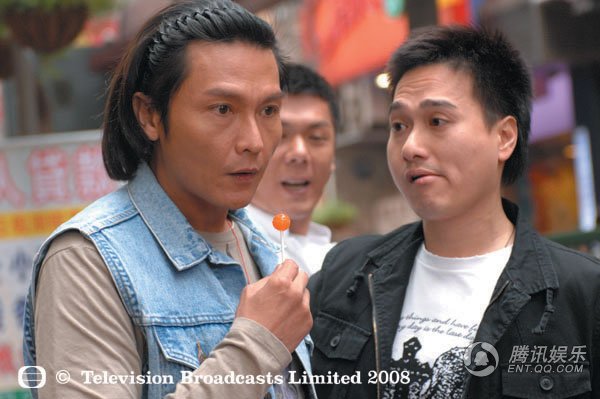 I still felt revolted by his superficial ways actually. His character somehow went through slow transformation and he became more and more understanding towards the end. In fact, I was also touched by how he has changed and how giving he is towards the relationship of Constance and Terrence.
Personally, I find his character annoying in the beginning and I hate the way he pronounced Constance's name, 'Con-si-tance'. Gosh, what kind of English is that?
In fact, he couldn't see his fault when Constance broke up with him and kept blaming it on Terrence. It was really annoying, and he went on to burn Elise's car and sending all those letters in the prison, I was relieved and happy when Constance decided to tell him off, straight in the face that there is no more hope. However, after his transformation, it was really touching to see how he treated Constance and it was such a big change from his former self. It was definitely sad how it ended for him, I think he didn't deserve to die like that when he has such a pure heart to give his blessing to Constance and Terrence. So sad for him; he deserved the award for the 360 degree turn of a character from annoying to well-liked.
Moses Chan Ho as Terrence Ho Chit Nam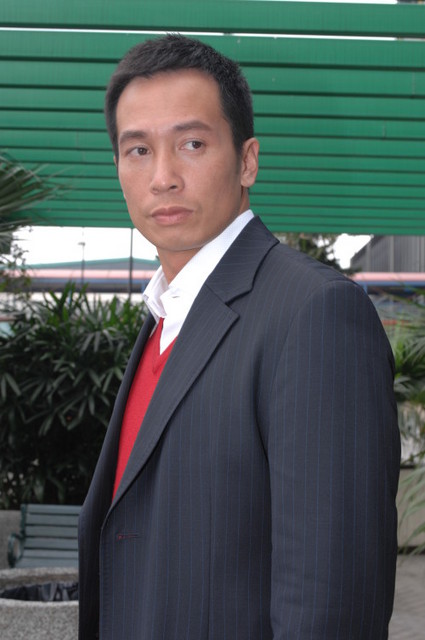 Born with a silver spoon in his mouth, Terrence has always been one for having things his way; the easy way. He has not known failure and victory to him is everything. He has grown to be a businessman just like his father and manages his own company. As all rich boys are portrayed in TVB, he is just a playboy with many different girlfriends and sleeping around with all the women. He finds a confidante in Constance whom he initially didn't take a liking to due to Jessica's husband's issue. Actually he liked her the first time he saw her in a boutique where she put on a dress and he praised her for looking good in it. I guess he somehow forgot about her after that and the further encounter was with her on the yacht where she innocently went onboard to beg him and he playfully steered towards his destination. Somehow after the coffee incident where Constance tried to get back at him, they became friends. Terrence never thought of Constance in a romantic way but as time passes, his feelings for her grew as he always thought of her whenever he needed someone to talk to or ask for opinions. I think he didn't realize it himself when he always did that; or he tried to make us not realize that his true motive of offering her a job when she needed one was to get her closer to him. (I am not sure whether the part where the company Constance was hired by was acquired by his company was a coincidence or not). She ended up working for Terrence and he always seemed so intent on her concerns. No matter how busy he was, if it was Constance who walked into his office, he would definitely smile. It was a clear sign that he was in love with her. His persistence was really touching and all those lovely things he did for her like the neon lights with messages in the sky, the phone call from his private jet, etc; these rich brats show how they could pamper or win a girl's heart. However, I find it puzzling how he changed after the marriage as it seems that Constance loved him more. He was constantly on the fighting edge with Calvin and he was so intent on winning that he just went all the way. Nevertheless, it was clear that Constance meant more to him when he gave up his important competitive deal with Calvin once he received the kidnap threat and rushed all the way back to HK to make sure Constance was okay.
It was his mistake when he slept with Elise (I still don't understand how he could do that with someone he called his sister), and he blamed it on the whole separation with Constance thing, but Constance was right, he was fully to be blamed for the incident, if he truly loved her, he would not be able to bed another woman; whether they were separated or not.
Anyway, his stubborn character remained until the end and personally, I was really disappointed in him when he hesitated to save Ah Fatt in the car due to his selfishness. I understand that he wanted to win Constance back, but at the expense of another man's life? Well, I guess sometimes when humans are pushed to the edge, that's where the animal instinct comes in. He did try in retribution to save his own brother Shun Shun, and we know he tried his best although he was still misunderstood by Jessica. I think he did change for a better person towards the end, and he still loved Constance, persisting after her. So I guess, Constance is truly his one and only true love then.
I love Moses in this character, it was a right choice of an actor to play this role and also, I am a MOGI fan! Moses showed the stubbornness of Terrence which can make you feel so annoyed with him so much, but at the same time, his boyish ways charm you in believing that he is a guy you will feel safe with and that was how he melted everyone's heart in his pursuance of Gigi. Terrence is definitely a likeable and yet detestable character.
Cheung Chi Kwong as Patrick Yeung Chi Kao
Patrick is Jessica's first husband, a man who is involved in business. He runs his own business and is often trying to link to the tycoons for his benefit. I have not much to say about him since he had very little appearance time; like Tim, he only appeared in the first few episodes. My comment on him is this is one despicable character. Initially I thought he was a filial son-in-law when he was so supportive of his father-in-law's will to start up his business. When his business ran into trouble, he manipulated his wife to lie to her own family to obtain the money. After he cheated the father-in-law of his savings, he even plotted with his wife to cheat his death in public while he ran away, fleeing the country alone and left the wife alone in HK to deal with all the debtors and bankruptcy.
I really despise him; and thankfully Jessica divorced him.
One word, despicable!
Ngok Wah/Elliot Yue as Martin Ho Fung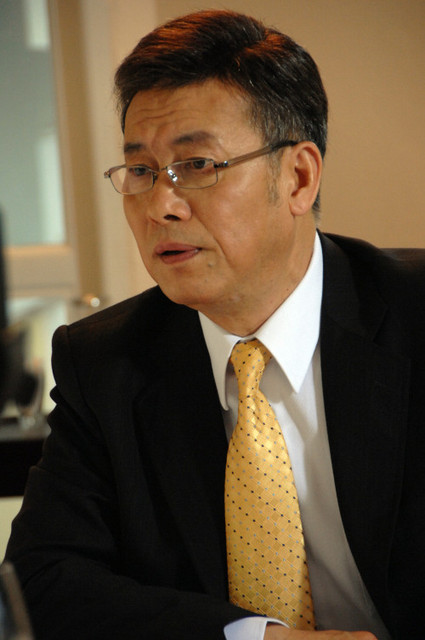 Martin is a rich business tycoon who is always so protective of his own son. At the same time, he was also kind to all his business peers and was especially obeying to Sung Sai Man, much to his son's chagrin. He worked with Calvin to drive his own son to understand that being brash is not a solution to every problem. He had Melissa as his confidante but he betrayed her in the end for his own benefit. He fell in love with Jessica much to everyone's protest and went ahead to marry her despite the major age difference. He revealed his true colors when his plan finally succeeded and we see the evil Martin who had been so giving and tolerant to Sung Sai Man which was actually part of his plan to lead to his downfall. Martin became so ruthless after Sung's downfall to protect his own interests that he disappointed his own son and Melissa. He went paranoid after his kidnap incident in the Philippines (??) and was a little cuckoo after that. He left his business in Jessica's hand and became suspicious of Jessica and Wo's relationship and went berserk. He died mysteriously after his argument with Jessica.
A brilliant character; he had deceived all the viewers for more than 50 episodes with his cool and soft ways. You will feel impressed by how nice he is in the business world and I must say he has been an extremely patient and understanding husband to Jessica. It was really sweet despite their age difference. However, when he turned evil and later paranoid, it starts to get a little annoying seeing him going berserk over every small matter. It was sad how this brilliant man came to his end, which still remains mysterious.
Wong Hei as Shek Tai Wo/ Wo Ho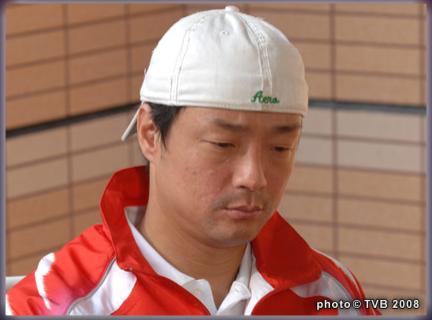 He is the apprentice of Mr Hong and the childhood friend of the Hong sisters. In the beginning, it seemed that he had a crush on Constance but when the whole trouble about Jessica's husband started, it was obvious that the one he loved was Jessica. Unfortunately for him, Jessica is not interested in him as she only has eyes for men with wealth. He was continuously supporting Jessica, and cheering her up when she was unhappy. It was so sad that he had to wish her happiness when she married Martin (He was trying to pursue her after her divorce with Patrick and he wanted to confess his feelings which was held back when Jessica confided in him about her relationship with Martin). I was really sad for him; and he had a pure character like Constance, who never wanted to believe in doing anything to harm anyone. He was angry at Jessica for all her doings and yet he did not want to see her harmed. As an apprentice, he was loyal to his mentor whom he respected as his own father and even wanted to work for him for free.
I really liked this character and I couldn't help feeling pity for him when he was blind in the end (SPOILER!). For all he did, he really didn't deserve it.
Other Supporting Characters
Bosco Wong Chung Chak as Will Shek Tai Chuen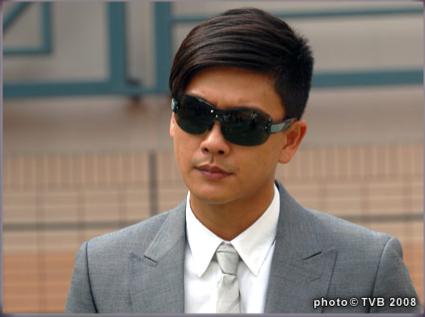 He is the younger brother of Wo, and a much more ambitious guy than his brother. He was not content to work in a jewellery factory alone and ventured into the business world. His interest in Elise led him to the Apprentice wannabe competition and his victory landed him in Melissa's company where he ended up as his right hand assistant. He was rumored as being Melissa's man but he ignored the rumors and worked hard and cunningly to maintain his position. He loved and lusted after Elise who just used him. He started to be suspicious of her and even warned his own brother of the sly girl.
This is another strong character but somehow I didn't really like him due to his Mr Know-it-All ways. He thought too highly of himself and was too arrogant. No wonder even Elise did not love him in return.
Brilliant portrayal by Bosco; as usual, although I think he could improve more on his expression instead of keeping the same one when he tried to act arrogant.
Linda Chung as Elise Sung Chi Ling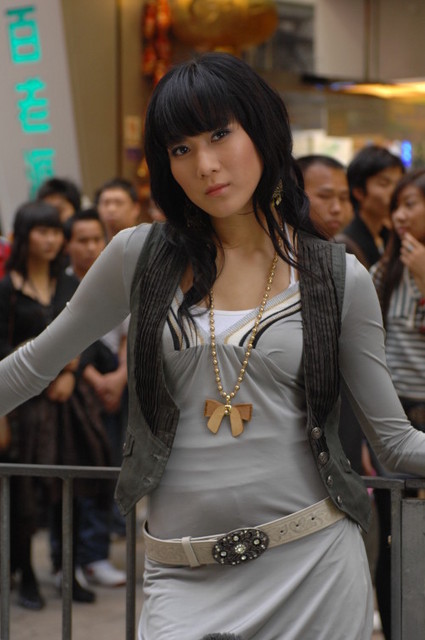 She is the spoilt granddaughter of Sung Sai Man who came back in disgrace after the posting of her sex video on the web. She was also the good friend of Terrence whom she met while studying in UK and had always treated him as her elder brother. She actually had a very pitiful background; she always believed that she caused her mother's death and had a phobia of water. She grew up to be such an unreasonable and demanding person due to her grandfather's love for her, and due to her own past, her grandfather ordered the whole family to allow her to do anything she wants. She was too playful and never knew what is right and wrong; since she had rich grandpa to bail her out of anything. Due to her arrogance, she participated in the Apprentice TV program and used all sorts of ways to ensure her victory. She even seduced Will so that he will aid her in her winning. She was angry with Will when she lost. Then she was always so pissed with the Hong sisters that she tried to cause all sorts of trouble; including seducing Terrence just to spite Constance. She slowly realized all her mistakes when she fell in love with Wo and tried to pursue him, impressing him by all her changes and even went back to her studies. In assisting her grandfather to rebuild his business, she had to try to manipulate Will again. However, she was unwilling to do so since she was in love with his brother. It was so sad when her grandfather forced her to sleep with Will.
She is a sad character actually and it was quite fresh to see Linda playing this role. I felt she did quite well in annoying everyone and her transformation surprised me. It was back to the old Linda we know in the end.
Rebecca Chan Sau Chu as Melissa Yan Wai Ting
I like this character, she is a strong and independent career woman. Without a doubt, this is my favorite female character in the whole drama as I felt she had control of her life. She is no puppet and she had all the men waiting to serve her. She was a widow and yet she disregards all the rumors that she had been sleeping with all her young and handsome employees to promote them. She was portrayed as such a strong woman but yet at the same time, we see her weak side when she was betrayed. She was hurt when Martin married Jessica and all her jealousy of Jessica was so professional. It was so obvious that she hoped that she will win Martin one day; and yet when Jessica came into the picture, she still managed to maintain her calmness and composure. Rebecca Chan once again shines in her role, definitely one of my favorite actresses.
Florence Kwok as Catherine Sum Tsi Tang
She is a weird woman, overly dependent on her brother and is unable to face any form of pressure in life where she will start indulging compulsively in food particularly desserts. She is a bad role model; with her bulimic ways, eating compulsively, then throwing up and eating again. She is always running away from things; and refuses to stand up to the truth. When Calvin and Sunny helped her to overcome her fear, she fell for Calvin helplessly and was so persistent in her love for him. She is selfish; agreeing to the plan by Sylvia whom she knows truly loves Calvin and vice versa, but in her own aim to have Calvin for herself, she ignored the fact about the two lovers. When Calvin found out, she was still so clingy to him that it was hateful.
Florence played a character who is hard to like, because of her dependent and weak character of a woman. I could see why Calvin never really loved her.
Lau Dan as Suen Wai Tuck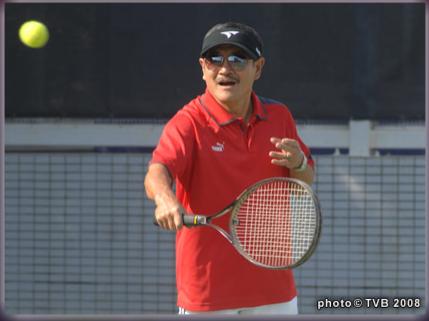 This is a very patient man, even more patient that David Chiang's Hong Ching Yeung. He was misunderstood by Hong as a deceiving and cunning man and yet he was not angry with this employee who kept challenging him. On the contrary, he even helped him secretly when he couldn't find a job and was so concerned about his family's welfare. He saw the talent in Constance and Wo and often advised them to nurture their talent. He was so selfless that he even granted Wo permission to work with his mentor, Hong.
This is one of the few times that Lau Dan plays such a soft character, and this veteran was a little underused in this drama, in my opinion. He could have played the other roles such as evil business tycoons very well.
The Love Couples
Mr & Mrs Hong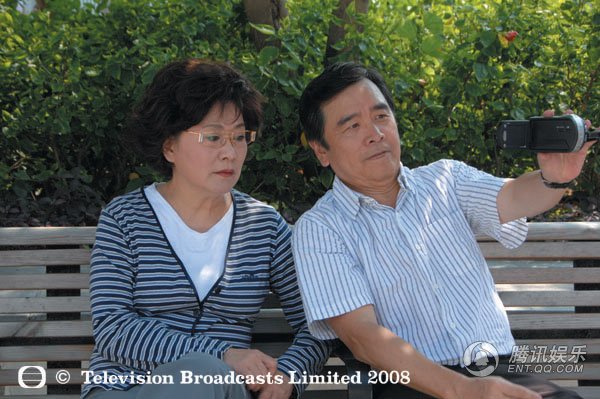 A truly loving couple; I find them so sweet even in their old age. The husband can be so understanding and patient with his wife and their characters are of total opposites but it became a factor which allowed the give-and-take principle in this relationship. Siew Yau is a demanding and materialistic woman, but yet, she can be so gentle and understanding with her husband. She stood by him in hard and good times, and it was funny how a materialistic woman like her who was so particular about reputation didn't choose someone from a wealthy background instead of a jewellery expert in a factory like Ching Yeung. The husband, at the same time, knows about his wife's character but yet is always so forgiving with her.
My respect for such a loving couple; personally, they are the binding factor in the whole drama, without them, there would not be any continuation in the story.
It was so touching when Siew Yau starts to lose her memory and Ching Yeung was so caring for her, even buying a DV to help her remember the events she went through daily. He also gave up on his daughters' feud and just ordered them to put on an act in from of the mother so that she will not be worried and aggravate her dementia further.
I loved this couple; this is an example of strong and true love.
Sylvia & Tim
I can't believe how two people of such split personalities could be together, and how Sylvia can tolerate the way Tim treats her!
Perhaps they were in love when they were married; but they are at odd ends. Tim is a pilot, and it is natural that he is often flying off on his job and yet he blames Sylvia for being too absorbed with her work?
He leaves her home all the time and he accuses her of neglecting him? I don't know about you but this is just ridiculous.
Does he expects her to sit at home all day waiting for him and once he is home, tends to his every need?
What a male chauvinistic pig! Sylvia, on the other hand was so tolerant to everything that was thrown her way by her accusing husband.
Yes, she may be too busy but that is no reason for him to cheat on her with another woman before ending the whole drama with his wife. Sylvia was pitiful when she had taken all the blame and kept trying to patch things up until she realized that he had been cheating on her for years.
I was glad when they headed to Splitsville.
Sylvia & Sunny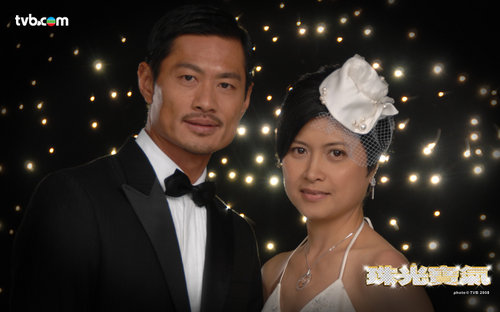 They were compatible and knew each other so well. It was so unfortunate that the latter was a gay!
Otherwise, this would be a perfect match as Sunny was just such an understanding man.
Sylvia & Calvin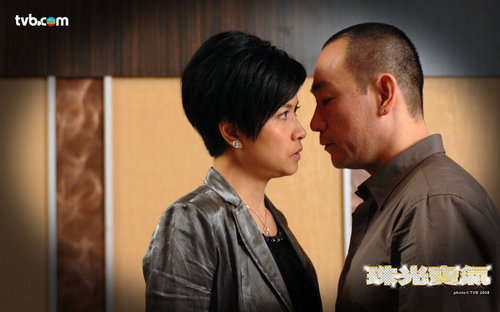 This is a humorous couple; they started off as rivals – she hated him and vice versa. Somehow he did so many little things for her when Sunny and Sylvia got close; it seemed that he was so jealous!
At the same time, he was such a coward to not make the first move (or was it because of Sunny?) and Sylvia initiated her first step and they ended up together. It was cruel of Sylvia to end it just when Calvin was so hooked onto her. He did all the hilarious things for her to make her smile (I could never forget the one in the elevator) and she just kept on hurting him. It was the final straw when she left him and pretended to marry Sunny. It was supposed to be for his good but I guess it was kind of selfish as nobody cared what Calvin thought. It was a turbulent relationship but one that was true to the end.
Constance & Frankie
This is not something I would call a relationship; it was more of a fling. She married him because he was artistic and he probably professed all the romantic things to her and that got her hooked. Then he lied, ran back to HK to the arms of another woman and she, on the other hand still believed he was in trouble. I am glad she ended the marriage with this skunk!
Constance & Derek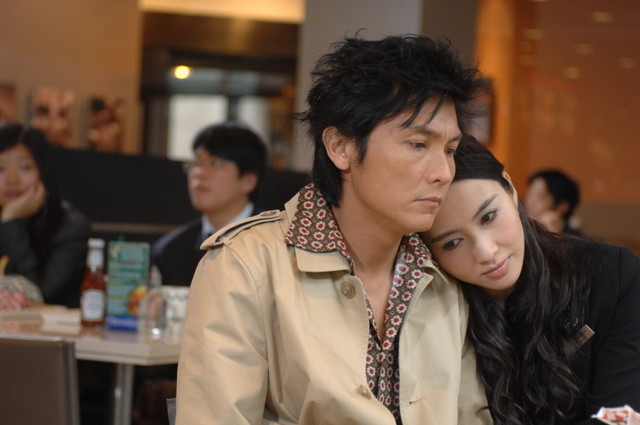 This is a flash fling; it all happened so fast. He was such a jerk for jilting his long-time girlfriend for his love-at-first-sight with Constance.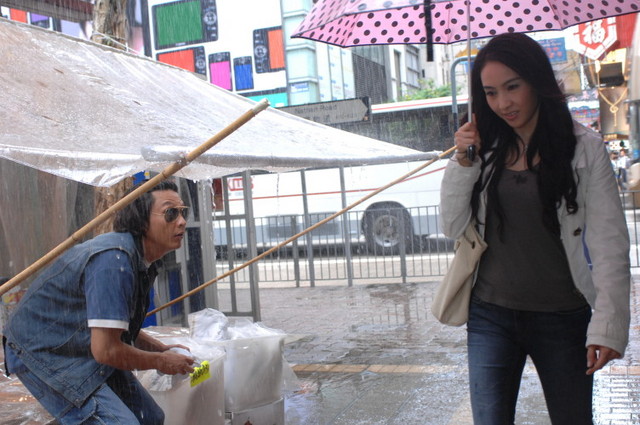 He liked Constance from a distance and tried to pursue her even when he was still living with his girlfriend. I find his love is so shallow and fragile. He claims to love Constance so much but yet, how do you prove with someone who can just walk away from his so-called long time love without any emotion?
I personally dislike his character and it was a good thing that Constance broke it off with him fast.
Constance & Terence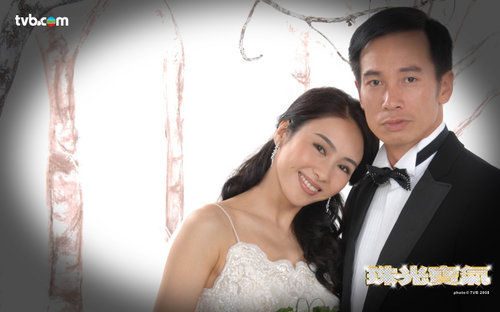 Somehow, I just feel that this couple is just meant for each other. It was so right when they were together, everything started slowly and it grew in each of their hearts. Terence may be a playboy and had slept with countless women; but he loved Constance so much that he was so sweet to her, though I could never understand how could he hug Sharon or sleep with Elise when he was still married to her??!
Terence was confused and I also think it was a very stupid thing to do; he deserved the treatment from the heartbroken Constance. I believed he really loved Constance when he continued to pursue her endlessly all the way to the end.
They are one of my favorite couple in the entire drama!
Jessica & Patrick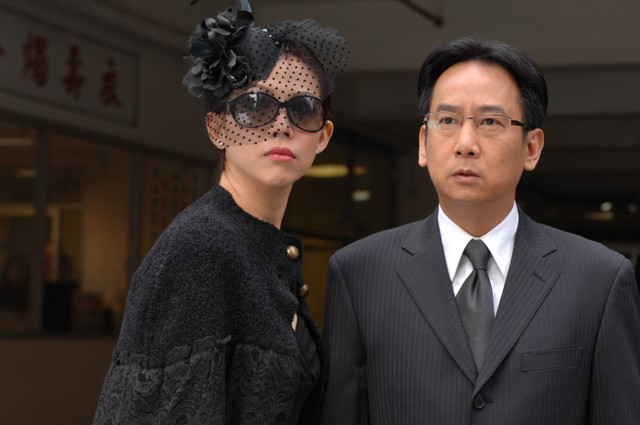 They are a good example of a materialistic couple; both are just so money-minded and self-centered as the other. It was despicable of Patrick to leave his wife with a bunch of mess and Jessica had every right to be angry to the extent of disowning him as her legal husband.
Jessica & Martin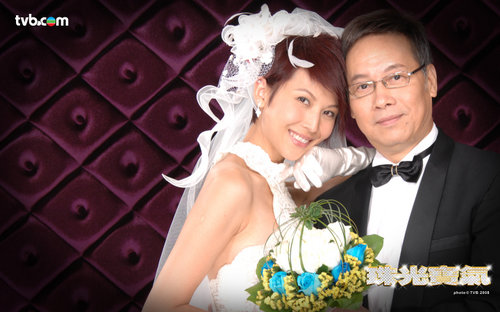 Initially I thought it was quite disgusting to watch this couple who were so distant in their age and generation gap. Surprisingly, their chemistry turned out quite good and I was quite impressed with the way Martin treated Jessica; he really seemed to be in love with her.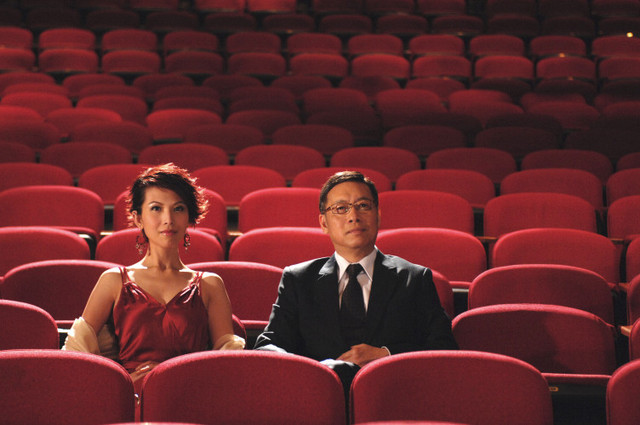 It was a pity that Jessica was in it for the money, but somehow she did fall in love with him, I believe as she reminisced all their sweet memories together.
It was so sad when Martin became so paranoid and Jessica so manipulative after the 2 years; it totally ruined that sweet relationship they used to have.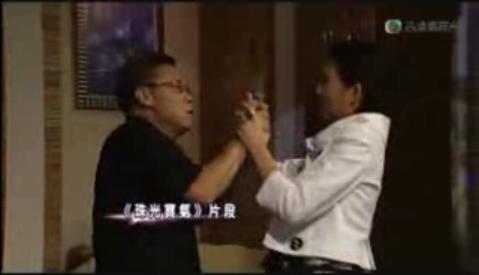 Jessica & Wo Ho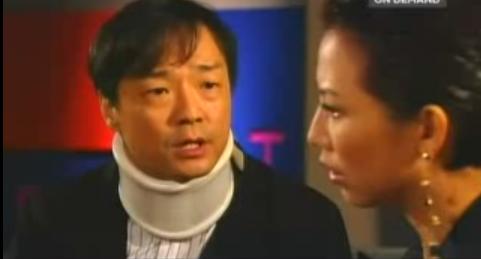 This is a one-sided relationship; Wo was the one who loved her since young while she only had eyes for rich men. He helped her in everything she does and always tried to guide her on the righteous path while she is always doing the wrong thing. She just kept using him; which I find really selfish, especially when she knows how much he loved her. He was so nice to her, and still loved her after she married Patrick. When they divorced, he was hopeful of starting a relationship with her, and yet she still eyed all the wealthy men. When he found out that she is with Martin, I think he was still a little hopeful since he was so much older, but when they are finally married, he gave up but he still loved her and helped her all the way, and he became blind in the end.
Wo & Elise
She hated him in the beginning for being such a plain guy but then she slowly started to fall for him since he was such a kind-hearted guy. He treated her well and she was so concerned about what could anger him and how to make him smile. It was so sad that this was again, another one-sided relationship.
Elise & Will
He loved her and even lusted after her. He tried to help her in everything including winning the competition and yet she was all the way, only using him. In the end, even when she started improving her attitude, she was still instructed to manipulate Will which was against her will since she was concerned about his brother. She never loved him while his love turned to hate.
Will & Melissa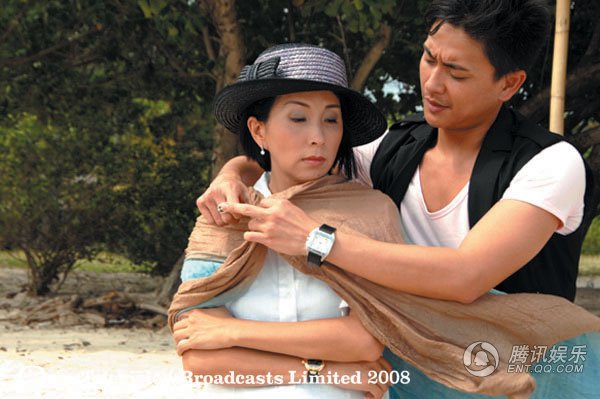 Despite the rumors, these two were really innocent as they were just purely superior and subordinate relationship. Of course, off the record, they were close friends although Melissa is a very careful woman with revealing her weaknesses and her deepest secrets.
Calvin & Catherine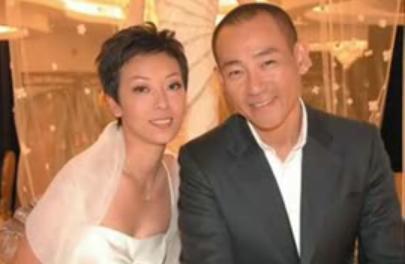 He was disappointed by Sylvia and Catherine was just there for him. I guess it was more of a relief relationship. He never loved her; poor Catherine.
The Love triangles
1. Calvin-Sylvia-Sunny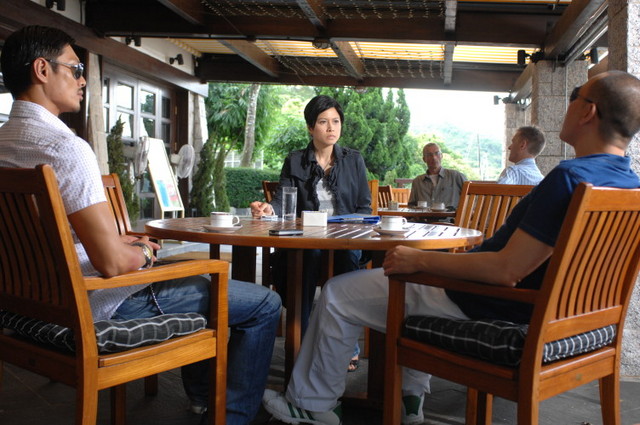 I wouldn't say this is a love triangle actually; since 2 people were also in love with Calvin. Sunny was a gay, but a selfless guy who kept his love for Calvin a secret to protect him although it hurts him when he sees him with Sylvia.
Sylvia and Sunny became good friends as Sylvia knows about this secret and even helped him despite the rumors in the office that they were together as a couple.
They used that to their advantage to help Calvin.
In the end, they were just two people who were so in love with Calvin that they are willing to sacrifice everything for him.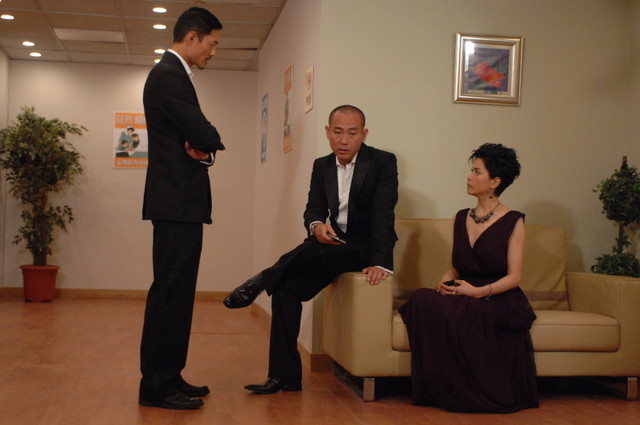 2. Catherine-Calvin-Sylvia
Sylvia loves Calvin deeply and selflessly while Catherine is the opposite. She is selfish and probably due to her low self-esteem, she constantly struggles to do things right. She refused to give Calvin up despite knowing how deeply in love the duo are. Sylvia, on the other hand, was so generous that she gave Calvin up and even hurt him repeatedly because she believed that Catherine will be able to help him in his business.
The most pitiful character here is actually Calvin; has anyone ever asked him what he actually wanted??
3. Moses-Constance-Derek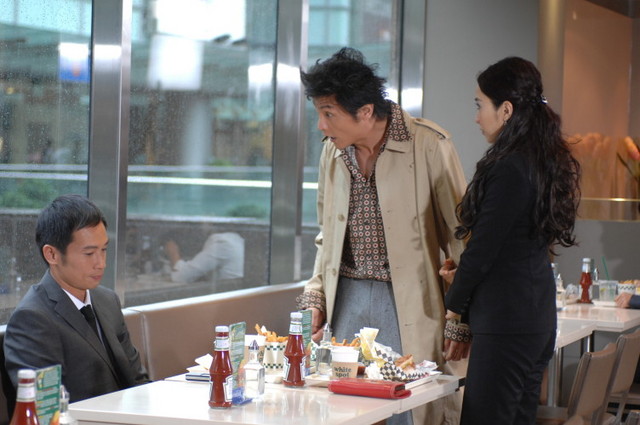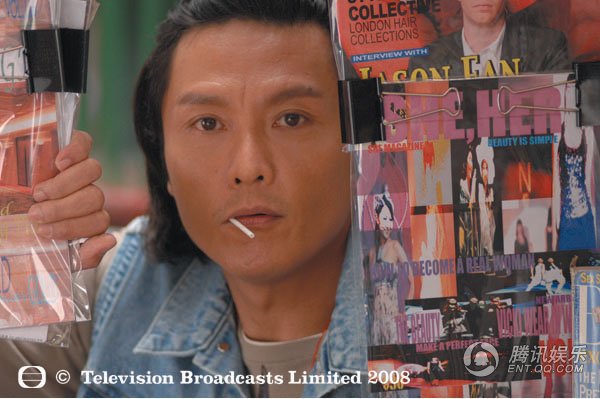 Derek fell in love with Constance at first sight and always thought that Moses was the one who took her away from him. In fact, Moses and Constance met first (chronologically). It was just that they never got together and they started their relationship AFTER Constance and Derek broke up. Derek was really silly in doing all those things (it gets annoying too!) but he claims it was all for the love of Constance. Moses loved Constance deeply too; and he was more subtle and charming in his pursuit.
When Moses hurt Constance, she decided it was time to give up on love and that was when Derek came back; a changed person and she was caught between the two men.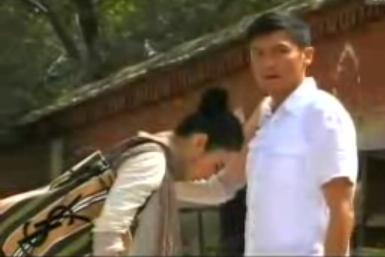 4. Elise-Moses-Constance
Moses never loved Elise; neither did she. They were both brother-sister kind of relationship which made me so disgusted when they just slept with each other. It was like some kind of incest or something!
I couldn't believe that Moses could do that to hurt Constance, frankly, I despised him from that point!
5. Wo-Jessica-Martin
Wo loved Jessica endlessly, while she only has eyes for money and Martin was the man who fitted the bill. I guess she gradually started to love Martin who was really a great man/husband. Wo never forgot or gave up on his love for Jessica; too bad it was never reciprocated.
6. Melissa-Martin-Jessica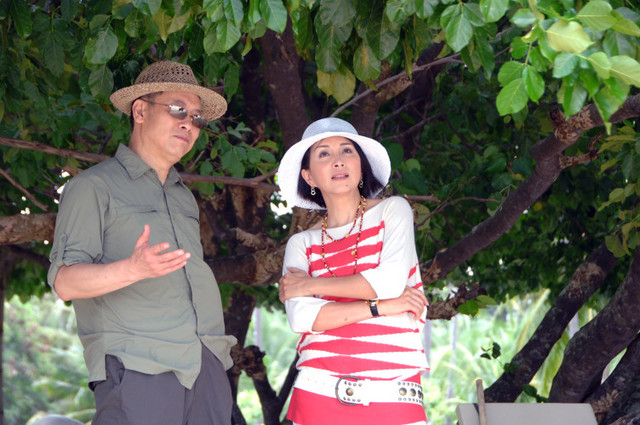 Widow and widower; Melissa became Martin's closest friend and I believed deep down inside her heart, she hoped for a relationship development. That was why she was so upset when Martin announced his wedding with Jessica.
Melissa was even more hurt when Martin betrayed her in business, and that was the breaking point between the two. Melissa was never his friend after that; she couldn't live past it.
It was a pity, but I think even without Jessica, Martin never see her as more than a close friend.
7. Will-Elise-Wo
Will lusted after Elise who was clearly just playing games. She hated the two brothers in the beginning but then she fell for Wo who had always given a word or two on how to be better in person. Unfortunately for her, Wo was only interested in Jessica and only saw her as a sister.
She loved Wo so much that she couldn't accept it when her grandfather wants her to sleep with Will to help in his plot for revenge.
Will, on the other hand, turned his love/lust to hate when he realized that she was only out there to manipulate him.
8. Elise-Wo-Jessica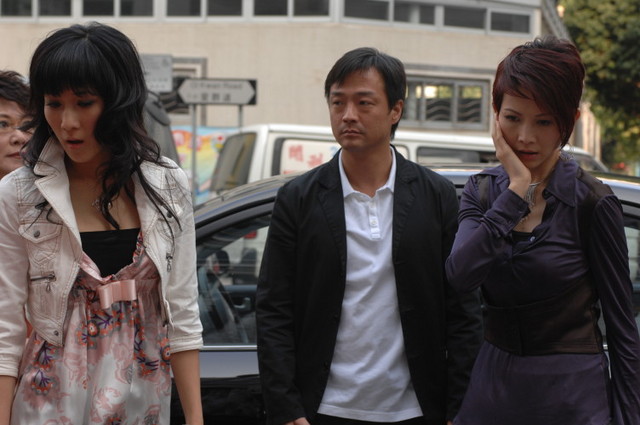 Elise loved Wo and yet she was so hurt to see how he couldn't win Jessica's heart. That was when Elise changed for the better.
9. Joey-Sunny-Sylvia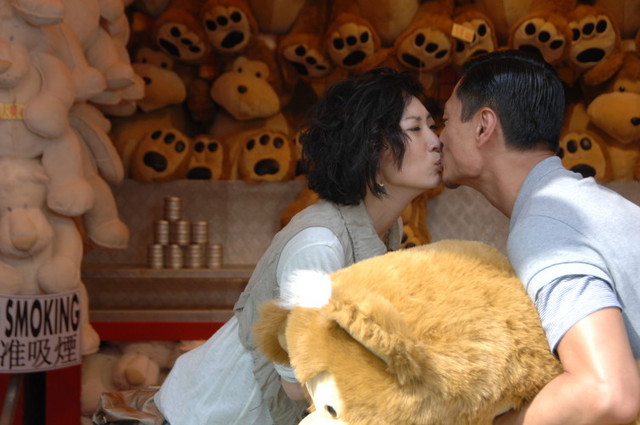 Joey really loved Sunny and was so disappointed that Sunny was always with Sylvia. Like others, she misunderstood that Sunny had always had eyes for Sylvia and vice versa. Sunny, was only using her to avoid the misperception by the public and the whole relationship with Joey was just a show.
My Favorite Scenes/Hilarious Scenes
1.The three sisters staying in the same house and were so close to each other
2.When the father scolds the 3 daughters for being so inconsiderate
3.Both sisters scolding Jessica when she lied to the whole family in helping Patrick
4.The three sisters uniting to crush Elise at the boutique, and in everything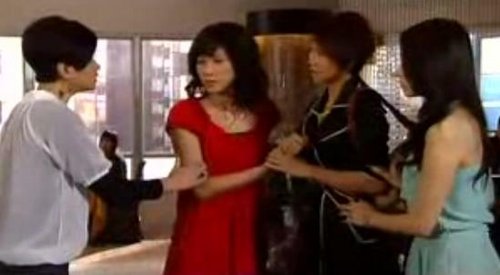 5.All the courting scenes between Constance & Terence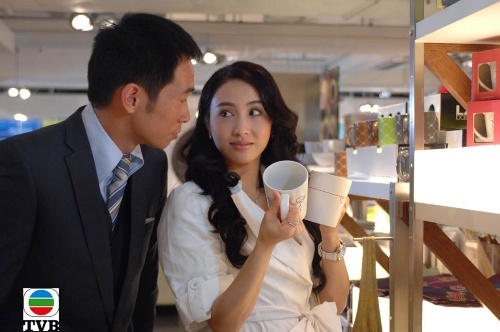 6.How Terence confessed his love to Constance through the neon lights in the skies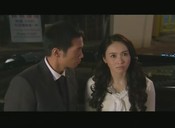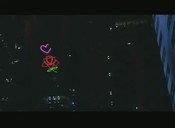 7.Terence calling Constance on his private jet to tell her how much she means to him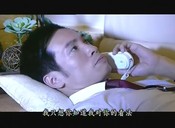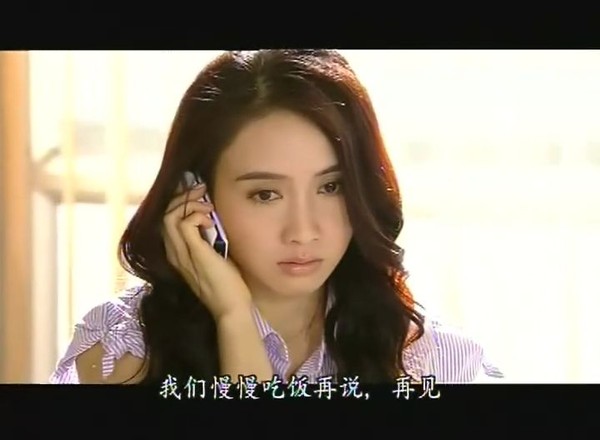 8.Terence hugging Constance outside the hospital tightly even when she protested and he hugged until she gave in and hugged him back
9.Constance picking up the cup cover and put it on her own cup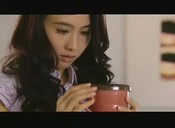 10.How Terence and Constance both broke the chopsticks the same way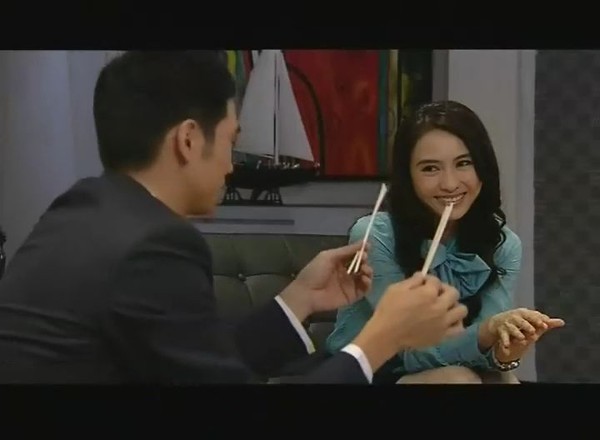 11.How Terence and Constance first met in the boutique



12.Calvin stripping to make Sylvia smile in the elevator
13.The three sisters coming home to visit their mother and not talking to each other
14.The father crying and reprimanding his three daughters outside the hospital and also at home, telling them how he could have such stupid daughters
15.Jessica and Patrick's funny argument in the beginning of the series, when she said she would max his credit card limit.
16. Any scenes will all the ladies in it (Girl power in this drama!)
17. When Will thought Melissa wants to get him in bed (he had to go to her house late at night to submit the assignment and he heard rumors that most of the young guys in the company climbed up the ladder through sleeping with her)
18. Terrence and Constance on the ship; she was trying to get Terrence to help her brother-in-law -funny scene!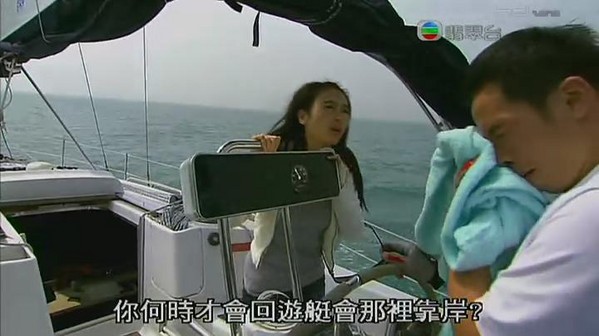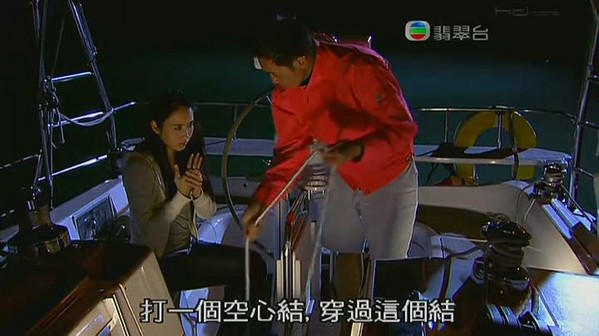 19. Terrence and Constance on the ship again; this time as a couple - when Constance realized she wants to be with him.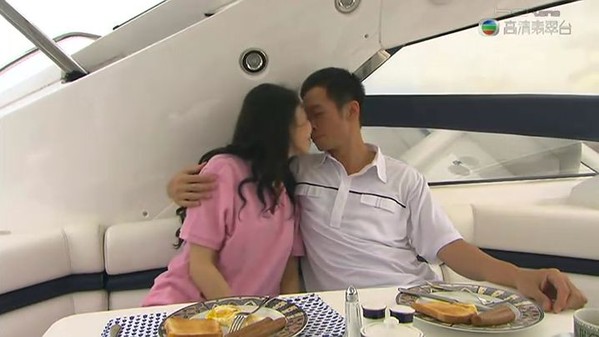 20. Terrence and Constance lunch scenes in that rooftop cafe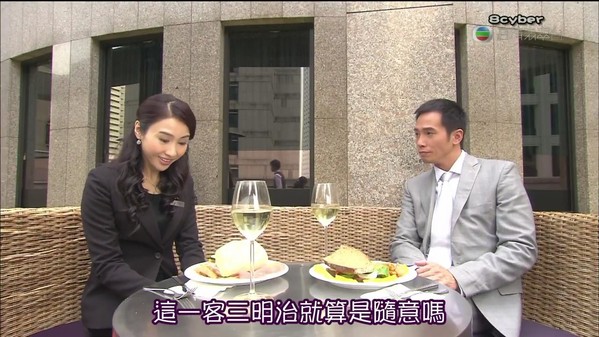 21. Sylvia & Calvin ended up in hospital for food poisoning after their lunch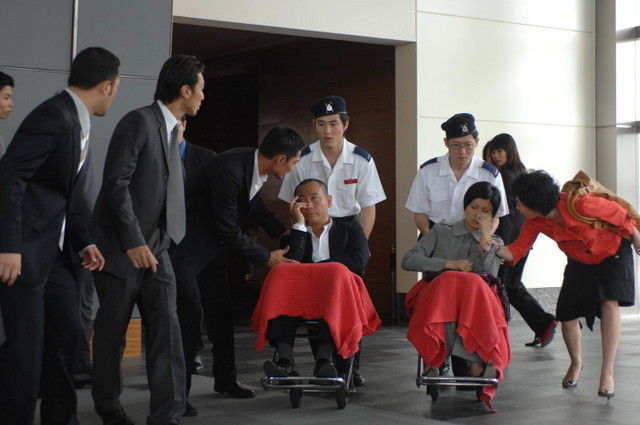 22. Jessica and Patrick appearing in funeral and one of the tai tai commented that somehow she always manages to look so sharp at every event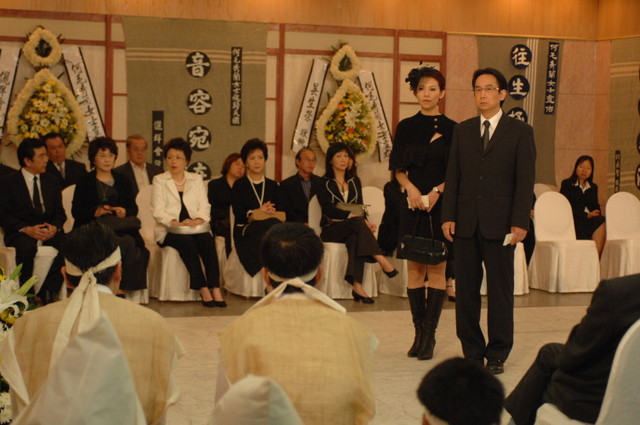 23. The 'Apprentice' Game Show scenes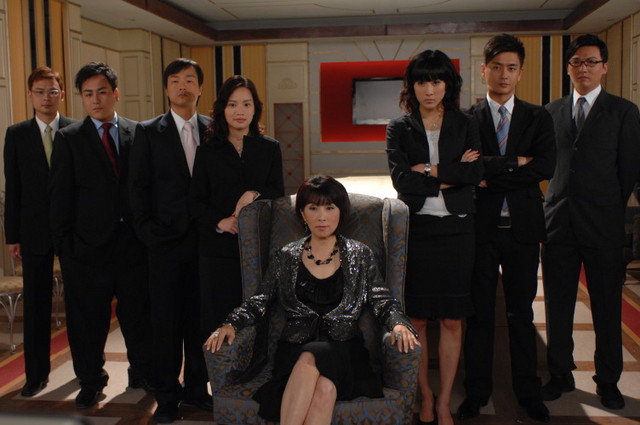 The heart-wrenching parts
1. When Constance thought Terrence cheated on her with Sharon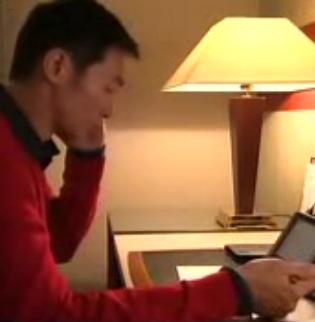 2. When Terrence missed Constance by 1-2 minutes at the cafe in Paris and Constance just didn't flip over that postcard he wrote!! ARRRGGGHHH!! (So typical of TVB!)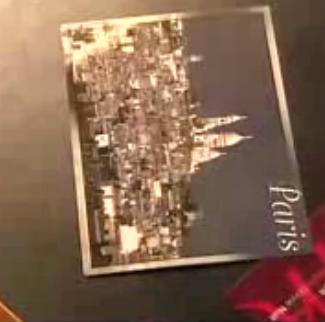 3. When Constance tells Terrence that he is not the one she is looking for in love and Terrence nods quietly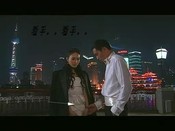 The I-don't-get-it-part
1.How come they suddenly rushed to 2 years later and everyone just changed like that? I mean, how come?
2.How Tim could accuse Sylvia of neglecting him when he is a pilot? Like hello, doesn't he fly all the time as well?
3.When did Martin go to the Philippines and got kidnapped?
4.Who kidnapped Martin?
5.How did Martin die?
6.Since when Sylvia realized she like Calvin? Just because he did all those little things for Calvin?
7.How come Calvin is so nice to Sylvia when he sees her with Sunny?
8. WHERE is the scene of Terrence proposing to Constance???
It doesn't make sense that there is no proposal scene when he claimed that he loved Constance so much; how could they overlook that part???

The 'I-can't-STAND-it' parts
1. Derek pronouncing Constance "Con-Si--Tence" (Just get on my nerves!!)
2. Sung Sai Man with all his wives (Goose bumps rising)
3.

Favorite characters
1.Melissa
2.Hong Ching Yeung
3.Mr Suen
4.Constance
5.Wo
6.Terence
7.Calvin
8.Sunny
9. Ying Jie (the maid with the Hongs)

Most disliked characters
1.Philip Sung Sai Man
2.Elise
3.Will
4.Mandy
5.Sung Sai Gei
6.Derek Chan Kai Fatt

Most despicable characters
1.Elise
2.Philip Sung Sai Man

Best transformed actor/actress
1.Mrs Hong
2.Derek Chan Kai Fatt

Best/Favorite Couple
1.Mr and Mrs Hong
2.Terence & Constance

Most irritating characters
1.Sylvia
2.Elise
3.Jessica
4.Mandy
5.Catherine
6.Derek Chan Kai Fatt

Most Pitiful Characters
1. Calvin Ko Cheung Seng
2. Melissa
3. Wo
4. Constance

Best chemistry
1. Moses and Gigi (OF COURSE!)
2. Mr and Mrs Hong
3. The 3 sisters

Worst chemistry
1. Will and Wo (weird how they can be brothers, just so different and did I mention weird?)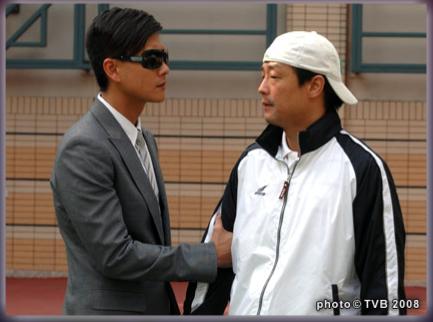 2. Sylvia and Calvin (somehow, I just don't feel the sparks in this couple)


Full cast (LONG list)
Louise Lee Sze Kei – Mrs Hong/ Pak Siew Yau
David Chiang – Mr Hong Ching Yeung
Maggie Siew Mei Kei - Sylvia Hong Nga Yin
Gigi Lai Chi - Constance Hong Nga Tung
Ada Choi Siew Fun - Jessica Hong Nga Sze
Wong Hei - Shek Tai Wo
Bosco Wong Chung Chak - William/Will Shek Tai Chuen
Lau Dan - Suen Wai Dak
Patrick Dunn/Tang Chi Fung - Martin Ho Fung
Moses Chan Ho - Terence Ho Chit Nam
Bowie Lam Bo Yee - Calvin Ko Cheung Seng
Lai Suen - Mrs Ko (Calvin's Mother)
Chan Hung Lit - Philip Sung Sai Man
Linda Chung - Elise Sung Chi Ling
Helen Ma - Margaret Sung Kwok Yuen Yee
Queenie Chu - Mandy/ Man Wai
Queena Chan - Charlie/ Cheuk Yi
Yu Yang - James Sung Sai Kei
Cindy Lee - Kate Sung Pui Ka
Eddie Kwan Lai Kit - Derek Chan Kai Fatt
Kenny Wong - Sunny Yau Yat Tung
Rebecca Chan Sau Chu - Melissa Yan Wai Ting
Florence Kwok - Catherine Sum Chi Tang
Cheung Chi Kwong - Patrick Yeung Chi Kau
Matt Yeung - Oscar



Overall, it was not too bad of a drama with an interesting storyline. However, there were little effort in the character and story development. I felt it was too slow at certain point and it was too rushed at other points. There were too many arising doubts.
Frankly, I am quite disappointed in the way TVB always want to have this kind of grand production but yet, just for the sake of dragging all the way for the long episodes and not taking into consideration of the storyline.
The jewellery and the cars were great in this drama.
Another complaint is the lack of dresses and attires for the actresses; this is after all, a grand production and they were supposed to have married the wealthy. How come they are always repeatedly dressed in the same attire?
TVD need to learn a thing or two from Taiwanese dramas; they are always rich with their wardrobes.
Recommended to watch if you are a fan of all the leading actors/actresses, but be prepared for the long watch!

Rating: 3/5

Moral of the story:
The Gem of Life, in its title alone holds not just the meaning that the whole showis about jewellery and the sparks in this industry.
That was the general perception in the initial part of the drama.
As you approach the end (if you are still watching), you will realize that the GEM is all about WHAT is the MOST important thing in your life?
Is being glamourous/famous and rich is all you want?
The Gem of Life as you observe is the family; the core unit of each individual.
No matter how you have changed or what you have done previously, only your family will stand by me and not be bothered by your appearance and physical behavior.
That is the priceless gem in life =)

(Pictures taken from web and TVB website. This is only meant for illustration purpose and not for distribution)