I recently completed watching this comic TVB drama and I just wanted to write a review for it before I forgot about the characters' names and the storyline.
It was a pretty interesting drama which had a rather weird Chinese title - translated to Two Wives in an Era (兩妻時代)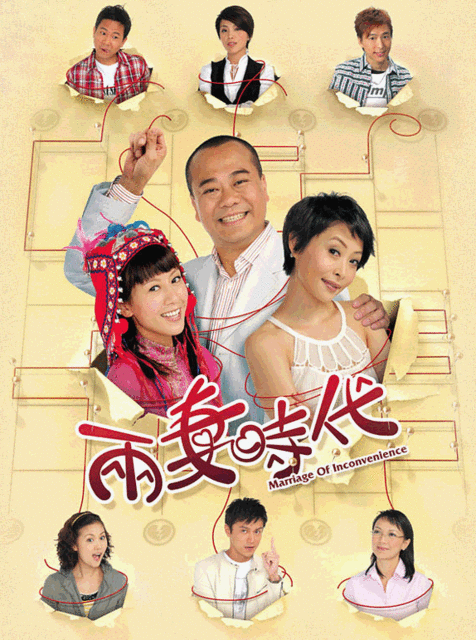 Cast:
Bobby Au Yeung Chun Wah - Kong Hoi Chuen
Angela Tong - Miu Ling (Miaow Miaow)
Raymond Wong - Ivan (Yik Hei Ji)
Toby Leung - Ng Yi Wu Jiu
Power Chan - Lam Pak Sam
Winnie Yeung Yuen Yee - Betty (Yim Woon Pik)
Li Ka Sing - Fok Yim
Astrid Chan Tzi Ching - Sai Ping
Patrick Tang - Ah Kim
Mimi Lo - Amy
Stephen Huynh - Tin Long
Joel Chan - Ho Nam
Episodes: 20
The series started with a battle between Angela and Bobby; which seemed to conceptualize from a video game.
They were trying to outdo each other and destroy their stand from opposite sides.
It was a little far-fetched; for a battle between a previously married couple to come to such an ending after their divorce.
Well, that's exactly what you might want to be prepared for before watching this particular drama.
Expect lots of misunderstandings, vengeful characters, and at the same time, learn the price of pride in determining the ups and downs in your life.
What started out as a marriage of blossoming love between a beautician played by Angela Tong with the character name of Miaow Miaow (what kind of person calls herself after a cat anyway?) and her good Samaritan admirer played by Bobby, as Chuen who runs a matchmaking agency turned out ugly after a blissful period of marriage of 3 years.
All because of a few misunderstanding events; which is typical of TVB dramas...otherwise, we wouldn't be having yet another production to watch, right?
Husband works hard to support the household and to provide the wife with the luxuries in the home they both built. Due to his hectic schedule, he neglects the fact that he has overlooked the importance of being his wife's company.
At the same time, wife is the happy homemaker who decorates the house according to her tastes and interests. She looks forward to preparing meals for her husband every night and is often disappointed when husband calls home to say he's busy and she will go shoe-shopping; ending with a huge cupboard full of shoes.
Well, when the Miaow's ex-lover, Ivan (Raymond Wong) who has left her 3 years before comes back and wants a reconciliation; Chuen who happened to have been diagnosed with urinary problems saw them on the road kissing and misunderstood that they were having an affair.
At the same time, Miaow was upset that her husband didn't believe her and after an argument, Chuen left and had a drink; ending up next to his female client, Ng Yi Jiu (Toby Leung).
As expected, more and more misunderstanding ensue and one thing led to another, the couple ended up in divorce.
However, the real drama starts when they both want ownership of the house and the fight begins.
Miaow soon tries to put her foot into the matchmaking agency as well and using that as a stake, they compete to see their performance in engaging the number of clients every month to put a flag in the area of their home as part of the victory deal.
The one who holds the majority areas in the house will own the house eventually.
Pretty petty but ingenious too; it was a hilarious watch to see how they both compete in attracting their customers and their group of friends who supported them all the way.
However, at the same time, was their feud really worth everything and everyone?
It was unique that Miaow and Chuen finally came to a realization that they were both fighting for nothing; and have put the cost of winning their house at the expense of their friends' happiness.
I find this drama far-fetched to a certain extent (as mentioned in the beginning) but at the same time, I believe it also included lots of humorous elements in every episode to make this an entertaining watch.
Do I recommend this?
Yes, if you are looking for a good laugh and nothing too intense, this is definitely a drama for the whole family.
Rating: 3/5