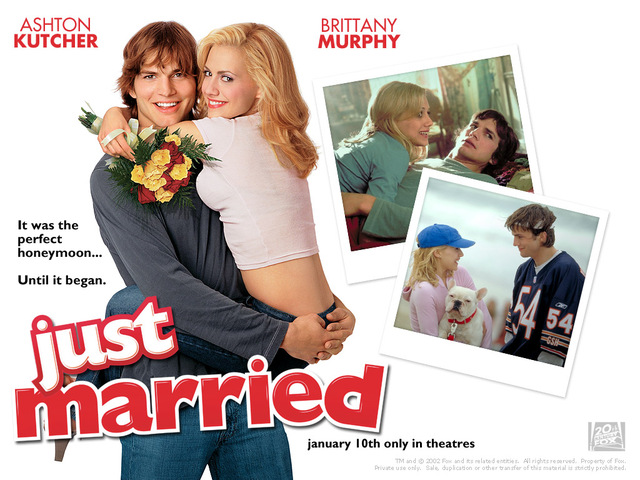 Year Produced: 2003
Director: Shawn Levy
Producers: Robert Simonds, Lauren Shuler Donner
Writer: Sam Harper
Distributor: 20th Century Fox
Running Time: 95 minutes
Language(S): English, Italian, German, French
Country of Origin: United States of America
Cast:
Ashton Kutcher as Tom Leezak
Brittany Murphy as Sarah McNerney then Sarah Leezak
Christian Kane as Peter Prentiss
David Moscow as Kyle
Monét Mazur as Lauren
The McNerneys
David Rasche as Mr. McNerney
Veronica Cartwright as Mrs. McNerney aka Pussy
Thad Luckinbill as Willie McNerney
David Agranov as Paul McNerney
Taran Killam as Dickie McNerney
The Leezaks
Raymond J. Barry as Mr. Leezak
Storyline/Plot/Synopsis:
The story starts with Tom and Sarah at the airport, fighting with each other all the way and Tom dropping Sarah at her home as a favor to her and crashing all the flower pots and statues in her house compound at the same time.
While Sarah ends up crying on the shoulder of her best friend, Lauren, Tom was back at home roughing it out with his best buddy, Kyle.
The story then flashes back to when Tom and Sarah first met; when Tom was playing football on the beach and Sarah was hit by the ball he threw in her direction while she was walking her dog. The two got acquainted with each other and soon started seeing each other, despite Sarah's wealthy family's objections to their relationship when Sarah brought Tom back to meet her parents.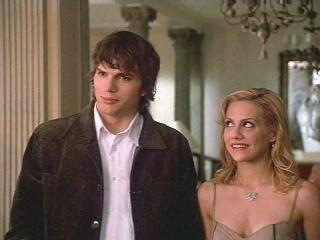 Though it started on a bad impression, the family could not stop Sarah from marrying Tom in a traditional church ceremony, to which Sarah was happy to finally be with Tom.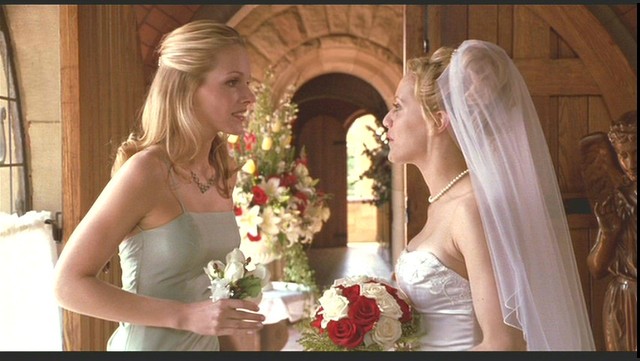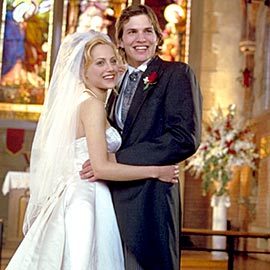 However, Tom hid a secret from Sarah and vice versa; as Tom accidentally killed her dog while he was in her room and Sarah, at the same time, was trying to keep the incident of her sleeping with Peter once from Tom, who hates the sight of Peter.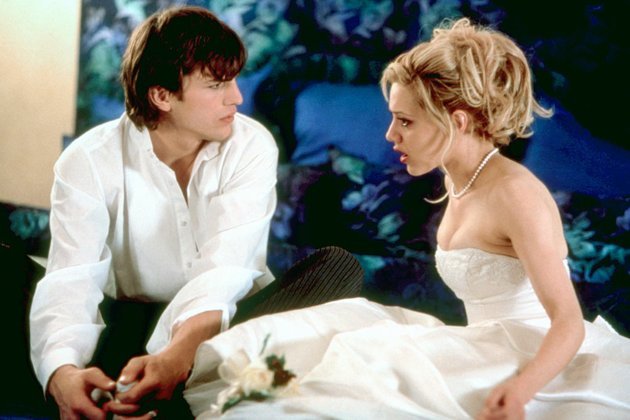 On their wedding night, they saved their first night for the honeymoon as both were extremely exhausted after the wedding ceremony, but Sarah tried to drag Tom to the restroom on the plane to have sex. However, their attempts to join the mile high club failed and they even hurt the air stewardess who was constantly telling them to return to their seats due to the air turbulence when their door swung open into her face. Upon landing at the airport, Tom was upset to learn that they were given a small rental car; a lot smaller than what he originally requested for during his reservation.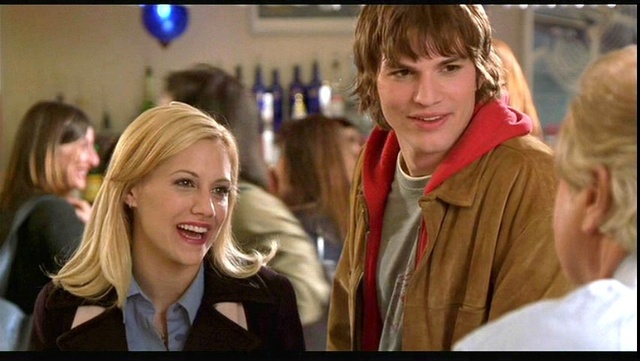 While they were driving to their destination, Tom was complaining and when Sarah tells him to make a sharp turn at the very last minute, they both got down from the car, arguing but soon reconciled as they realized that they sounded like an old married couple.
Reaching their hotel, they were pleased with the excellent French hospitality and amazed with the beautiful suite they were given. However, Tom was a little annoyed when the concierge informed them of a bottle of wine given to them by Peter, congratulating them on their marriage, as Peter had been trying to pursue Sarah for years. In their suite, Tom found another gift from Kyle; which was a Thunderstick A-200; a sex toy which he was excited with and tried to plug it into the wall socket to charge immediately. Unheeding Sarah's objections, he forced the plug into the socket but it was not matching the European socket standards and thus caused power blackout in the hotel and the entire village. The hotel manager was furious with the couple as the establishment was started by his great grandparents and had never run into problems like these. Tom was furious with his attitude and the two exchanged words of anger whereby the manager kicked both Tom and Sarah out of the hotel.
Sarah was upset at not being able to enjoy the beautiful hotel and the two ended up staying inside their car for the night as their car lost control and derailed off the side of the road. Their car was covered with snow the next morning and the two got out and hitchiked a ride from a truck driver and ending up at Venice where they checked into a less than impressive pensione there.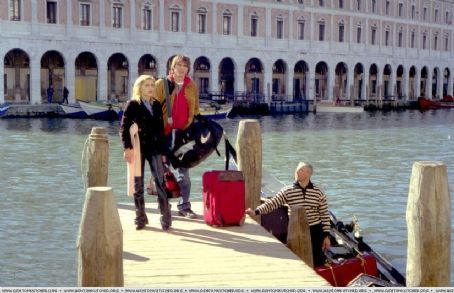 However, they tried to make the best of the situation and attempted to make love but were freaked out by the cockcroaches and then, the two crashed the wall into another couple's room and it was then that they decided to move out of the pensione.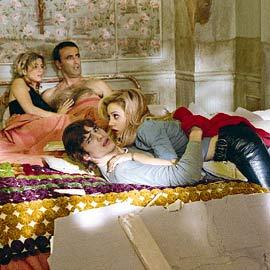 Despite Tom's objections, Sarah sought the help of her father to book them a luxurious hotel but her father reminded Tom to repay him the money as soon as possible.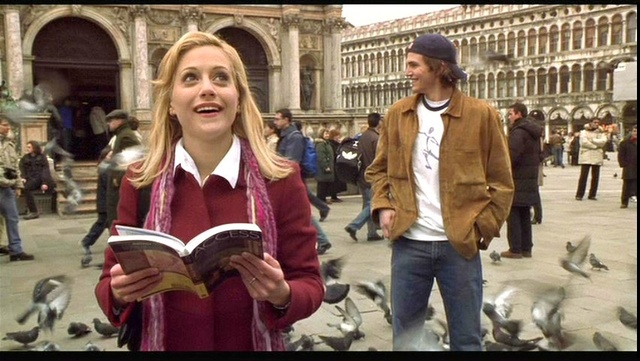 Their honeymoon seems to be back on track when they set off for their sightseeing tour the next day; but it seemed that Tom was not interested in most of the architectures of attractive spots which Sarah enjoyed and agreeing to separate for their own interests in activities, the couple split into Sarah continuing her tour around major tourist spots and Tom hanging out at an American themed bar watching sports updates. Sarah returns to the hotel early and was surprised to find that Peter was also staying in the same hotel. Tom was furious to find out about Peter's presence and the two wound up in a heated argument in which Tom revealed that he accidentally killed her dog while Sarah also mentioned that she had slept with Peter once.
Shocked with the revelation from both sides, they both stormed out of the room and went on their separate ways again; with Tom ending up at the bar and Sarah on her sightseeing again; where she bumped into Peter.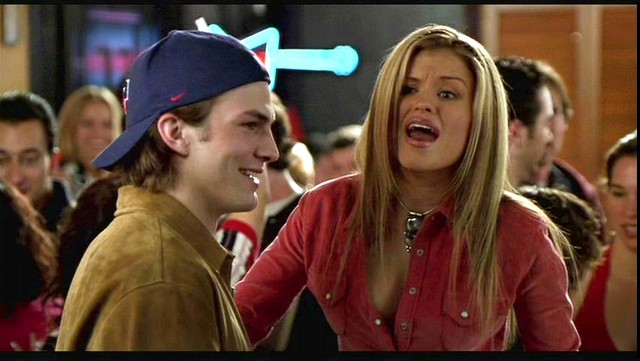 Tom, on the other hand, was at the bar when he met a girl who flirted with him. Realizing that she wants sex, Tom tried to get out of the conversation by excusing himself to the toilet where he ends up climbing out of the window to escape back to the hotel. However, when he found out that Sarah was with Peter in the hotel, he stormed off in anger and bumped into the girl at the bar again. Trying to get away from her, he tried to offer sending her back to her hotel but unknowingly revealed his own hotel where the girl also claimed she was staying there. She followed him to his hotel room where she started taking off her clothes and got on top of him, while Tom was wriggling his best to get away from her and finally yelled that he was on his honeymoon with his wife, and she finally left.
Peter and Sarah went for a drink together and when he dropped her off at the hotel, he kissed her and was witnessed by Tom from their balcony. However, what Tom did not see was that Sarah slapped Peter and tells him that she is on her honeymoon. When Sarah reaches the room, Tom initiated an argument and accused Sarah of cheating on him with Peter, while Sarah was furious to discover a red bra in the room.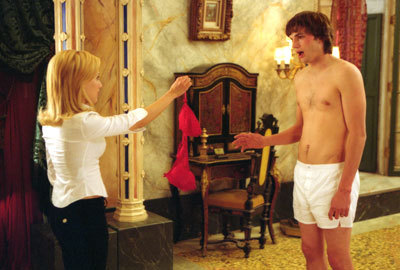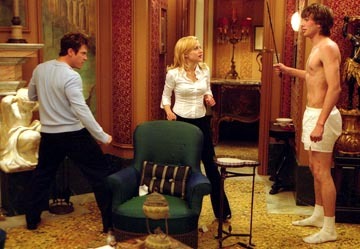 As the two was in their shouting match, Sarah threw an ashtray at Tom, injuring him on his forehead, and Peter barged into their argument, pulling Sarah to run away with him and fuelling Tom's anger to which he picked up a poker to threaten Peter, who ran off and had the hotel's staff to lodge a police report, and the couple ended up spending the night in jail. Peter bailed them out but the couple were too furious with each other and cut their honeymoon short, boarding the plane back to LA.
On their way back, the two continued their acts of vengeance against each other; especially Sarah who told the airport officials that Tom had drugs stuffed in his anus and ending up in him being searched.
When they reached LA; which was the beginning of the movie, the two separated ways but soon realized that they still loved each other very much and were both heartbroken with how they turned out. Tom was advised by his father, and after hearing his father's story, drove to Sarah's house to make amends with her, although the family and the maid refused entry to him.
However, Tom threatened to ram the gate with his car and then proceeded to declare his love for Sarah at the security circuit camera attached at the front gate which touched Sarah, and even her family as her father urged her to go after him and the couple reconciled with an embrace and kiss.
Christy's Review:
Simple and sweet storyline, and hilarious with the twist of events occurring on the disastrous honeymoon. Brittany Murphy was just so sweet as the young and promising bride while Ashton Kutcher was equally a adorable, making them such a lovely couple to watch and it was sad to see them parting, really. It was a very light-hearted movie filled with lots of drama, but eventually love conquered all, making this yet another heart-melting romantic comedy to be enjoyed by everyone.
Likes about the movie:
Scenes between Brittany and Ashton; their chemistry is amazing!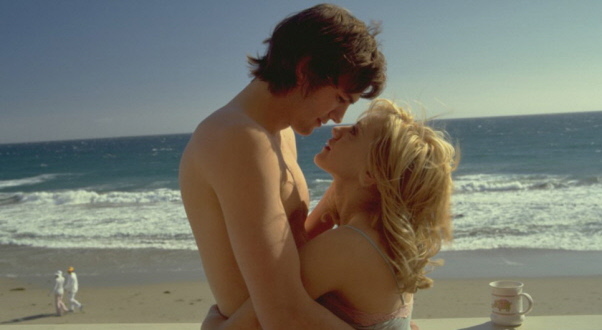 Dislikes about the movie:
Besides the bickering scenes, there should also be more romantic scenes to portray more of their fiery romance for each other although it is not lacking that much in the movie either.
Verdict:
Watch, for the sweet and lovely scenes between Brittany and Ashton which makes them such a desirable newly wed and is bound to make any newlywed or even longtime married folks enjoy the entertaining jokes from the disasters on their honeymoon.
Rating: 3/5