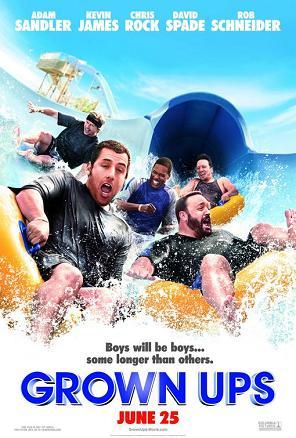 Year produced: 2010
Director: Dennis Dugan
Producers: Jack Giarraputo
Writers: Adam Sandler, Fred Wolf
Distributor: Columbia Pictures
Synopsis/Plot/Storyline:
The movie started with a basketball match in 1978, and five childhood friends on the same team cheered over their victory after winning the game. They adjourned to a rented lake house to their celebration where they were told by their Coach Buzzer to live their lives the way they have played their victorious game, that the day when their final buzzer sounds, they will be content and happy.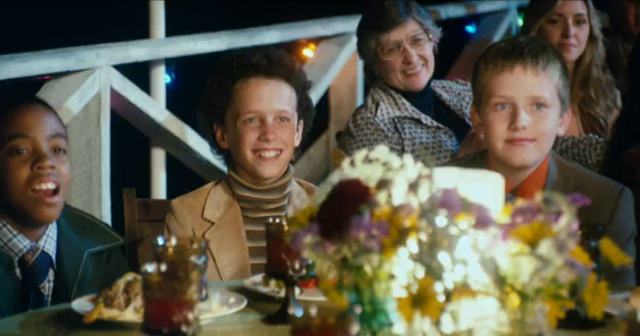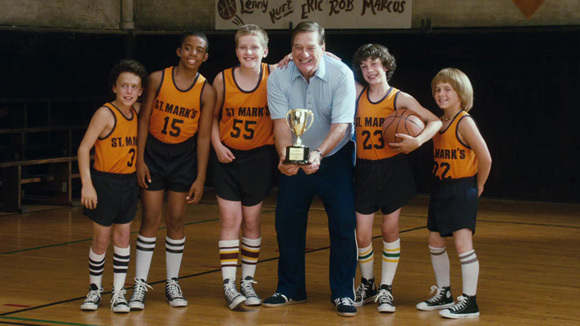 Fast forward to the modern day, thirty years later, the five friends who remained in contact with each other are all fully grown men with their own families.
Lenny Feder (Adam Sandler) is a talent agent in Hollywood, who is married to fashion designer Roxanne (Salma Hayek) and they have three children; two sons, Greg and Keithie, and daughter Becky. His two sons were spoilt and pampered and sits around at home most of the time, enjoying video games rather than having fun out in the sun, as Lenny would prefer.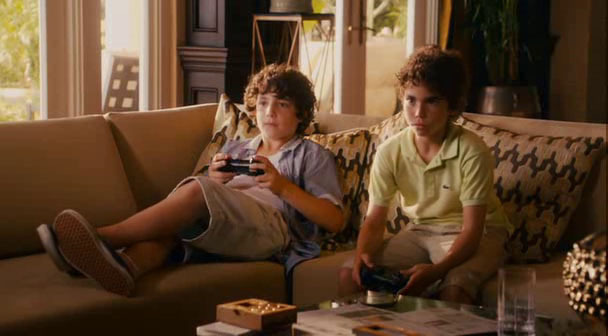 Lenny received the news of Buzzer's death from his youngest daughter who was trying to drive the family car and ended up ramming into their garden table.
Eric Lamonsoff (Kevin James) claims that he co-owns a lawn furniture company and drives a Cadillac which he is proud of.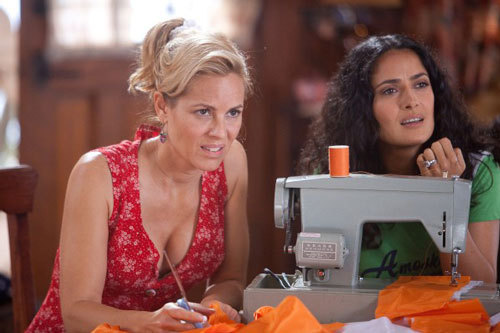 He is married to Sally (Maria Bello) and they have two kids, Donna and Bean and also a dog, which had its chords nipped due to a complaint made by the neighbors that the dog was too noisy.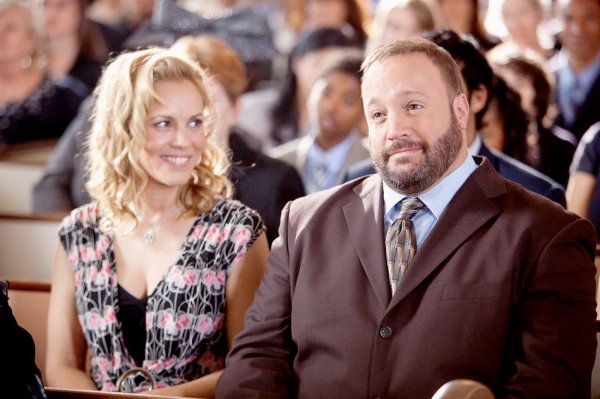 Eric was relaxing in the swimming pool in his backyard when Sally told him about the news of Coach Buzzer's death and as he tried to get out of the pool, he accidentally tripped and caused a leak in the plastic pool which caused the water to flow all over the garden.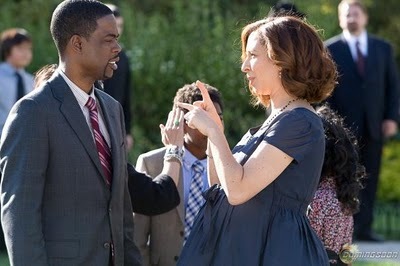 Kurt McKenzie (Chris Rock) is married to Deannie/Ronzoni (Maya Rudolph), the breadwinner of the family while Kurt is a stay-home dad who takes care of their two kids; Andre and Charlotte and Deannie's mother (Ebony Jo-Ann) who picks on his incapability. Deannie is also pregnant with their third child.
Rob Hilliard (Rob Schneider) is a pacifist vegan who had been divorced for three times and has three daughters, Jasmine, Amber and Bridget from the past marriages. He is now married to Gloria(Joyce Van Patten), who is 30 years older than him. He was massaging Gloria when he received the news of the coach's death and he asked her to accompany him to the funeral on Friday.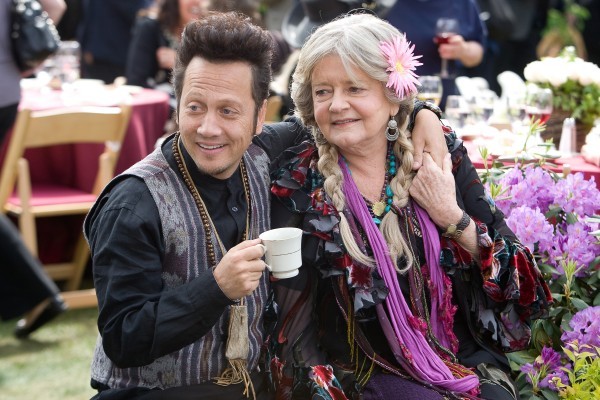 Marcus Higgins (David Spade) is the only one who remained single and a womanizer.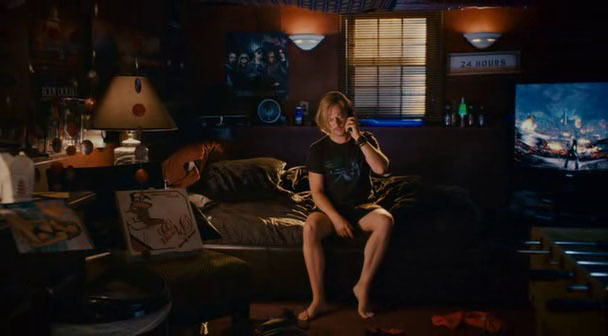 When the five met up at the funeral in New England, they teased each other endlessly about their lives.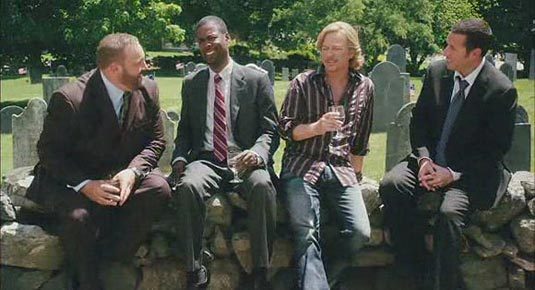 Lenny tried to tone down his profile by denying he has a nanny and he took off his sunglasses when they arrived as he did not want his friends to label him 'rich' since he was the one who was better off compared to his friends. The rest called him 'Hollywood' nevertheless due to his job and riches, while Kurt was being chastised for being a stay at home dad and that he could be more useful instead of relying on his wife to bring home the dough.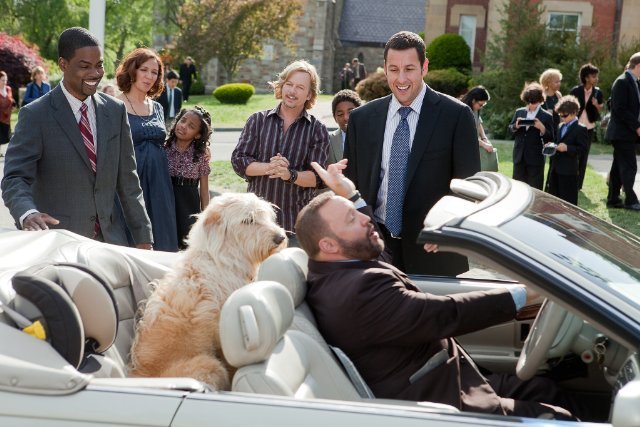 Eric arrived in a grand manner, as he drove his convertible Cadillac and brought along his muted dog with his wife, claiming that he is now a successful co-owner of a lawn furniture company. His wife, Sally, still breastfeeds his younger son, Bean, who was 4 months old, in public, much to the discomfort of the others. The guys also ridiculed Rob because of his older wife.
Lenny was called to give an eulogy as stated in Coach Buzzer's will, while Rob performed a rendition of Ave Maria which made the others laugh as he did it dramatically at the funeral.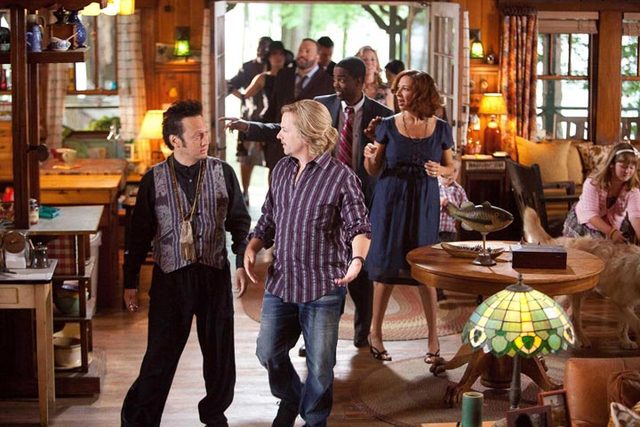 Lenny also rented a lake house to spend the 4th of July weekend with his friends, but he could not stay for the whole weekend as they had to fly to Milan the next day for Roxanne's fashion show.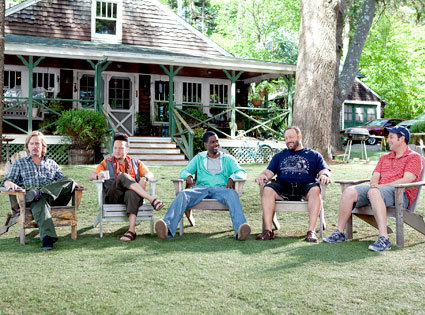 When they were at the lake house, Lenny gets annoyed that all the kids were spending time indoors most of the time rather than outdoors, and he dragged them out, motivating Eric and Kurt to do the same thing.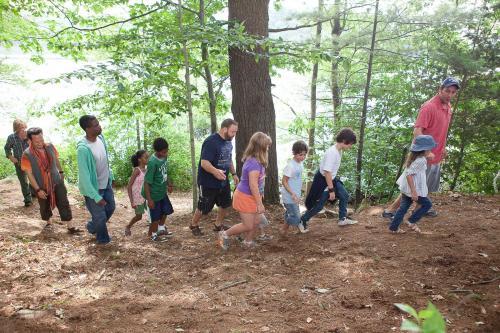 The whole group then ended up on a short hike around the lake, until Lenny spotted a rope hanging by a tree and the guys reminisce about their wild younger days.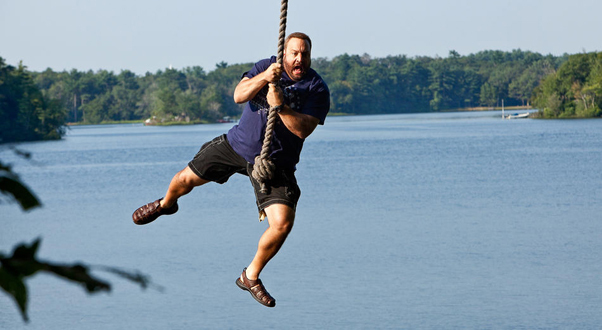 Eric jumped at the sight of the rope and volunteered to show the kids how to swing the rope across the lake, and it ended up badly; with Eric falling and injuring a bird.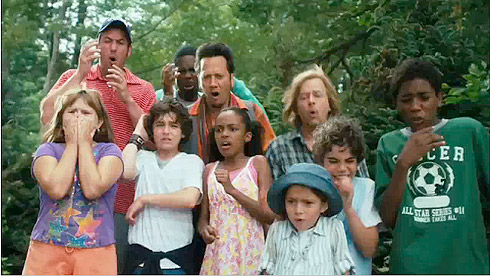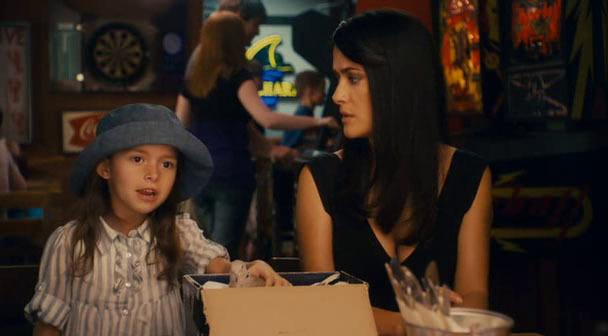 That night they all go out to dinner, and Eric offers to foot the bill for everyone. Lenny proceeds to the counter to make extra orders and bumps into his old time nemesis in high school; Dickie Bailey (Colin Quinn), who is coincidentally a cook in the same restaurant. Dickie was taunting Lenny over their victorious win thirty years ago, and how he never got over how Lenny could have been considered a winner when he was on the line while making that winning shot. He challenged Lenny and his friends to a rematch, but Lenny declares; stating that it was a waste of time as it was old history.
During the dinner, the guys discussed about the ceremony of spreading the ashes/last remains of their beloved coach the next morning. Lenny made a joke about Roxanne which made her stomp off angrily to the washroom and she warned Lenny about giving her a bad name in front of his friends. She allowed Lenny to join in the ceremony, but that they must leave immediately and early in the morning to Milan, which Lenny agreed.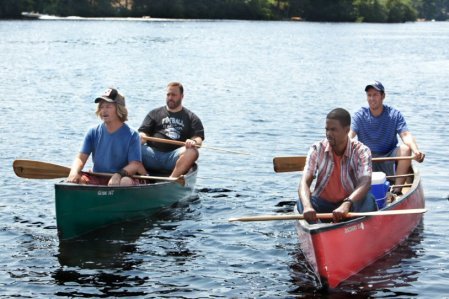 The five guys took the boat to a private island to spread the coach's ashes; with Eric taking a pee into the lake while they were in the boat.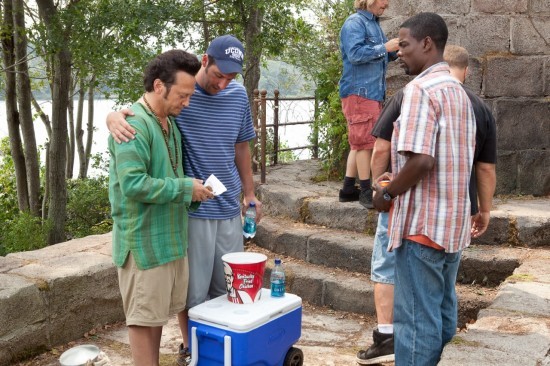 As Rob took the urn and spread the ashes, he ended up breaking down and lamented on his past failed marriages and that he was really nervous his daughters will be arriving that same day. When they got back, they were surprised to be greeted by a sexy and beautiful girl; Jasmine (Madison Riley) who arrived in an old car and was complaining to her father.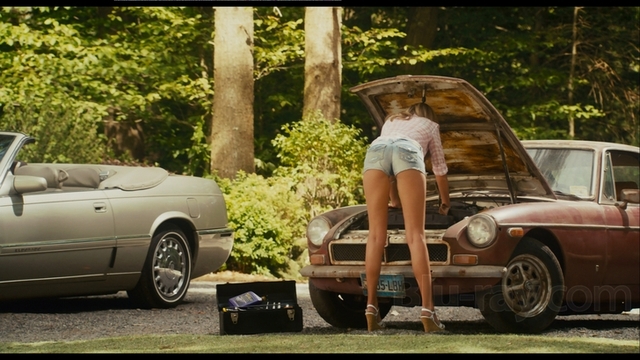 The guys, were surprised that Rob's daughter was so attractive and then they had another surprise, when another attractive girl, Amber (Jamie Chung) arrived and she is also Rob's daughter. When Rob's third daughter, Bridget (Ashley Loren) arrives, the guys felt that she was more similar to Rob due to her appearance.
Marcus was attracted to Jasmine and Amber, and tried to spend more time to hang out with the two of them, much to the annoyance of Rob.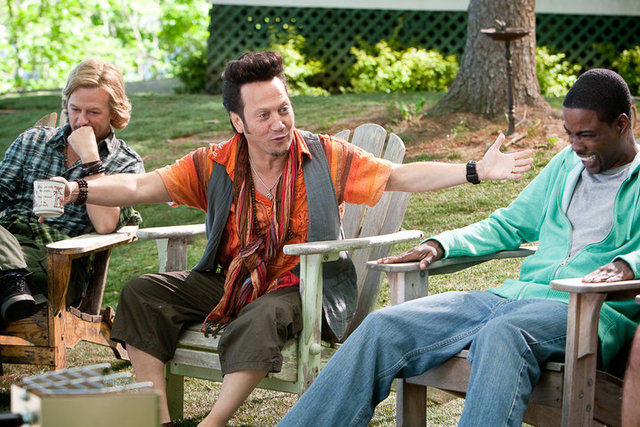 As Rob becomes more shaken with the arrival of his daughters and also the guys' mean jokes on him, they decided to cheer him up with an old game of Arrow Roulette; where an arrow is shot up into the air and the last guy to run away from the spot they are standing is considered the winner. Rob stood his ground but he ended up with the arrow sticking into his feet and the guys had to carry him back to the lake house.
That night, Roxanne was talking on the phone when her youngest daughter, Becky comes running to her in the room to tell her about her fallen tooth. Roxanne was frustrated when Becky disturbed her call constantly with her chattering, and she told her to put her tooth underneath her pillow and Roxanne will leave a coin there; leaving Becky devastated to learn that the tooth fairy never existed and it was her mother all the while. She ran back to her room crying, and Lenny helped to talk to Becky. When he reached the children's room, he was pleased to see them all enjoying a game of talking to each other on an old school cup phone connected with strings everywhere around the room. He then proceeded to declare that he will install a cup phone network around the house for them.
The next morning, as they were preparing to leave for Milan, Roxanne watched the children play skipping the rocks on the surface of the water at the lake and realized that she did not want to leave anymore. Her decision pleased everyone and to celebrate that they were staying, the whole group went to the water park where they had a day of fun in the sun and water.
The ladies had fun chatting with each other and relaxing in their swim suits; although Roxanne's slender shape and designer swim suit made the rest of the ladies kept their swim wear on to cover up their flaws.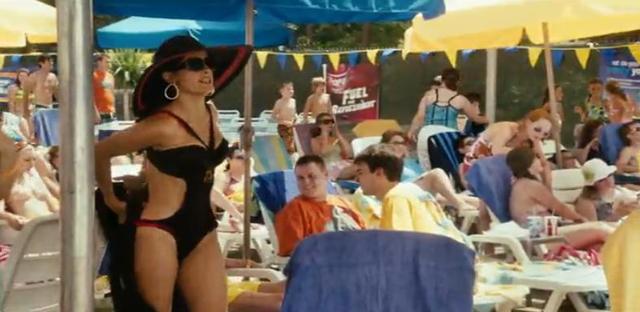 Eric humiliated the kids by peeing in the pool; after the kids told him that nowadays a chemical is put into the pool to detect people urinating in it as the chemical turns urine blue.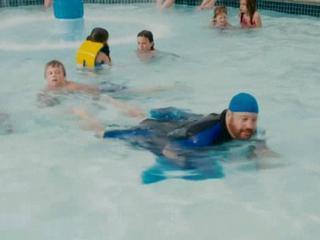 Then Eric was frustrated with Bean's constant urges to have his mother's milk and taught him to drink milk like a man, out of a carton. The long queues at the giant water slide drove Lenny to lead the pack to a shortcut route where they just jumped the queue and appeared at the start of the queue and enjoyed themselves several rows.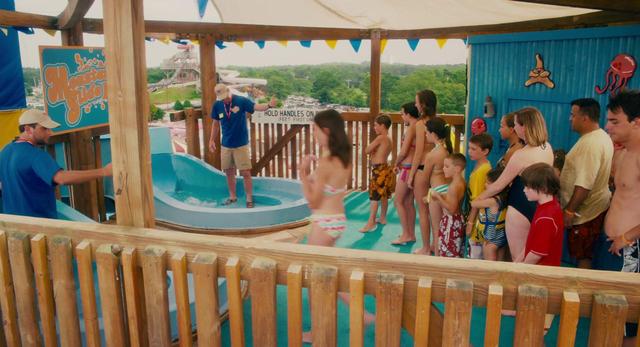 Marcus was constantly flirting with Jasmine and Amber, and Rob was annoyed with him and warned his daughters against him while the girls told Rob that they thought he was gay. The five also bumped into Dickie again and they challenged each other to a game of flying fox and Dickie's friend was injured in the process.
The five guys also ended up peeing in the pool and turning the pool blue, causing everyone around them to flee from the pool immediately.
When they got back to the house that night, Deannie was suspicious of Kurt's friendliness towards Rita, Lenny's nanny and Kurt assured her that it was just socializing and he ended up telling Deannie that she never spent time listening to him. The adults were all enjoying themselves, drinking and dancing the whole night.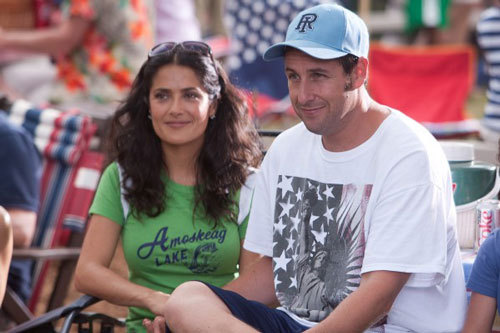 The next morning, Roxanne confronted Lenny about canceling their flight to Milan even before she had decided and Lenny told her that it was because the children were becoming too spoilt and that he thought a weekend at the lake house could help them learn about the outdoors, and he was not sure if Roxanne would agree to it. He promised her he would never lie to her again.
Deannie continued to accuse Kurt of paying too much attention to Rita, but after sharing their concerns, Deannie promised to go out on more dates with him.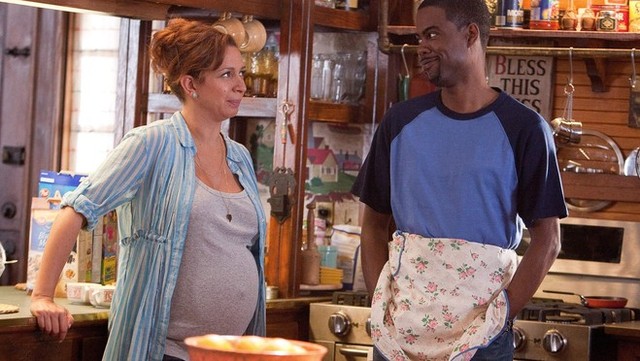 Rob suspected his daughters slept with Marcus, but they all assured him they didn't do anything and Marcus told him that he would never do that to his buddy's daughters.
Everyone also shared about their stories, and Eric confessed that he was not really a co-owner of any furniture company and in fact, he had been laid off his job two months ago. He just lied because he did not want to be perceived a failure.
Gloria ended up telling everyone that there is love between everyone and that she knew that they thought she just did not fit into their group because of her older age.
The group went out for a 4th of July barbeque party where they bumped into Dickie again and they were challenged for a rematch. Rob tells the group that they should do it and that their coach would want them to do it as well.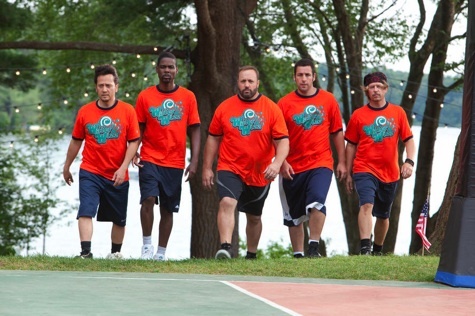 They ended up playing a game in front of their kids, but their kids also eventually joined in. Lenny had the choice of the winning shot, but he deliberately missed it to allow Dickie to finally win. The guys then took the loss in stride.
Towards the end of the movie, the group was drinking and a drunk Marcus suggested to play another round of Arrow Roulette and everyone in the group ran away immediately, causing Dickie's friend, Wiley, the one who was injured in the flying fox game to be injured once again when the arrow lands in his feet.
Christy's review
A movie with all five renowned comedians working together, sounded too good to be true, and yes, this is a movie which definitely promises lots of laughs throughout the movie.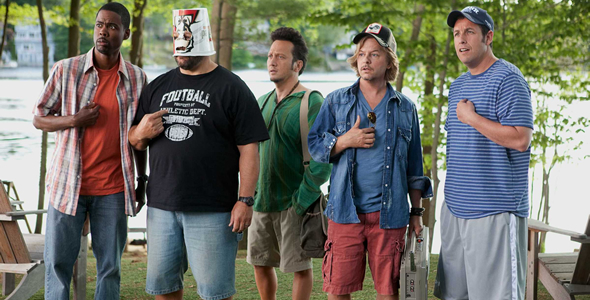 This is not a movie to test your intelligence, obviously, as it is a no-brainer which just keeps you entertained and thrilled at the same time. If you are into jokes and just a movie full of fun, then this is the movie for you. I mean, there are just times when you just need a simple movie to just laugh and feel good and not think at all, and this is just the right movie for that kind of moment.
However, if you like intelligent and an award-winning script, then this is not it, as there is really nothing much to it but silly moments and jokes.
This is a light-hearted and just direct straightforward story, meant for one to just relax and chill on the couch.
Likes about the movie:
All the five guy leads, and beautiful Salma Hayek is just great as the classy wife, not to mention the crazy things the five guys do whenever they appear together.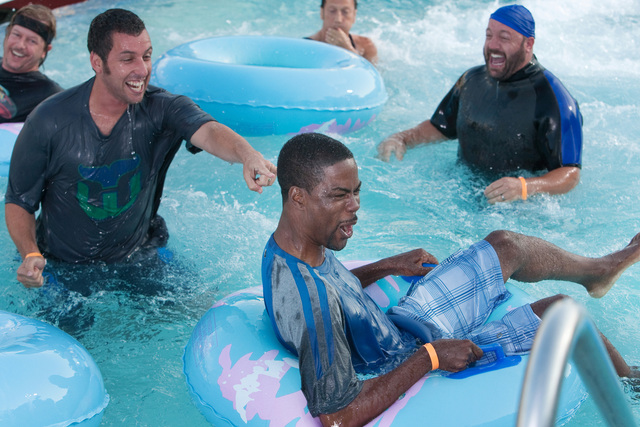 Dislikes about the movie:
Nothing much; except that the making fun of the poor girl, Bridget, who was touted as the fugly daughter of Rob. I think the word fugly was really mean and insensitive.
My verdict:
Feeling down and depressed, or just need something to cheer you up? Grab this movie and just enjoy it with a drink and a snack and a good spot on the couch, with cushion behind your back!
Rating: 3/5