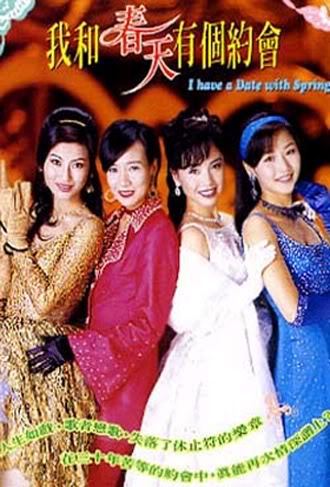 No.of episodes: 40

Main Cast:
Sharon Tang Shui Man - Yew Siu Tip/Butterfly
Kiki Sheung Tin Ngor - Hung Lin Sai/Hung Dai Tai/Nancy
Joey Meng Yee Man - Lan Fung Ping
Erica Choi - Kam Lo Lo/ Lulu
Kong Wah - Sam Ka Hou
Raymond Choi - Donny
Thomas Lam Cho Fai - Dai Gai Lok/ Lok Dai Gai
Tam Bing Man - Yew Kuan Kei/Siu Tip's father
Leung Shan - Mui Lan Sin
Nam Hung - Kui Sau Kuen
Johnny Yip - O'Campbell
Baby Bo - Pin Pin
Crystal Tin - Fei Fei
Eric Wan - Ah Wah
Ng Yuen Yee - Kam Mei Lai
Bau Hei Jing - Lily Ma
Chun Kai Wai - Bobby
Allen Ting - Danny

Synopsis/Story:
This is the story of a singer in the 1960s; Yew Siu Tip and how she started her singing career.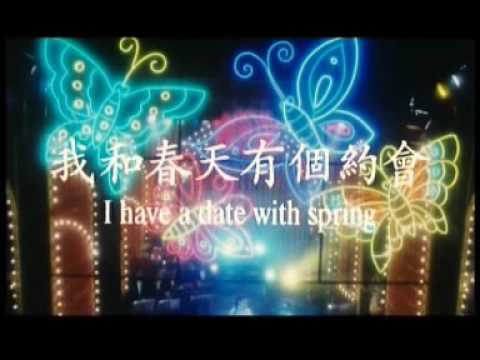 The drama was filmed in flashbacks, with the first few episodes showing Siu Tip aka Butterfly (Sharon Tang) who flew back from Canada after retiring from the entertainment for years for her concert, organized by her best girl friend, Kam Lo Lo who owned the Lai Fa Palace which holds memories for them and it was the very place where Siu Tip started her career as a singer.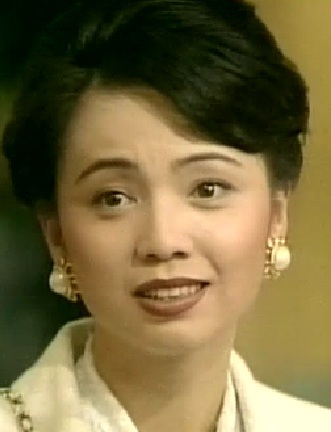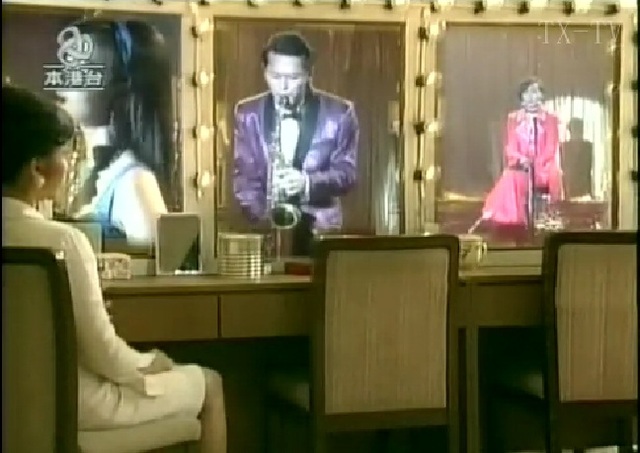 Siu Tip fondly recalls memories of her youth when she reaches Hong Kong, and the drama went back in flashbacks to the 60s, when Siu Tip was just a young and energetic girl.

She was the only daughter in the family, and was very much adored by her paternal grandmother and her father, who was also a street singer, Yew Kuan Kei(Tam Bing Man), and her father's companion, Auntie Mui/Mui Lan Sin.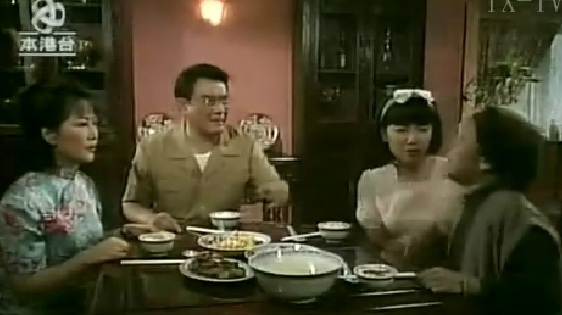 Siu Tip loved singing, but her father, being in the entertainment industry himself discouraged her from entering the field as he believed that it was too complex for girls.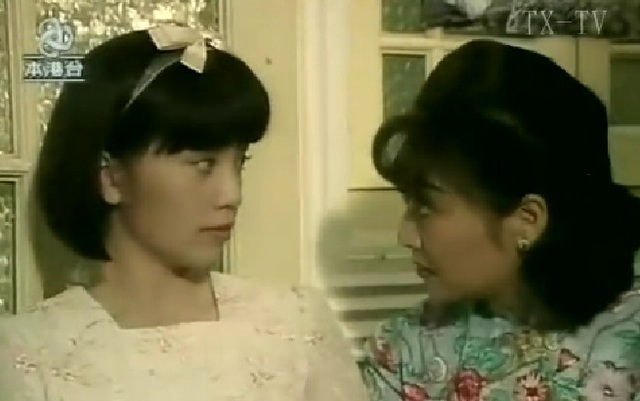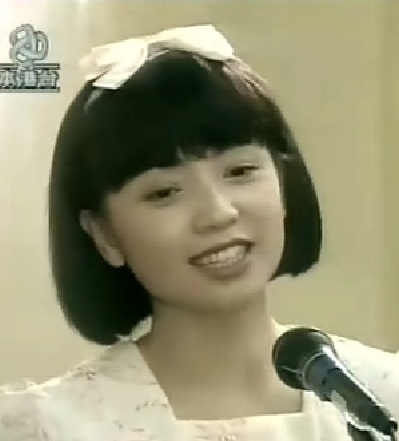 Siu Tip secretly sought the help of Auntie Mui who helped to enlist her in a singing competition.
During the qualifying rounds of the competition, Siu Tip met two other talented girls; Lan Fung Ping (Joey Meng) and Hung Lin Sai (Kiki Sheung).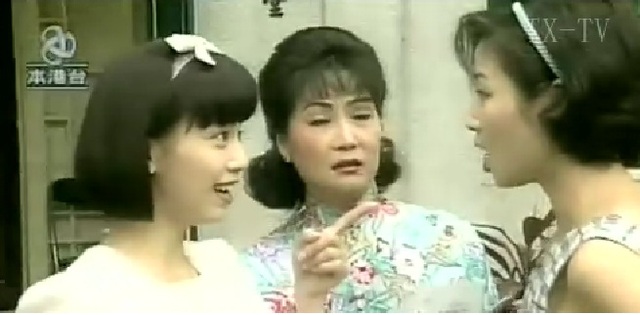 Fung Ping was an illegitimate daughter of a herbal shop owner, and her mother, being the second wife/mistress was constantly bullied by the first wife, Kuen (Nam Hung) who had no child of her own.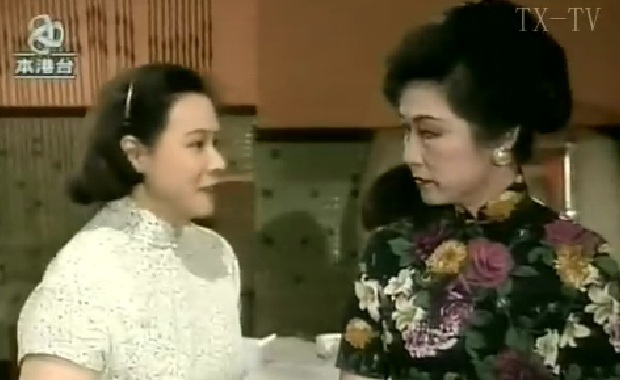 Fung Ping entered the singing competition due to her love for singing but was criticized by her stepmother for being materialistic.

Hung Lin Sai was originally known as Hung Dai Tai, and she grew up in an orphanage run by church. She was the rebellious one among the girls, and was often at loggerheads with the chaperon of the orphanage.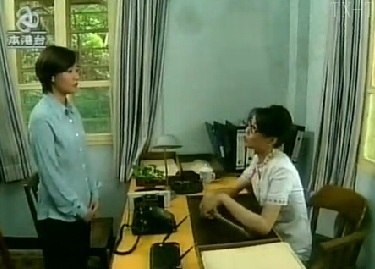 She changed her name to Lin Sai and even gave herself an English name, Nancy, to give herself a more glamourous front.
She sang English songs and was rather arrogant during the qualifying rounds, bragging that she would definitely win the competition.
She was then humiliated when her chaperon came to the scene and dragged her home, grounding her for the next few days.

Siu Tip was shortlisted as one of the finalists for the competition, along with Lin Sai and Fung Ping, and also another girl, Yuen Pik, who was not talented but somehow she managed to enter the finals.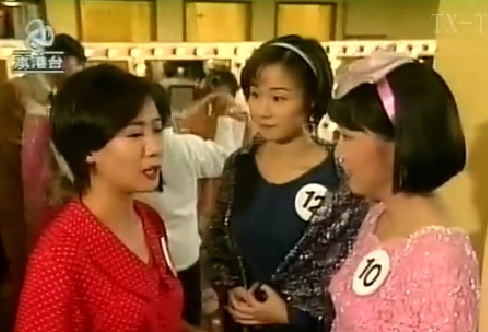 Siu Tip's dad was furious and objected to her participation in the finals, but he finally gave in after much persuasion by Auntie Mui and Siu Tip.
Siu Tip sang really well, and she even helped Fung Ping, who had to secretly steal out of home to sing at the finals, by lending her some of her accessories.
Siu Tip was supposed to win the competition but due to a conspiracy among the judges, Yuen Pik won the competition due to the influence of her sugar daddy.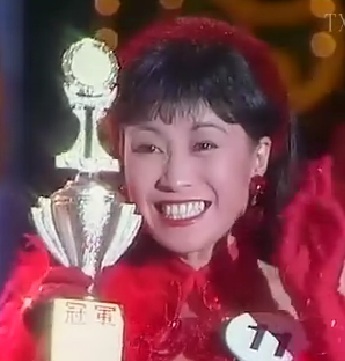 Siu Tip emerged as the first runner up.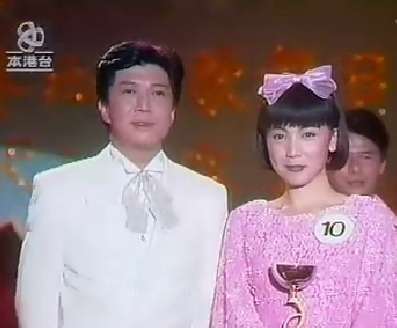 Fung Ping returned home and was greeted by Donny, a young guy who was a band member who had been courting her for a while.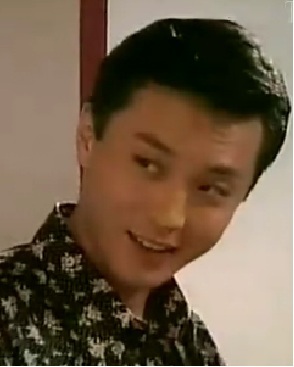 He tried to cheer her up and slowly, she fell in love with him.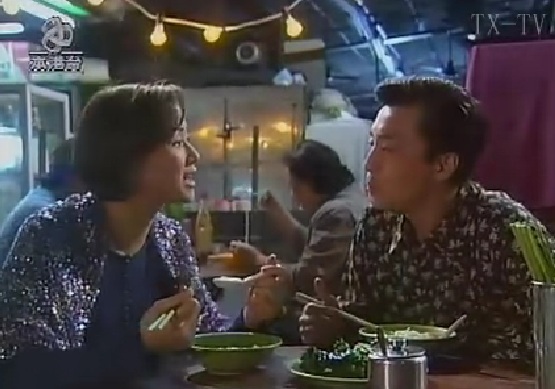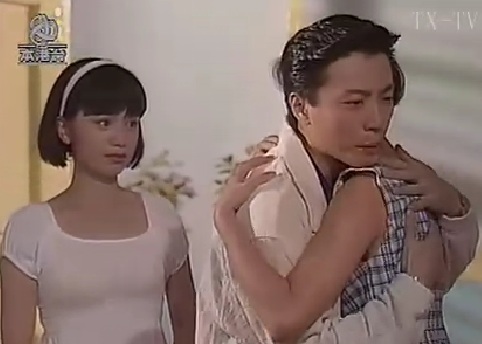 Her stepmother criticized her and her mum, for flirting with guys and even tried to kick them out of the shop and house. Fung Ping's dad was very ill, and he died, leaving them with a will which states their inheritance of the house and shop along with the stepmother.
However, the stepmother was not happy and wanted everything to herself, and tried to get her hands on the will. Fung Ping's mum gave in to her.

After winning the competition, Siu Tip wanted to pursue her career in singing, despite her father's protests and was then offered a job in Lai Fah Palace nightclub, run by Uncle Po. However, her father refused her from performing in public as he found that humiliating for a young girl. Auntie Mui then helped to persuade him again, and Siu Tip promised her dad that she would only sing and would be decent that her father finally agreed.

She then helped to introduce Fung Ping, who was desperately looking for a job to Uncle Po who hired her as well.

They were also surprised to see Lin Sai as well, and together they joined the Lai Fah performing group, and even met Kam Lo Lo or known as Lulu, a longtime singer in the nightclub.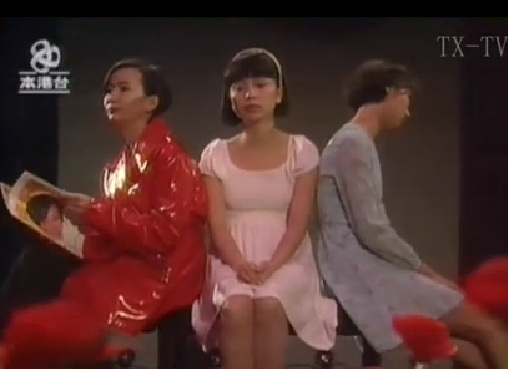 The four then became bosom buddies and were inseparable since then.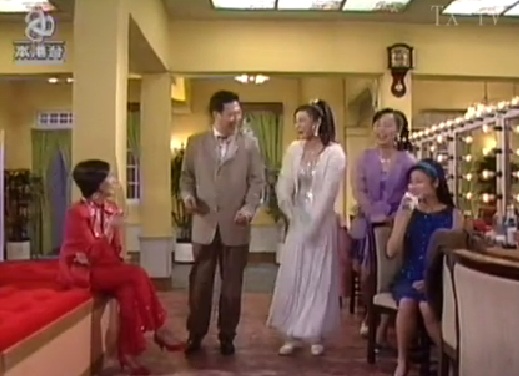 The story then developed into exploring the four girls' lives and their love relationships.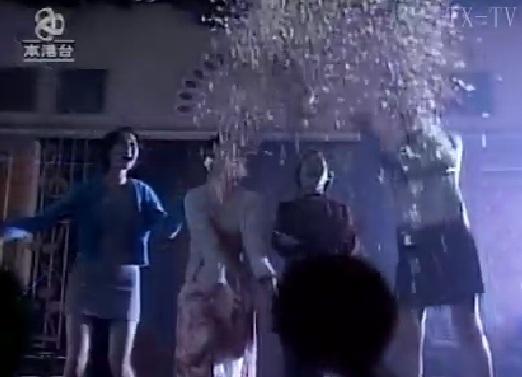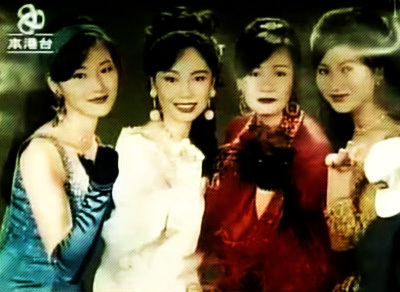 Siu Tip fell in love with Sam Ka Hou (Kong Wah), a very talented and aspiring saxophonist/musician performing in Lai Fah.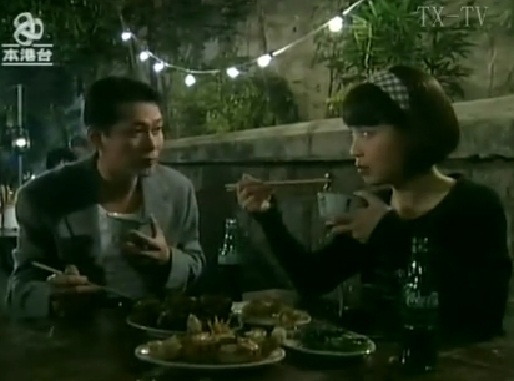 Ka Hou, on the other hand, was rather indifferent towards her, much to her frustration and she was left helpless.
Actually Ka Hou was also interested in her, but he was a sensible guy and he felt that he ought to focus on his career first rather than love, as taught by his mentor, O' Campbell, who shared his experiences when he was younger and taught his students, of whom included Donny, to strive for success in their careers and not be looked down upon by others due to their profession.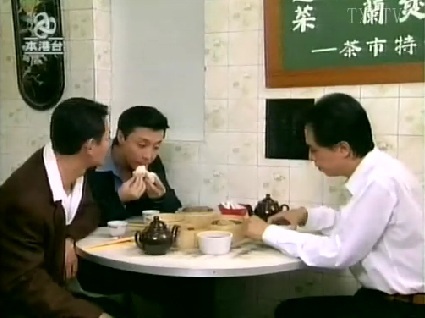 The owner of Lai Fah had a son, Lok Dai Gai, who just returned from overseas and he was attracted to Siu Tip, appearing at the nightclub every night to watch her performance. He was rather stiff and silly at times, and was easily fooled by the girls when they manipulated him to make Ka Hou jealous.
Siu Tip, gave up on playing games, thus pushing Dai Gai to Lulu to break the news gently to him that Siu Tip does not like him but Lulu and Dai Gai ended up together.
Fung Ping, on the other hand, was in a supposedly happy relationship with Donny, but she was soon burdened with his gambling debts. Her girl friends advised her to leave Donny as he was not just a compulsive gambler, but also a womanizer but Fung Ping refused to listen. She was being pursued by a noble inspector, Wong Ka Sing, who protected her, but she still chose to stand by Donny. She found out that Donny was a gigolo, to earn money to pay his debts and she was hysterical, attempting suicide, but Sing and her friends, advised her and Donny decided to turn over a new leaf, accepting the job of a band leader in Vietnam.
Fung Ping then left with Donny to Vietnam, along with the child in her (she was pregnant at that time), and they struggled to make a living there,
They both got married, but they also died during the chaotic times in Vietnam during the war as well.
Lin Sai, the only one among the four who did not believe in men and love, also fell for a playful sailor, John, who, initially only courted her out of a bet with his friends. She was furious when she found out and enlisted the help of her sisters (girl friends) to play a trick on him. The two slowly did fall for each other, but their romance was an ill-fated one as John was reported to have died in a shipwreck while Lin Sai then died of cancer.
Siu Tip and Ka Hou's relationship also hit the rocks when Siu Tip became famous after performing Ka Hou's specially composed song for her during the floor show (the prime time show) at Lai Fah when their star singer, Pak Long could not manage to turn up on time. When Siu Tip became famous and signed a recording contract, she tried to help to promote Ka Hou's composing talent to her producer by insisting that she wanted Ka Hou to compose her songs.
Ka Hou was furious when he found out as the producer chided him with condescending remarks. They got into a row.
Ka Hou then also decided to pursue his career in the States and promised Siu Tip that he would be back after three years and that they would keep in touch with each other during their distant relationship period.
Siu Tip then reluctantly agreed but she never heard a word from Ka Hou during the three years despite her continuous letter writing to him. Three years then spanned to a few more years and then the story returned to the first few episodes, where Siu Tip went to Canada and was back to perform one last show before Lai Fah Palace nightclub shuts down.
Unknown to her, Lulu arranged the whole concert as a reunion with the old group who used to work at the place and also a few more surprises for her.
Siu Tip was surprised to meet all the old timers from the nightclub and even the photo of the four of them. She was in for another surprise when Lulu introduced Danny as Fung Ping's son, whom all thought was aborted when Fung Ping went to Vietnam.
The biggest surprise of all, came when Siu Tip was performing on the stage and Ka Hou appeared beside her, replacing Danny as the saxophonist. It turned out that Danny was raised by Ka Hou who found him in Vietnam during the war.
Everyone expected Siu Tip to be elated but she stormed off after her performance, and she was furious at Ka Hou. Siu Tip demanded an explanation but all Ka Hou could utter was 'Sorry'.
Lulu was disappointed at how her arrangements turned out and then tried to patch things up between Siu Tip and Ka Hou by arranging for a farewell dinner for Siu Tip before she leaves for Canada again. Lulu faked an illness that she cannot be overly excited, thus forcing Siu Tip and Ka Hou to pretend to be loving and adoring to each other. However, Lulu accidentally burst her own bubble, and Siu Tip ran off.
As Ka Hou tried to chase after her, he was hit by a car, and was then admitted to the hospital. Siu Tip stayed by his side and Ka Hou then finally told her what actually happened over the past 30 years.
He was actually caught in the war and met another girl, Siu Ling who almost died while saving him and Danny. As Ling was crippled, Ka Hou stayed by her and took care of her out of gratitude.
Siu Tip was touched by the story, but she still could not forgive him as she had finally had enough of Ka Hou's attitude towards her, blaming him for being cold towards her when they were young, and how he could treat everyone so well but yet could be so cold to her.
The ending was rather vague; with Siu Tip singing on the stage and accompanied by Ka Hou. I don't think they ended up together, and it was rather a mirage, as Siu Tip had flown off to Canada in the scene before that and the last scene of the dance, did not seem to fit in at all, as it did not look like their age, but rather a legendary romance of them.
Character Analysis:

As this was based on a true story, I am not sure whether I should do a character analysis but anyway, just a brief one:
Sharon Tang as Yew Siu Tip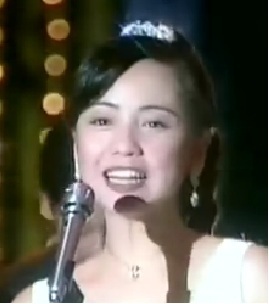 She is a cheerful person, which is not surprising since she had it all and was considered the most fortunate out of the four girls as she came from a decent and clean family background. She could choose her own path and destiny and still had her parents and family to support her. Although her mother left her, but she was never short of mother's love with the presence of Auntie Mui in her life.
Sharon Tang may seem a little old to play the young girl in her early 20s but I still find her act convincing, just not too cute though.
Kiki Sheung as Hung Lin Sai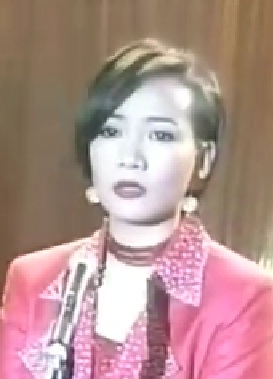 She was the most pessimistic of the lot, even compared to Fung Ping but she was the most determined and hard-headed. Perhaps it was due to her growing up in an orphanage which made her own such a tough attitude and the survival skills. She would not bow down to fate, and worked hard to establish her own success. It was also due to her environment that she found it hard to trust anyone; especially men. It was fortunate for her to have found friends in the three girls.
She did fall in love, but was furious when she found out that she was just a bet. Compared to other women, she was definitely tougher in handling the situation.
Kiki Sheung played this character perfectly, which was not surprising since she is a veteran actress and I feel that the character of Nancy fitted her.
Joey Meng as Lan Fung Ping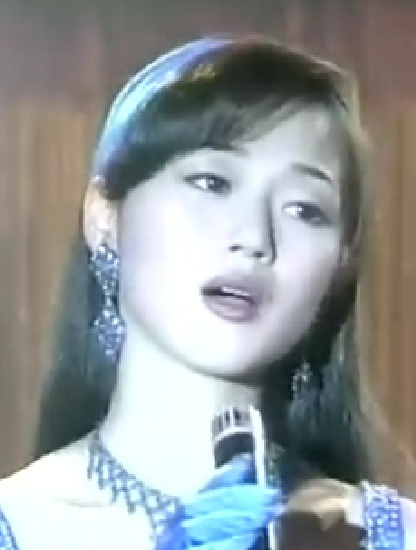 She is another unfortunate girl, like Lin Sai, but she is better off in the sense that her parents were still around although the situation was chaotic at home. She was also the more fortunate one in romance as she had a doting boyfriend despite his compulsive gambling ways. However, she did have everything going tough for her though; from work to her family and even her love life. She is probably the second most pitiful one next to Lin Sai.
Joey is the youngest compared to the rest of the actresses, and she is just so sweet and believably demure as Fung Ping.
Erica Choi as Lulu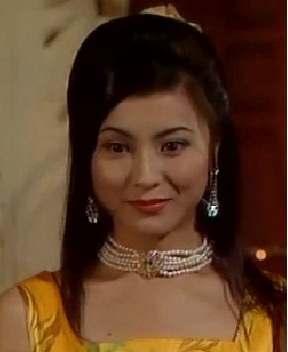 This is the happiest one of all; perhaps owing to her happy-go-lucky character as well. She had to work to help support the family at a young age of four, but yet she seemed to be enjoying herself in everything she does. She dared to dream and love, and she was the most fortunate of all as she finally had it all; marrying a rich man and not having to worry about work anymore. She was the only one who truly had a happy ending.
Kong Wah as Sam Ka Hou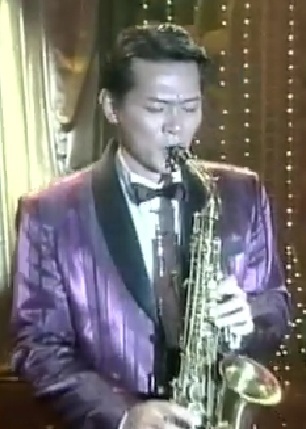 He was supposed to be the most charming and suave guy, but honestly, I just find him annoying at times, the way he tried to act like he was just so cool and oh-so-hard-to-get kind.He was focused on his career and was the favourite among all the other students to his mentor, and it was probably due to this that he felt obliged to remain obedient and to keep up to his mentor's expectations. Sometimes though, he was kinda wimpy at love as he cannot even find the courage to admit his love nor did he ever profess his love for Siu Tip before. It was just frustrating to see Siu Tip being rejected over and over again. I did not blame Siu Tip for not forgiving him at all in the end, and she was right, he could be kind to the whole world and only cruel to her.
Favourite scenes:
1. All the singing scenes of the four girls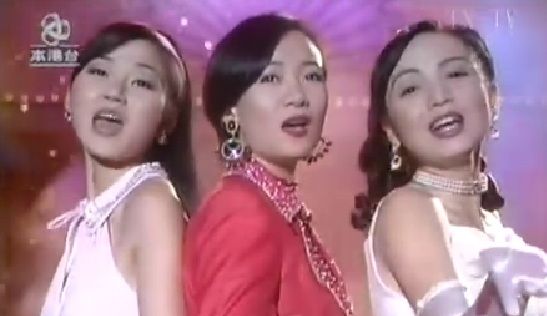 2. All the scenes of the four girls, their friendship is just heart-warming!~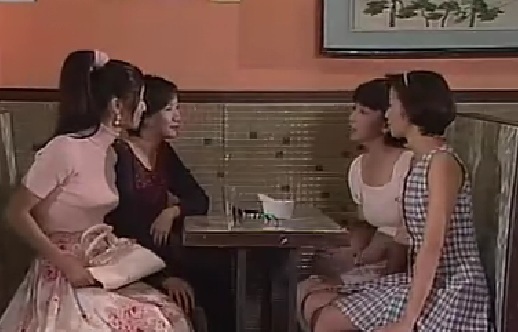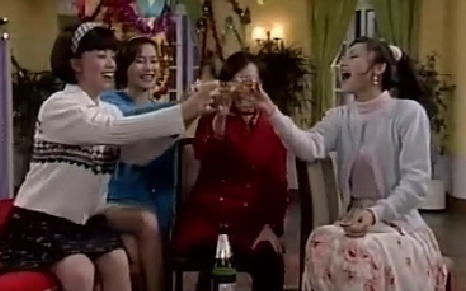 3. The scenes in Lai Fah Palace nightclub especially when they unite to argue with the slutty Yuen Pik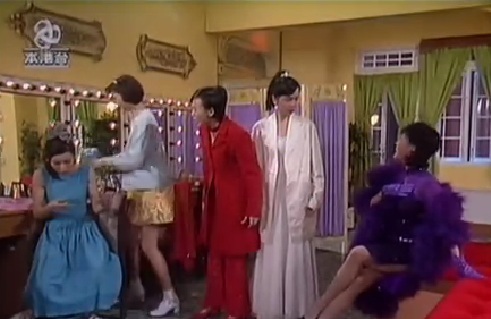 4. The scenes of Siu Tip and Ka Hou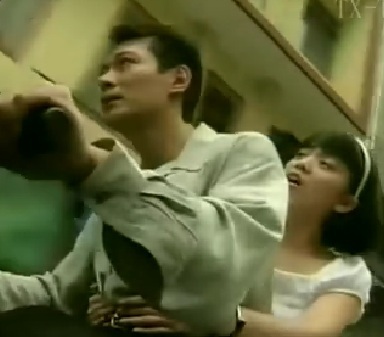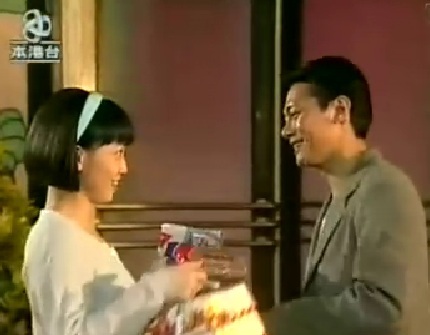 5. When Siu Tip and Lulu started being friends with Lin Sai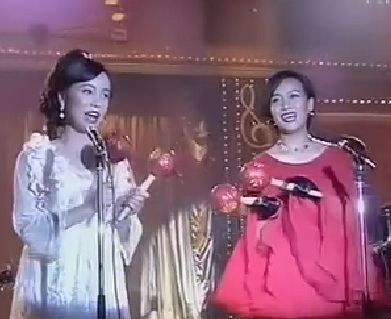 Blooper
In Episode 10, when Lin Sai gathered the girls to check out on Yuen Pik flirting with Wong Ka Sing, Lulu was observed to be wearing the gold sheer frock, but when she appeared outside the stage with the rest, she was spotted wearing the golden yellow dress!
Conclusion
This is another of my favourite drama, and I'd definitely recommend it for the lovely and lively oldies, and also the colorful costumes and lives of the characters in the 1960s.
I've always loved movies/dramas set against the colorful background of the 1960s.
The drama tends to drag a little after Siu Tip became famous; from episode 25 or 26 onwards and it was only until the last few episodes before the concluding episode that it turns back to its pace when Siu Tip returns.
However, over all, I still enjoyed the drama, and I must say this is one of ATV's best! =)