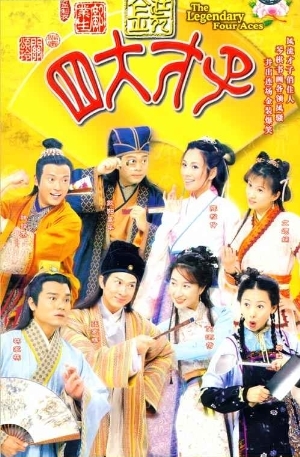 No. of episodes: 52
Cast:
Nick Cheung Kar Fai - Tong Bak Fu
Bobby Au Yeung Chan Wah - Chuk Chi San
Gordon Lam Ka Dong - Man Jing Ming
Marco Ngai Chun Kit - Chow Mun Bun
Esther Kwan Wing Ho - Chow Yuet/Chow Heung
Yvonne Yung Hung - Sek Lau
Nadia Chan Chung Ling - Princess Ping Ting/ Chu Ping Ting
Annie Man Chung Han - Chuk Hiew Lin
Supporting cast:
Ellesmere Choy Chi Kin - Emperor Jing Duk
Anne Heung Hoi Lan - Lee Fung Jie
Derek Kwok - Chu Chi Kin
Akina Hong - Empress
Rebecca Chan - Chan Siu Yung
Lo Hoi Pang - Prime Minister Wah/ Wah Tai Si
Mimi Chu - Mrs Wah/Lam Hong Yuk
John Tang - Wah Man Mou
Florence Kwok - Lau Yu Fa
Celine Ma Tai Lou - Ha Heung
Candy Chiu - Chun Heung
Koey Leung - Tung Heung
Karen Lee - On On
Ha Peng - Mrs Man
Bowie Wu Fung - Tung Guang Duk
Synopsis/Storyline:
Suzhou is well known for her scholars in the region, and during the Ming dynasty, there were three especially talented scholars which the region boasted of.
The three young men; Tong Bak Fu, Man Jing Ming and Chuk Chi San were the pride of the Luk Ngai Association and they have clinched most of the scholarly awards from all the competitions, making Luk Ngai school as one of the most prominent schools as well.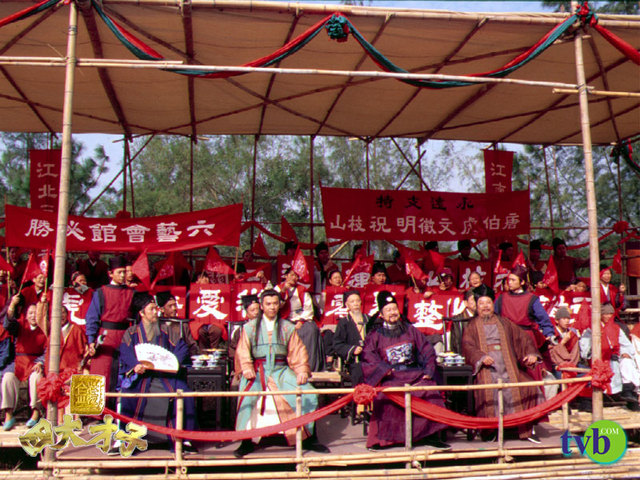 Tong Bak Fu was famous for his painting skills, whereby he could bring life to his drawings while Man Jing Ming was known for his strong writing skills which displayed much energy and life in the words written. Chuk Chi San was known for his wits and speech and the three often collaborated to win competitions.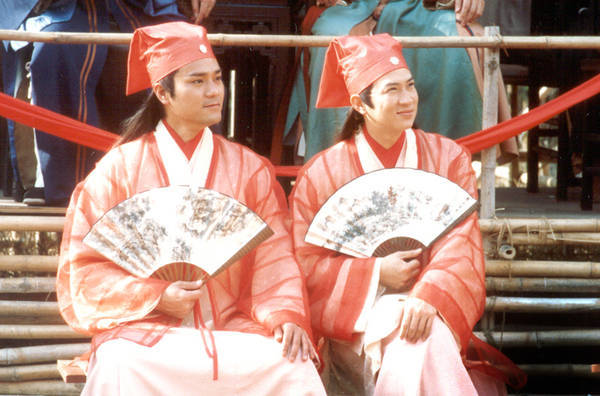 Chu Chi Kin was annoyed with their arrogance and thus invited Chow Mun Bun, a talented young man from Persia to challenge the three scholars to strip them off their title as the Top Scholars in Suzhou.
However, Chow Mun Bun was also intent to challenge Tong Bak Fu in particular, blaming him and his family for the downfall caused unto his own family.
The two parties signed a life and death agreement; whereby if Tong Bak Fu and his friends lost, they would have to blind their eyes and if Chow lost, he would have to cripple one of his limbs.
Tong Bak Fu's mother was worried for her son's safety and after witnessing Chow Mun Bun's extreme training, she decided to enlist the help of her maiden family in Cheung Lok Fong to train the three scholars up, although that meant incurring the wrath of her own husband who forbade her to contact her family ever again.
In Cheong Lok Fong, the people were known for their violence but they were all for the righteous reasons.
All three lacked the critical skill to win the competition; Chi San had to train and regain his sight, Jing Ming had to acquire courage to defend himself and Bak Fu had to gain emotion and passion.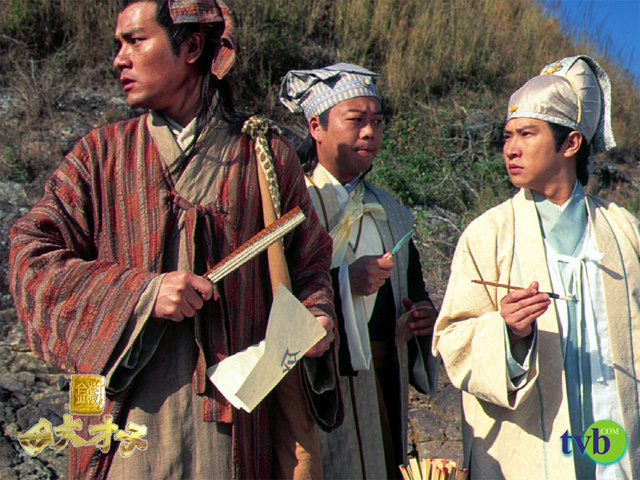 The rookies in Cheong Lok Fong, led by the Holder of the Knife who was Bak Fu's maternal uncle, and together they devised the training plan for the three guys.
With the help of the folks in Cheong Lok Fong, Bak Fu and his friends were soon ready for the competition.
The trio won the competition, and Chu Chi Kin broke Chow Mun Bun's arm in public.
Bak Fu then decided to go for the Imperial examinations but was forbidden by his father, who believed that there is a curse on his sons who will die on the journey to the capital for the examinations. However, when Bak Fu insisted to go for the examinations, his father allowed him on one condition; he must first get married and have a son.
Therefore Bak Fu started to search for a wife, and his first wife (through arranged marriage when he was very young and sick), Siu Yung tried to match him with Chuk Hiew Lin (Chuk Chi San's younger sister).
Bak Fu, on the other hand only intended to marry Chow Yuet, who made him feel love for the first time and he had fallen deeply in love with her.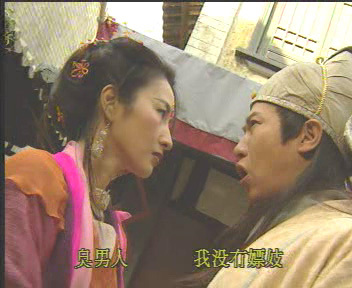 However, things turned complicated when Bak Fu and his friends' teachers turned up dead. (He was murdered by Chow Yuet whose real identity was an assassin) Bak Fu and his friends were really upset and initially they suspected Chow Mun Bun.
Chow Mun Bun and Bak Fu's misunderstanding slowly cleared when a monk told Chow Mun Bun that it was all a misunderstanding caused by him that Chow's grandfather was accused of theft by Tong's grandfather. Furthermore, Bak Fu helped to clear Mun Bun from the murder charges and upon release from jail, the four became best friends.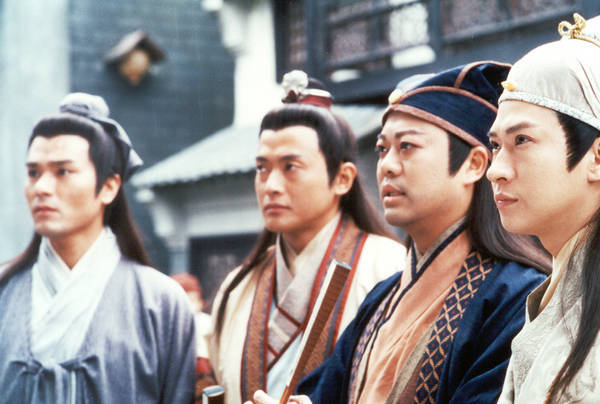 Bak Fu then married Hiew Lin as Chow Yuet had gone missing and also due to the fact that Chi San insisted on the marriage to maintain Hiew Lin's sanity.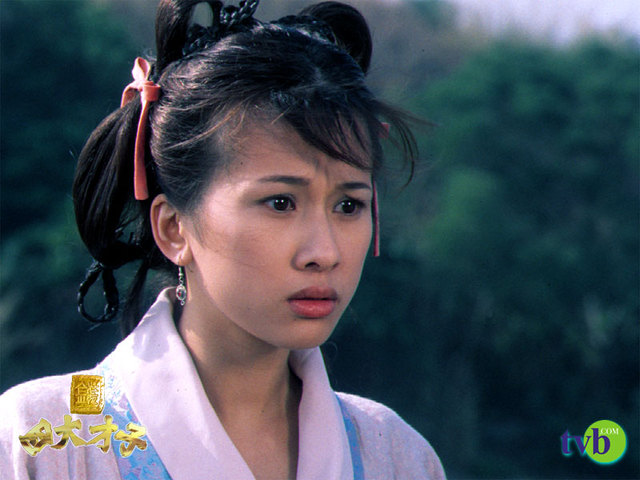 Jing Ming on the other hand, met Chu Ping Ting, who was disguised as a man to walk the streets and she accused him of stealing her Imperial seal when she lost it. Jing Ming was annoyed with her behavior and especially after she caused him to miss the Imperial examinations. Ping Ting slowly fell in love with him and was constantly doing a lot of things to please him.
However, Chu Chi Kin wanted Ping Ting for himself; as Ping Ting was the only daughter of the royal Duke Ling and was his foster sister. She was a true princess and Chi Kin did all he could to break them apart.
Jing Ming soon realized he missed the princess, and when she was arranged to marry the Tartan prince in a political marriage, Jing Ming then ran after her and pleaded for her to stay. He finally professed his love for her, much to the displeasure of the Tartan prince.
However, with Chi San's help, Jing Ming was able to prove his love for Ping Ting by drinking poison which the Tartan prince refused to drink.
Jing Ming and Ping Ting finally got together, but their relationship was not all easy as they still faced obstacles and objections from Ping Ting's father.
Bak Fu encountered someone who looked like Chow Yuet, and tried all means to get to her, and ended up working as a servant in the Wah household where the girl was also a maid servant. He found out that she was not Chow Yuet, but was Chow Heung. His antics initially annoyed Chow Heung, but when he helped to coach the young master Wah Man Mou in improving his studies, Chow Heung found herself liking him.
It was through the Wah household (which was actually the home of the Prime Minister Wah) that the scholars got involved in the country politics as they helped the Prime Minister to fend off the evil schemes of the devious ministers, especially Duke Ling.
When Bak Fu and Chow Heung were about to be together, Chow Yuet re-appeared and demanded that Bak Fu leave Chow Heung and be with her.
Bak Fu soon realized that he loved Chow Heung instead of Chow Yuet, and chose Chow Heung instead, much to Chow Yuet's disappointment.
Chi San on the other hand, while helping Bak Fu to court Chow Heung, encountered the arrogant chef in the Wah household, Sek Lau who was constantly at loggerheads with him. Needless to say, the duo fell in love when Chi San helped Sek Lau when she lost her sense of taste and they got together.
Mun Bun and Hiew Lin also grew fond of each other but faced the biggest barrier as Hiew Lin was Bak Fu's wife although they never consummated their marriage. Bak Fu willingly divorced Hiew Lin and finally the love birds could be with each other.
The four scholars also helped to matchmake the Emperor with a peasant girl, Lee Fung Jie and thus was favoured by the Emperor himself.
The drama had a happy ending; with all of them ending up with each other and having children too!~
Character Analysis:
Nick Cheung as Tong Bak Fu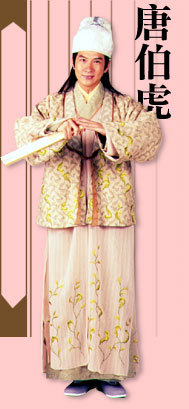 This was supposed to be the most talented of them all, as he was the most well known for his arts and poetry. He was also known as a playboy, although in the drama, it was more of the girls were running after him.
He was quite full of himself too; maybe because he knows his own skills and intelligence. He finally realized that there are things he could not conquer when he met Chow Yuet and also Chow Heung.
I find most of the scenes with Tong Bak Fu really hilarious, and Nick Cheung, did a great job although a more suave and charming actor could have played Tong Bak Fu too, but I was convinced that Nick did it best =)
Gordon Lam as Man Jing Ming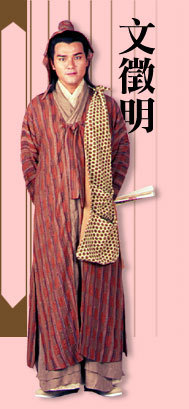 This is the most righteous and he constantly reminds everyone to do good by repeatedly reciting that famous line from Confucius.
He was so serious half the time that it was finally good to see emotions in his face and eyes when he fell so hard for Princess Ping Ting. Nevertheless this is a good man to be husband and responsible father material.
Gordon Lam was just perfect for this role, and he really made one love Man Jing Ming more even though he was so honest and straightforward. This is undoubtedly my favorite character among all the scholars, perhaps because I am also a fan of writing!~
Bobby Au Yeung as Chuk Chi San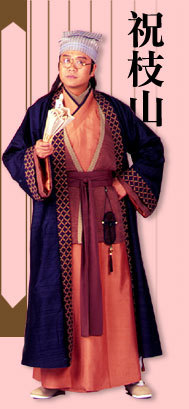 He was supposed to be the materialistic guy, always calculating down to that every last cent. As a brother, he was definitely protective of his younger sister. He was also really funny whenever he fought with Sek Lau, but he is one of the more realistic character as well, though I wonder what makes him a true scholar anyway.
Bobby Au Yeung has always been a great actor, and putting him in roles like this is just so natural for him.
Marco Ngai as Chow Mun Bun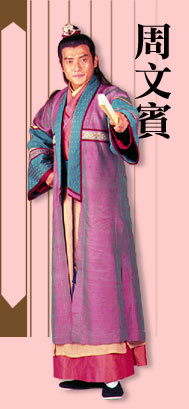 This is the most versatile; from a spiteful man to kind and charming man who could have had any lady but he only had eyes for Hiew Lin.
Marco fits the description perfectly, and he was really good; the way he transformed from that cold-blooded and supposedly evil Persian man to reveal the real goodness he had in him.
Esther Kwan as Chow Yuet and Chow Heung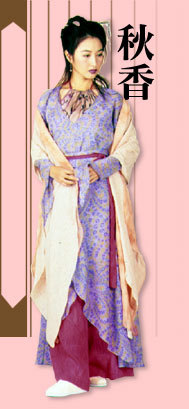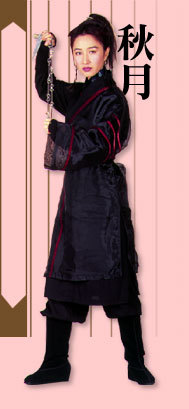 If Marco was versatile, then Esther was even more as she had to play twin sisters with opposite personalities. One was a cold-blooded and spiteful assassin while the other a kind hearted and humble servant girl. Both had to fall in love with the same man, and almost caused the two sisters to rivalry. It was interesting to see Esther switch between the cold personality to the warm one when Chow Yuet and Chow Heung met. I loved Esther in all her roles, and I was quite happy to see her in this drama too!~
Nadia Chan as Princess Ping Ting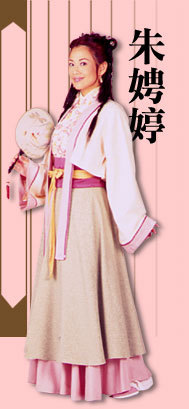 Nadia is another of my favorite actress, but I have to say that she was more suited for a demure and kind princess rather than a playful and demanding princess. I find it rather hard to believe her in this role, and there were times when she just didn't seem like herself in this role. Nevertheless, she still looked pretty enough to be the lovely princess.
Yvonne Yung Hung as Sek Lau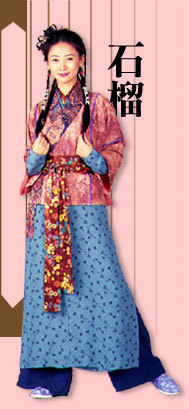 I don't have much comment as she was quite natural as the fierce and demanding chef, and her scenes with Bobby were also quite enjoyable.
Annie Man as Chuk Hiew Lin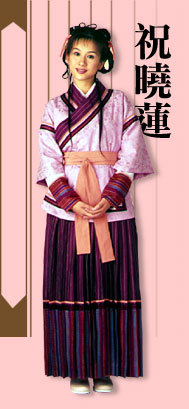 She is another of my favorite actress, what can I say, they casted a lot of lovable actresses in this drama and that's why it was such an enjoyable and much anticipated drama! She was perfect as the cute and high-pitched little sister of a scholar, and she expressed her emotions so genuinely that she is probably the most realistic character in the drama!
Favorite Couples in love:
Tong Bak Fu and Chow Heung/Chow Yuet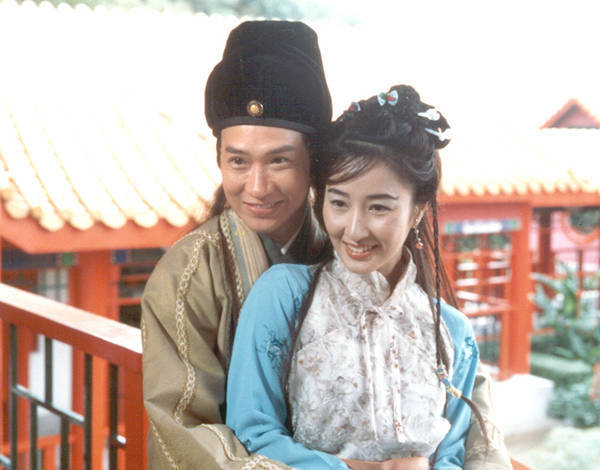 I preferred Bak Fu with Chow Heung obviously, as Chow Yuet was too cold for me. Their chemistry was definitely real as this was a real couple in life, therefore, no need to comment much, they are a match made in heaven!
Man Jing Ming and Chu Ping Ting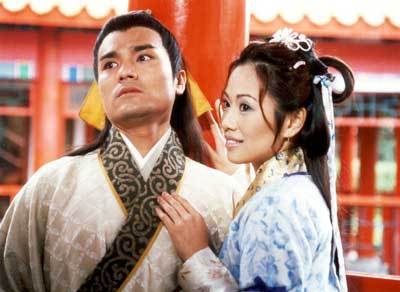 I have always wanted to see this two pair up and it was finally a reality in this drama. They had so much chemistry, and they just looked compatible with each other. Too bad that this pairing was not done often! =P
The other two couples did not seem that compatible in their matching although they did have their hilarious moments, and I still prefer the above two.
Favorite scenes:
Plenty!
1. All the scholar competition scenes, as it was fun to watch the match of wit and intelligence and to see the four perform!
2. Scenes of Man Jing Ming and Chu Ping Ting!
3. Scenes of Tong Bak Fu in Wah household, particularly when he had to fend off advances from Ha Heung whom he often called Yeh Heung (means faeces in ancient Chinese)
Songs:
1. The theme song was sung by all the eight characters, and it was just so melodious and suitable for the drama
2. Another sub-theme song was a duet sung by Esther and Nick, which was really nice but I have to say that Esther and Nick can't really sing that well =P
My opinion:
The cast was fabulous for this drama, and you can see that it is an star-studded cast, making it one of the most popular and anticipated drama. The storyline was great and it was absolutely an entertaining and memorable watch.
I had watched this over and over again, and I am still not bored.
Watch it for the humor, the wit, the romance, the cast, you name it, you can still enjoy it in the drama.
It is no wonder this also made it to my favorite drama list!~