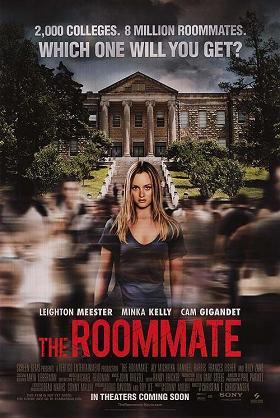 This is one of the movies released this year; and featured one of my favorite actresses; Leighton Meester as one of the leads.
Cast:
Leighton Meester - Rebecca Evans
Minka Kelly - Sara Matthews
Cam Gigandet - Stephen
Danneel Harris - Irene Crew
Matt Lanter - Jason Tanner
Alyson Michalka - Tracy Morgan
Directed by Christian E. Christiansen, the movie focused on college roommates, Sara and Rebecca, both played by Minka Kelly and Leighton Meester.
The Story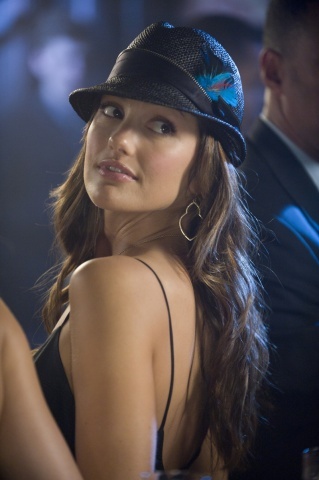 Sara is starting her freshman year at college at the opening of the movie; and as she checks into her hostel room, she was happy to learn that she was early, and her roommate had not checked in yet; which meant that she gets to choose the side of her bed.
She joins her other new friends; Tracy and the girls to a party where she meets a cute drummer, Stephen.
When she reaches her room late that night, she was ready to tuck into sleep until she saw her roommate, Rebecca, who appeared to be waiting for her.
Sara went to the bathroom to refresh herself and was surprised to find her roommate asleep when she was back.
Thinking nothing of it, she went to bed.
Sara soon got to know her roommate, Rebecca who appeared to be a very nice girl and who stays only 20 minutes away from college. Rebecca seems to come from a wealthy family and have a closet full of clothes and even had to borrow part of Sara's closet, but she was generous to lend Sara her clothes if she ever needs to.
Sara tried to introduce Rebecca to her other friends; Tracy and the girls but Rebecca did not seem interested in them.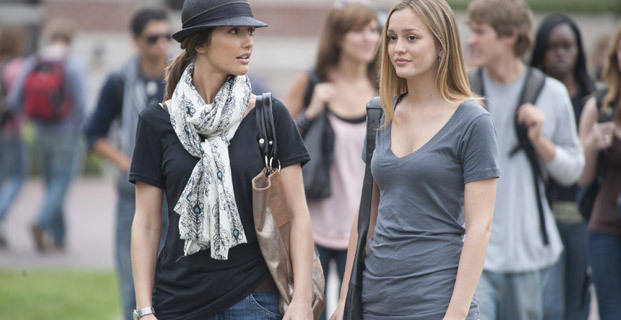 In fact, Rebecca always seem to be hanging around Sara and appears to be jealous whenever Sara has other plans with other friends.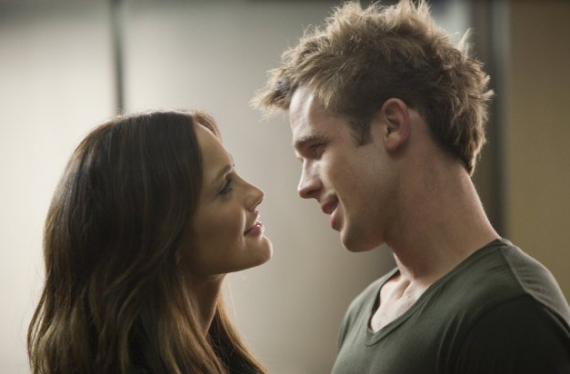 Sara was starting a new relationship with Stephen, after her ex-boyfriend, Jason, disappointed her and they broke up. However, Jason still keeps calling her on her cell phone which she didn't answer.
When Sara got home late after spending the night with Stephen, she was surprised to see Rebecca in a furious state. Sara felt guilty for not calling and apologized to Rebecca.
Rebecca attacked Sara's friend, Tracy, in the shower and warned her never to go near Sara or to tell Sara about the attack or she will be killed. Tracy, spooked by Rebecca's threats, requested to change dorms and stayed away from Sara, who was bewildered at her friend's sudden change in behavior.
Sara confided in Rebecca about her pain in losing her sister, Emily when she was 9, and showed her the tattoo she had on her chest in memory of her sister.
When Sara's interior design professor (Billy Zane) kissed her, Sara was scared and ran to Rebecca, telling her about the incident, thinking that she was seeking for comfort.
Little did she know, Rebecca then took it into her hands to seduce the professor and when the professor tried to kiss her, she screamed and recorded the whole incident, causing the professor to be sacked from the campus.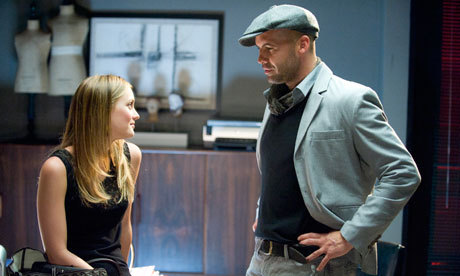 At one point, Sara found a kitten and brought it back to her to the room where she and Rebecca tried to keep it a secret from the administration. However, when one of the dorm wardens found out and gave them a warning, Sara sought help from her other close friend, Irene. Irene turned her down, but offered Sara a place to stay with her so that she could her kitten.
Sara tried to discuss with Rebecca who was not very receptive to the idea, and immediately dropped the idea.
However, Rebecca was afraid that Sara would try to initiate the topic again and while she was away at class, puts the kitten into the laundry.
Sara was devastated with the kitten's loss and Rebecca apologized for her carelessness in losing the kitten and consoled Sara.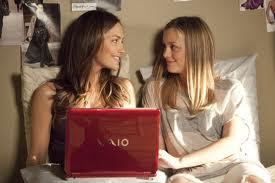 Sara and Rebecca became closer and Sara went home with Rebecca for Thanksgiving to celebrate with her family. In her home, Sara overheard the conversation between Rebecca and her father about how Rebecca was coping in college and how she has been having difficulty in making friends in the past. Sara went out with Rebecca and was surprised to see girls who seemed to be Rebecca's old school friends, behaving rather coldly towards her. One of them even told Rebecca, "We were never friends".
Sara then bumped into Rebecca's mum the next day and was surprised when her mum asked if Rebecca was still taking her medication.
Spooked, Sara related the incident to Stephen and she started to search through Rebecca's drawers when she was out to class and she found a bottle of medication (pills) which they found on the Internet, were medication for patients with schizophrenia or bipolar disorder. It appears that the bottle of pills were full which indicated that Rebecca never took her medication.
Recalling Rebecca's recent overprotective and possessive behavior towards her, Sara was afraid of Rebecca and decided to move out to stay with Stephen. However, she was unable to locate her necklace which belonged to her sister Emily, but still moved out anyhow.
It was at this time that Jason, Sara's ex-boyfriend, came to visit and not able to get Sara, he slips a note underneath the door. Rebecca took the note and went to the hotel room where Jason was staying, pretending to be Sara and then stabbed him to death.
Rebecca then went to the club where she tracked Irene, another of Sara's best friends and pretended to be interested in her. They kissed and Rebecca went back with Irene to her place.
When Sara received a text message from Irene saying that she needed Sara urgently, Sara informed Stephen and rushed to her place. She found Irene tied to her place and an angry Rebecca who called Sara ungrateful after all that she had done for her. She then related all that she had done to Tracy, the kitten, professor, and even Jason to the horrified Sara.
Sara, sensing her unstable mental state, apologized to her and begged for her forgiveness.
Rebecca was touched but was still adamant to kill Irene so that she could have Sara all to herself, and was attacked by Sara.
Furious, she was about to kill Sara when Stephen arrived and knocked her down, causing Sara to fall out the window at the same time.
Stephen was then unconscious while Rebecca tried to save Sara, who, in turn, killed her at the end, whispering to her, "You were never my friend"
At the end of the movie, we see Sara sitting alone in her room, telling Stephen how she does not want a roommate for a while.
My Review:
I think it was a very predictable movie, and it was just like one of the stereotypical college movies with a bit of scary parts here and there. Perhaps it was predictable, which did not create much suspense though I think the director did try to stir up the thriller part, but failed.
I find the storyline a little familiar; something along the line of Single White Female, but this was just not as good, or not even exciting on its own.
However, I must praise Leighton Meester for her excellent performance in here (I am not biased).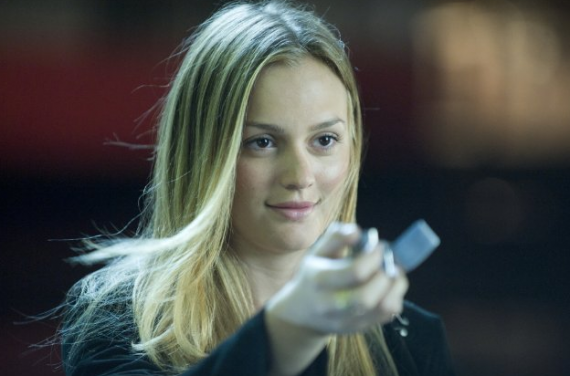 She played the role of a sinister and troubled teen to perfection, and I just loved how she can play the role of innocence and evil at the same time; with just a twitch of her smile.
She is just so pretty, and perhaps, she is the only unpredictable part of the movie.
I am not sure whether it's me, but does Minka Kelly and Leighton Meester just look so ALIKE?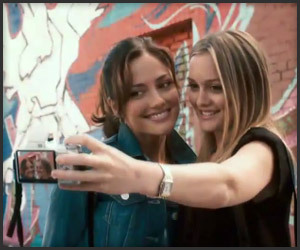 I think that was the part that almost confused me in the beginning!
I think they should seriously consider these two girls if they were to film on siblings the next round, I almost couldn't tell them apart in the beginning as they just looked so alike!
My Verdict:
Watch it for pure entertainment, and without expectation, which was what I did on a lazy weekend.
It's not that rotten, I still enjoyed the movie anyway :)
Disclaimer: Photos are from the Internet, and are no way related to me. They are used for illustration and do not belong to me.