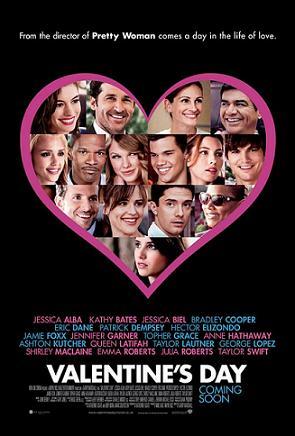 Year Produced: 2010
Director: Garry Marshall
Producers: Mike Karz, Wayne Allan Rice
Distributed by: Warner Bros.
Cast:
Ashton Kutcher - Reed Bennett
Jessica Alba - Morley Clarkson
Jennifer Garner - Julia Fitzpatrick
George Lopez - Alfonso Rodriguez
Julia Roberts - Kate Hazeltine
Bradley Cooper - Holden Wilson
Patrick Dempsey - Dr. Harrison Copeland
Taylor Swift - Felicia Miller
Taylor Lautner - Willy Harrington
Emma Roberts - Grace Smart
Carter Jenkins - Alex Franklin
Eric Dane - Sean Jackson
Jessica Biel - Kara Monahan
Queen Latifah - Paula Thomas
Jamie Foxx - Kelvin Moore
Kathy Bates - Susan Moralez
Anne Hathaway - Liz Curran
Topher Grace - Jason Morris
Hector Elizondo - Edgar Paddington
Shirley MacLaine - Estelle Paddington
Bryce Robinson - Edison
Katherine LaNasa - Pamela
Synopsis/Plot/Storyline:
It is Valentine's Day (like duh, of course it is!) and the story comprises of several plots/stories and no surprise that they are all intertwined closely together.
Story 1: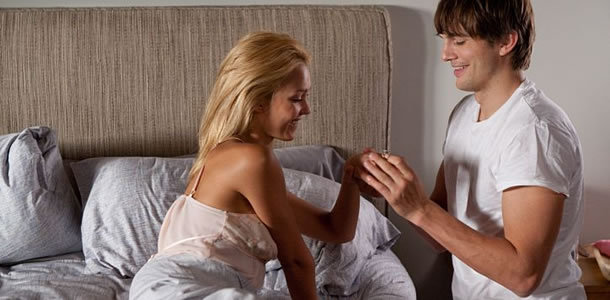 Reed Bennett (Ashton Kutcher), a local florist, was just getting out of bed with his beautiful girlfriend, Morley Clarkson (Jessica Alba) when he proposed to her.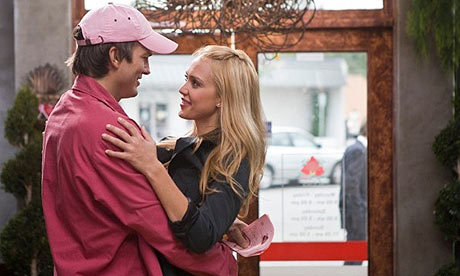 Delighted, she agreed to marry him and he rushed out to share the good news with his best friend, Alfonso Rodriguez (George Lopez) who congratulates him.
He rushed out to run his business that day, which was extremely busy since it was a festive occasion. He got an order from a charming Dr. Harrison Copeland, whom he realized was the man his best friend, Julia Fitzpatrick was seeing and was deeply in love with. However, he discovered that this charming man was married, and that Julia was not aware of that.
Then in came Edison (Bryce Robinson), a young boy who ordered flowers for his teacher, who happened to be Julia (she was a elementary school teacher) who he happened to have a crush on and he underpaid Reed for the flowers he ordered.
Reed delivered the flowers to the school and tried to tell Julia, but was unable to do so.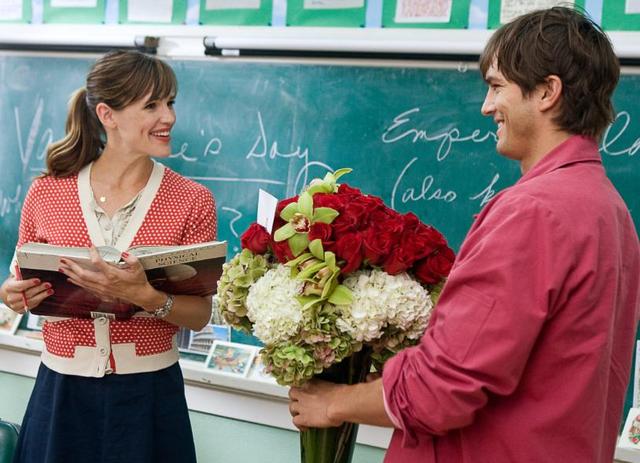 Later in the day, he found his fiance, Morley, backing out on his marriage proposal by saying that she prioritized her career more and left him. It did not come as a surprise to Alfonso and Julia, Reed's closest friends and he was upset that no one told him.
This made him realize that he cared for Julia more than a friend and rushed to the airport to tell her the truth about her boyfriend, however, Julia did not believe him and boarded the plane. He left in disappointment, but he was surprised when Julia showed up and the two shared a passionate kiss which was the start of their romantic relationship, while Morley feeling lonely, was seen frantically trying to call Reed on his phone on her business trip.
Story 2: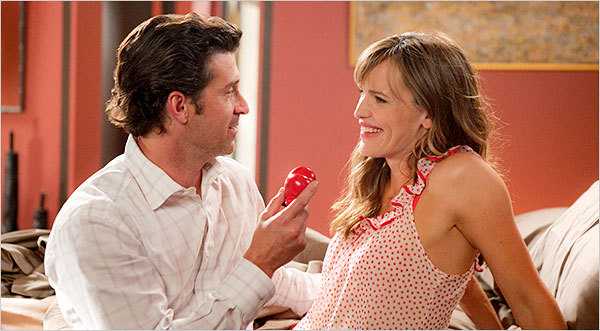 Julia Fitzpatrick (Jennifer Garner), an elementary school teacher, is currently seeing a charming Dr. Harrison Copeland (Patrick Dempsey) after several failed relationships and she was happy and in love.
She was planning on a surprise visit to LA to celebrate Valentine's Day with him, although that meant bailing on her best friend, Kara Monahan's yearly anti-Valentine's Day dinner. She was bothered by the information her best friend, Reed told her about Harrison, and although she claimed not to believe it, she found herself doubting her boyfriend and asked the nurses at the hospital where he worked in. She was dismayed to find that Dr. Harrison Copeland was indeed still married, instead of divorced as he claimed, and that he had just celebrated his 15th anniversary to his wife, Pamela (Katherine LaNasa).
Angered by the truth, she decided to go to the restaurant he was dining with his wife that night and the restaurant owner, who was parent of her student, allowed her to dress as a waitress and she made a scene at Harrison's table and shortly left, but with an extravagant order of lobsters to be charged to Harrison's bill. She then arrived at her best friend's party and had a good time, and was surprised when her student, Edison presented her with a present and said that she was his Valentine. However, she told him to give it to Rani, a girl in his class who had a crush on him. Julia went back to Reed to apologize and the two realized they were in love with each other.
Harrison was seen to having his pizza alone, which meant that his wife had left him.
Story 3: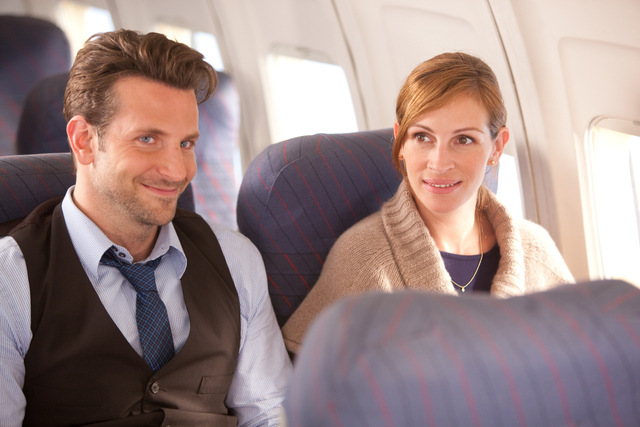 Kate Hazeltine (Julia Roberts), who was a U.S Army captain, was on a one-day leave and was taking a plane to Los Angeles to her loved one. She was seated next to Holden Wilson (Bradley Cooper) whom she befriends during the flight, and was seen to fall asleep on his shoulder. They seemed to share an instant attraction to each other and when they land, Kate was unable to get a cab to her home. Holden offered her his limousine, which she accepts, and was told by the chauffeur that Holden never does anything of that sort, which signifies she must be an important person to him. She arrives home and was seen to be embracing her son, Edison.
Story 4: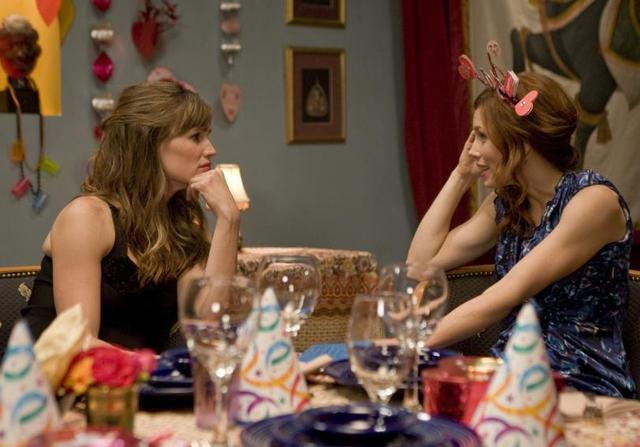 Kara Monahan (Jessica Biel), Julia's best friend, was a publicist who works with professional football player, Sean Jackson and his agent, Paula Thomas (Queen Latifah). She was a self-professed anti-Valentine's Day and throws a party in honor of that notion, annually. While she was moaning her misery on not having anyone participating in her party this year, she found romance in Kelvin Moore(Jamie Foxx), a sports reporter. As Kelvin was ordered to do a report on Valentine's Day by his superior, Susan Moralez (Kathy Bates), he laments to Kara on his resentment towards the occasion as well and the two started to share a connection. He joined her party and was later seen at the news station where they kissed.
Story 5:
Sean Jackson (Eric Dane) was a professional football player who was putting an end to his career by announcing he is a gay on national television, much to the surprise of his publicist and agent. He was seen to be with his lover, Holden Wilson.
Story 6: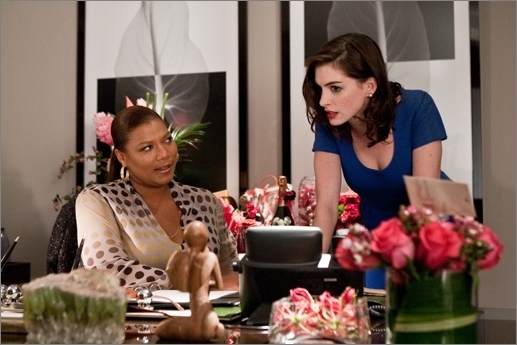 Paula Thomas (Queen Latifah), agent to Sean Jackson had recently hired a new receptionist, Liz Curran (Anne Hathaway) who was constantly talking dirty on the telephone. She caught the interest of Jason Morris(Topher Grace), a clerk with whom she goes on a Valentine's Dinner date. When she walks away to answer a phone call for a long time, Jason went out to find her on the phone, talking dirty again and he was surprised to discover that she was moonlighting as an adult phone entertainer. He was initially unable to accept this fact, much to Liz's dismay but after a night with Edgar who forgave his wife cheating on him and learning that to love someone, one has to accept the good and the bad, he runs back to Liz and forgave her. The two ended up in her room, reconciling with each other.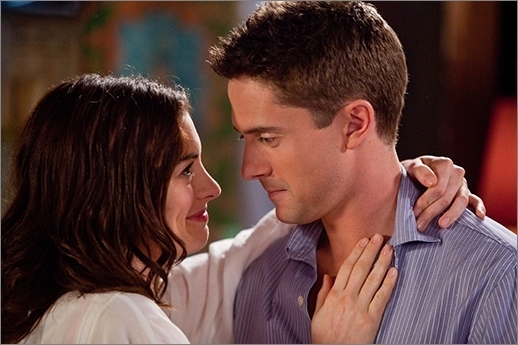 Her boss, Paula was seen on the phone, doing the dirty talking.
Story 7: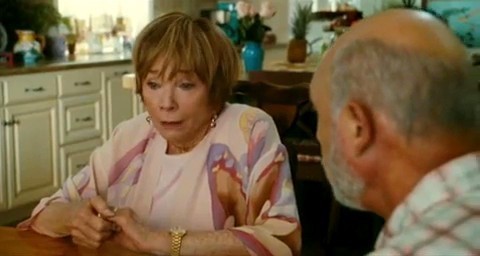 Edison's grandparents, Edgar (Hector Elizondo) and Estelle Paddington(Shirley MacLaine) were portrayed as a perfect couple in love after so many years, which Edgar brags about. As they were about to renew their vows, Estelle lets out a terrible secret she had been hiding for years; she had cheated on Edgar with his business partner but she regretted the affair. Edgar, proud of their loyal relationship was taken aback with this revelation and left. However, Estelle went after him and the two reconciled with each other at a movie screening at the cemetery.
Story 8:
High school teenager, Grace Smart (Emma Roberts), who was Edison's babysitter was planning to lose her virginity to her boyfriend, Alex Franklin (Carter Jenkins) on Valentine's Day but was having doubts about it. Her boyfriend was caught by her mother naked in her room, claiming that he was practising a song for Grace. They talked to each other, and Alex agreed to respect Grace's decision, and the two ended making out in the car.
Story 9: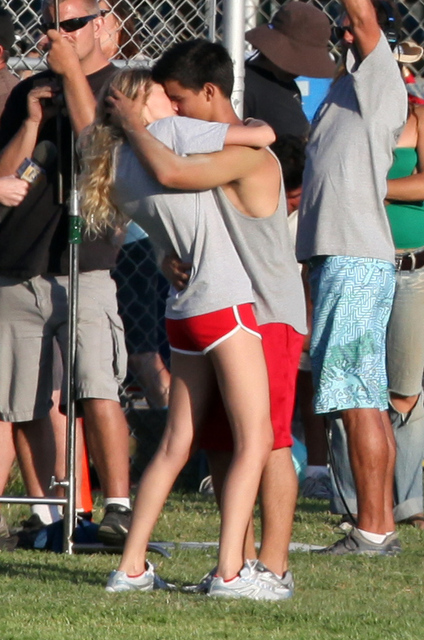 Friends to Grace and Alex, Felicia Miller(Taylor Swift) and Willy Harrington(Taylor Lautner) were newly in love and featured by the local television where they were seen to be passionately in love. Enjoying their new experience of love, they have both agreed to take things slow and enjoyed romantic dates and to wait before they have sex.
Overall, happy ending with most of the couples ending with their loved ones.
Christy's review:
Honestly, this is something like "He's not that into you" but I'd say I prefer the former better.
Valentine's Day is like a box of chocolates thrown with a mixture of types and it just did not seem that appealing to me, to say the least. Sure, there is a strong-studded cast to boost the credibility of the movie but I think the great factor stopped there. The movie was like one without proper direction, and though the script tried to weave all the stories together, it just failed miserably. Instead of feeling lovey dovey, it just felt more like a confused piece (or pieces) of story thrown into the screen, although I do applaud the effort to acknowledge even homosexual relationships.
It's a pity that most of the performances by critically acclaimed actors and actresses were at their low in this movie, as there was not much room for them to express themselves.
Likes about this movie:
The efforts to bring in different levels of romance; literally, from kids to teens, adults to seniors and even gay relationships.
Dislikes about the movie:
The mediocre performances, and Taylor Swift was really not the best actress as she was quite annoying on screen.
The verdict:
I'd recommend other more romantic movies to watch, as this movie was a little of a letdown despite the awesome cast.