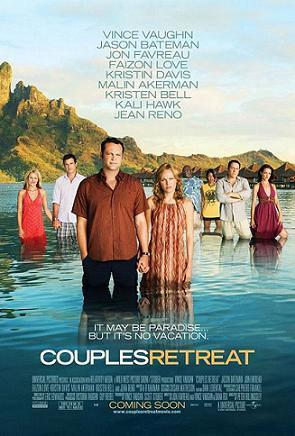 Year Produced: 2009
Director: Peter Billingsley
Distributed by: Universal Pictures
Genre: Comedy, Romance
Cast:
Vince Vaughn - Dave
Malin Akerman - Ronnie
Jason Bateman - Jason Smith
Kristen Bell - Cynthia Smith
Jon Favreau - Joey Tippaglio
Kristin Davis - Lucy Tippaglio
Faizon Love - Shane
Kali Hawk - Trudy
Tasha Smith - Jennifer
Jean Reno - Marcel (Founder of the resort)
Peter Serafinowicz - Sctanley (English manager of the resort)
Ken Jeong - Therapist
Carlos Ponce - Salvadore
Jonna Walsh - Lacey Tippaglio
Vernon Vaughn - Grandpa Jim Jim
Synopsis/Plot/Storyline: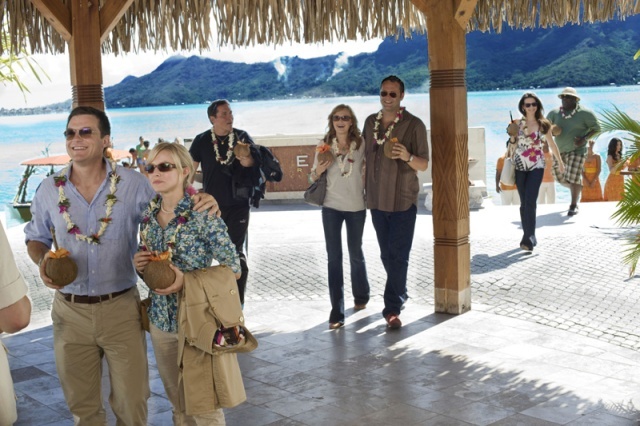 Set against the beautiful backdrop of Bora Bora island where the resort is located, the movie is focused on four different couples signing up for what seemed like an island getaway with an optional couples' therapy while accompanying their friends fixated on solving their marriage problems and finding themselves thrown into their own web of marriage issues during their vacation.
Jason (Jason Bateman) and Cynthia Smith (Kristen Bell) play a couple whose marriage seemed to be on the rocks when they have failed to conceive after several attempts and they are announcing that they are considering divorce via a Powerpoint presentation to all their friends in one of the gatherings, which happened to be Dave's son's birthday party. They are planning on a last resort to save their marriage by going to a couples' therapy resort named Eden, which was a very beautiful place. They then revealed that the reason they were sharing this information in a presentation was because they could sign up a great bargain deal with the Pelican Package, which costs half the normal price but they will need to get three other couples to join them.
Jason and Cynthia promoted the resort by showing the photos of the beautiful settings and views of the resort, and assured their friends that they are just there for the company and that couples' therapy is purely optional and that they do not need to join if they do not want to.
Although they all appear to be attracted to the idea, Dave (Vince Vaughn) and Ronnie (Malin Akerman) turned down the offer with the excuse of their children (they have two boys) and their family responsibilities. The rest of the group appear to be disappointed, but they accepted their friends' decision.
However, late that night, they were awakened in the middle of the night by their alarm and found Jason trying to frantically sell them the idea to join them on their trip to the resort.
As Dave and Ronnie try to turn Jason down, their conversation was overheard by their two boys who were worried that their parents could end up in a divorce if they do not go for this retreat and assured their parents that they want them to go. The boys have even arranged for their Grandpa Jim Jim (Vernon Vaughn) to take care of them.
Touched by the boys' thoughtfulness and with much persuasion by Jason, Dave and Ronnie finally agreed to join the group along with their other friends/couples; married high school sweethearts, Joey and Lucy Tippaglio and also Shane and his new and young girlfriend, Trudy.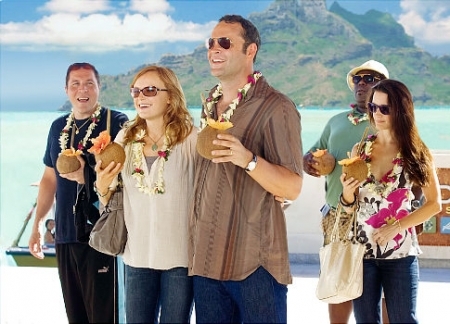 They find themselves landing in a beautiful and secluded resort with a breathtaking view and were warmly welcomed and shown their villas which were located in the Eden West; meant for couples and carries the tagline "Stay Together". (The other side of the resort is known as Eden East and is for singles, with the tagline, "Come Together")
Surprised that there were no televisions, they were informed that the place focuses on total relaxation.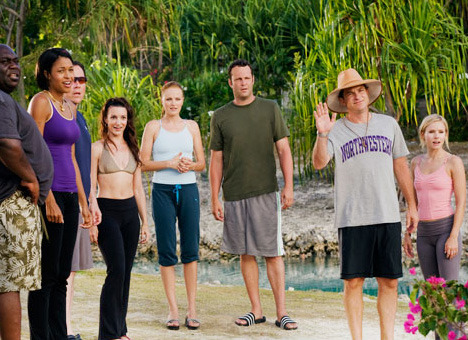 Eager to start on a wonderful vacation, they were treated to a scrumptious dinner until they were greeted by the Sctanley (Peter Serafinowicz) who was the resort host.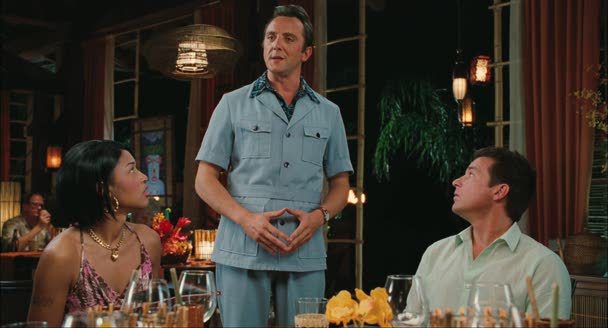 Sctanley informed them of the next day's programme which starts with the couples' therapy session at 6.00am and the session is mandatory. The group argued with Sctanley who further informed them that a no-show at the session means that they are not interested in the resort and they will be refunded in full; excluding their flight tickets and they will have to leave the resort.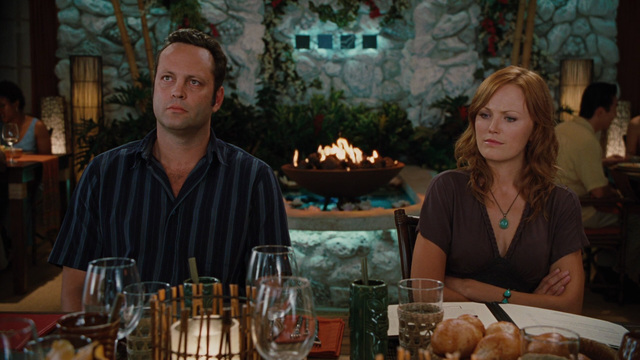 Dave was indignant and outraged by this bit of information, but the rest of the group seemed receptive, stating that a few hours of therapy should not be in the way of their vacation.
They decided to make the decision after enjoying their dinner, and with the indulgent food on their plates, they finally agreed that they will go for that few hours of therapy so as not to spoil their mood to enjoy the resort's other facilities.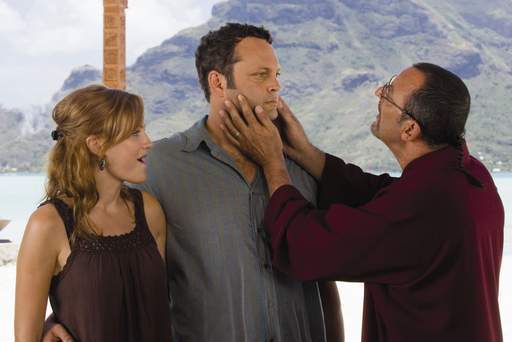 The next morning, they woke up early to find themselves being told by Marcel (Jean Reno), the resort founder, to stand facing each other and strip their clothes off and tell each other that they love their bodies.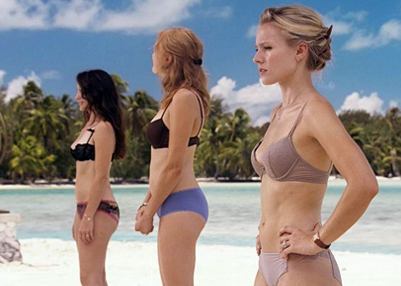 Then they were assigned to a different therapist per couple. During their therapy session, they were encouraged to talk about their marriage and their feelings and all four couples realized that they were all facing problems in their relationship.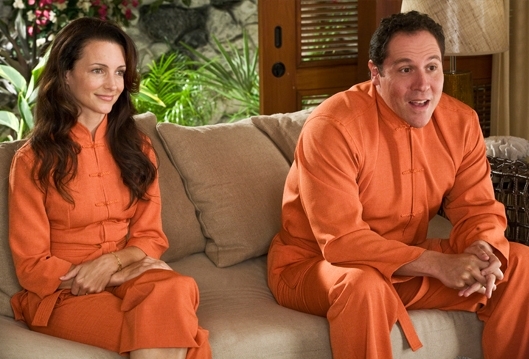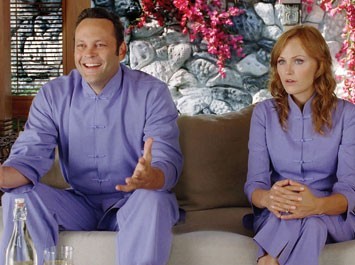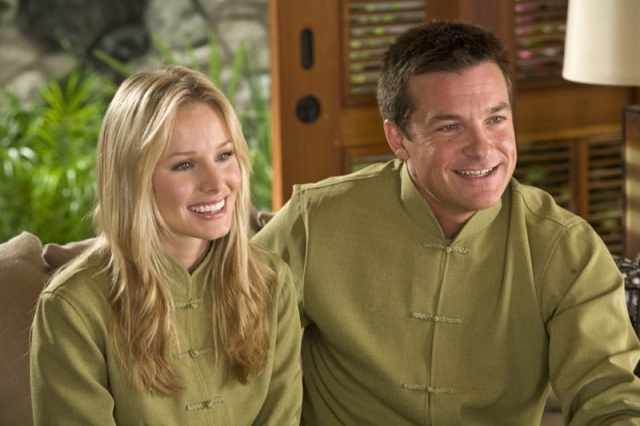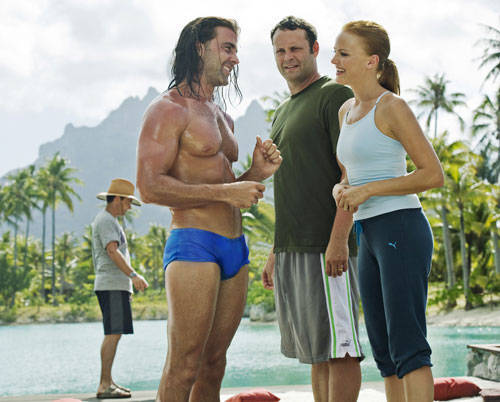 Their therapy sessions and activities continued with yoga sessions with a charming instructor, Salvadore (Carlos Ponce) and even swimming and feeding the lemon sharks.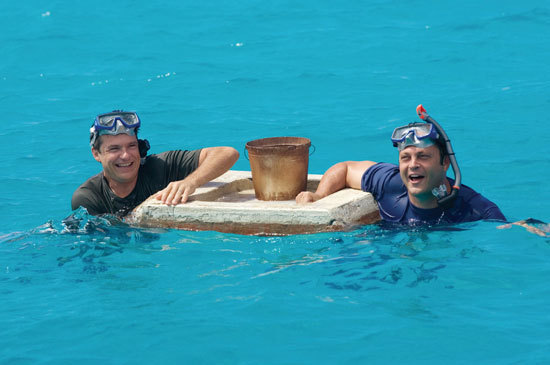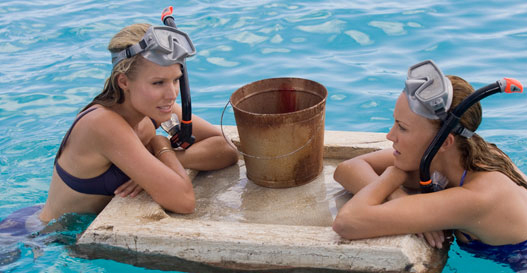 Dave got off with a slight bite on his leg by the sharks, and he was furious with the lack of support from his friends and wife on backing out of the program and proceeds to sulk.
Joey and Lucy's seemingly normal relationship seemed to take a break as they were both longing to break away from each other, and were waiting for their rebellious teenage daughter, Lacey to graduate. The couple signed on a massage session but opted for masseuse of the opposite sex and Lucy tried to seduce her gay masseuse while Joey was turned on by his masseuse but he told her to leave.
Shane, on the other hand, was trying to please Trudy who seemed to be complaining about everything and on a bike ride, he realized that he could not keep up with her energy and that they were very different in terms of age.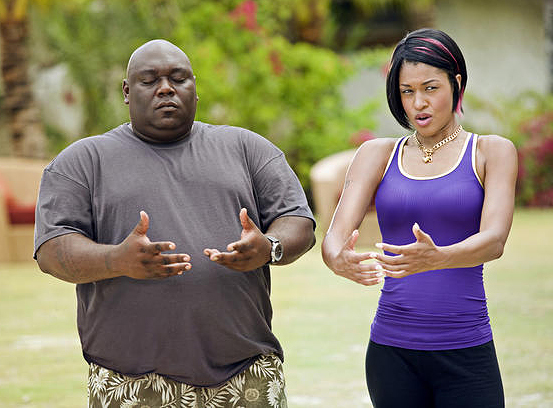 Jason and Cynthia are sorting out their own problems which stemmed from their inability to conceive and Jason was complaining about how sex had become more of a routine in his marriage and he longed to get over to Eden East to join the singles and have a night of fun.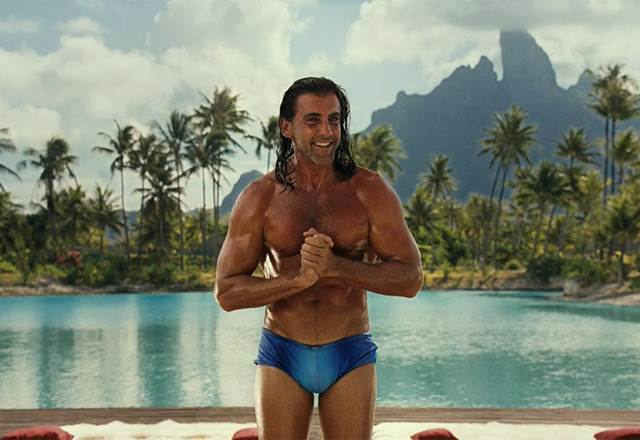 After their yoga session with the sexy instructor Salvadore, the guys were protective of their wives as Salvadore seemed to be more sexual in his session.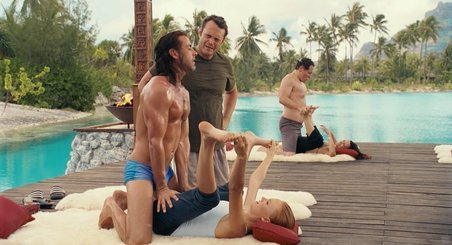 The ladies were shocked at Lucy's suggestive moves to engage in an unpromising position with Salvadore, and Ronnie confronted Lucy who seemed to be nonchalant at her own actions.
That night, despite being told by Marcel to stay in early as they have to be there by sunrise the next morning, the group went out secretly, on a mission to help Shane to find Trudy, who had gone missing and Joey suspected that she had gone to the Eden East and they decided to go against the risks to venture to the other side of the resort to find her and bring her back.
Joey, who had been wanting to go there himself for sometime, led the pack by telling them that he had figured out ways to get over to the other side and they took the canoes. As they were making their way on the canoes, Jason and Cynthia ended up in an argument after Jason criticizes her rowing skills and then a storm ensues, causing their canoes to capsize and Cynthia swam towards the shore. She stormed off, telling Jason that she was sick of being blamed for everything and ran off into the woods, followed by Lucy and Ronnie, who told them that they will meet at the party.
The guys continued to make their own way towards the East, and they started talking about their own problems as well; with each of them pointing out their problems.
The ladies found the waterfall that Ronnie had always wanted to hike to and stumbled upon Salvadore who was taking a swim in the waterfall. Upon meeting them, he told them that he would lead them to the East.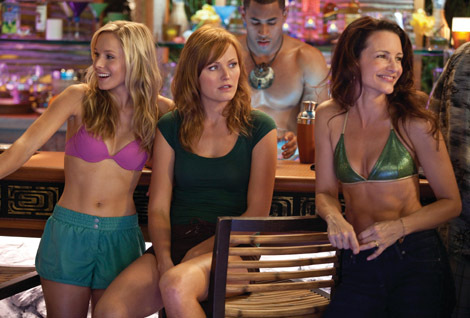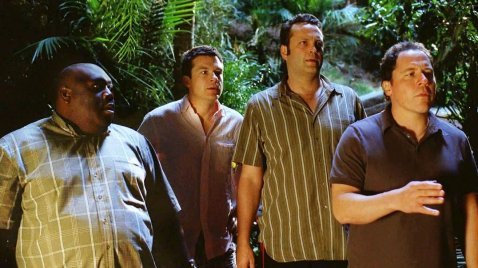 The guys, on the other hand, bumped into Sctanley who threatened to spill them to Marcel but Dave challenged him to a game of Guitar Hero, saying that if he beats him, he could bust them to Marcel but if Dave wins, he keeps the secret and helps them get to the East. Predictably, Sctanley lost and gives them the directions to the East.
They arrived and Shane found Trudy, but instead of asking her to return to him, he told her that he will let her go and that she should enjoy her 20s. Joey tried to hit on a few young hot girls, to enjoy his own fun since he never really enjoyed himself since getting married in his teens. Ronnie got tired of partying and went off with Dave to the waterfall where they talked to each other about their problems and shared their intimate moments. Jason and Cynthia also made out with each other and ended up reconciling their love for each other. Shane also bumped into his ex-wife, Jennifer (Tasha Smith), who confessed that she still loved him and they got back with each other. Joey then caught sight of his wife, Lucy dancing provocatively with Salvadore and beat him up, realizing that he was jealous and that he loved her. They yelled at each other that they were cheating on each other but eventually kissed and made up.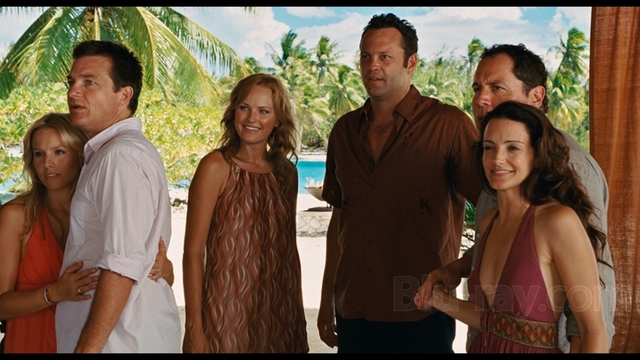 After a night of passion, the couples all awoke to being intimate with each other and was greeted by an angry Marcel who thinks they did not obey the rules. Dave stood up explaining to Marcel that they have their problems sorted out, and they do not need therapy sessions anymore.
Marcel finally smiled and agreed that they have all succeeded in overcoming their problems, and proceeded to present them with their tokens of souvenirs which are in the forms of wooden statues to represent their spirit animals.
Joey and Lucy were given the wolf; which signifies that despite being pack animals, their hearts are always with their destined mate.
Jason and Cynthia were given the rabbit; which signifies their innate ability to overcome any obstacle that come their way.
Shane and Trudy were given the honeybee; which signifies that although they will fly from one flower to another, they will always come back and enjoy their familiar company with each other.
Finally, Dave and Ronnie were given the mule (ass); which signifies their both hard-headed and stubborn ways, but yet they are considerate and carries the burden of problems of themselves and also those around them.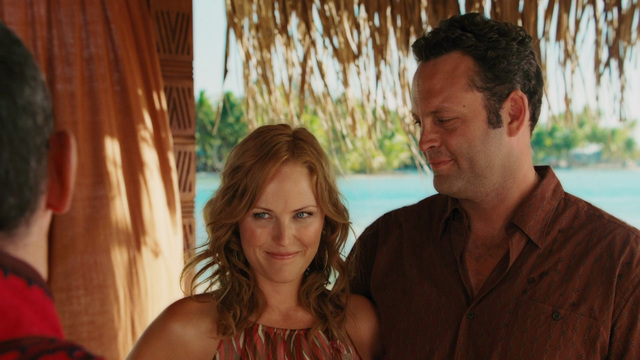 The movie ended on a happy note, with Marcel telling them that their couples' therapy session has officially ended and that they are free to go jet skiing and explore the resort.
Christy's Review:
The movie appeared to seem like a cheesy storyline; what with the Powerpoint presentation to announcing a possible divorce and selling the idea of a vacation and I was prepared to sit through a two-hour movie about couples fighting and then making up.
Boy, was I wrong, as that soon transitioned into an inspiring and full-blown plot of couples and their relationships with each other and throw in that cup of friendship and it became an enchanting watch, not to mention the obviously striking and gorgeous setting of Bora Bora Island that makes one want to check in for a retreat like that, almost immediately!
I find myself charmed and hugely entertained by the development of the story, as it explores the complexity of how each couple deal with their own problems; shifting from denial to discomfort, to intimacy and passion. This is just the movie for any couple; married or not, or even for singles, as it explores the obvious and teaches us about dealing with problems by facing them instead of running away and sometimes it could end up better than when it started.
I just loved everything about this movie, did I mention the gorgeous resort, it reminded me of my own honeymoon! The excellent performances by the actors; who are all largely prominent veterans in their own fields and their chemistry together was just amazing!
Likes about the movie:
Yeah, I know I have mentioned that again and again, but the resort and its views, just breathtaking and adds that wow factor to the movie.
Then the actors; gosh, Vince Vaughn, Jason Bateman, Kristen Bell, Kristin Davis were all just amazing, and the other actors were also extremely great in their performances as well. There was never a dull moment in this movie, and the laughs just keep coming, from their family situations to their therapy sessions, and even their fights.
This is couples' comedy, at its best.
Dislikes about the movie:
Nothing, I think it was overall good, and yeah, it's rare, but I enjoyed this movie very much that I could not find anything I dislike about it.
The Verdict:
Go watch it, and be prepared to hold your stomach for all the laughs that come your way!
You'll enjoy it :)