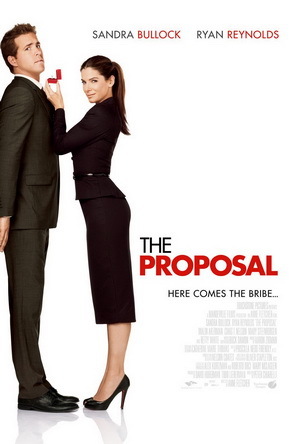 Year Produced: 2009
Director: Anne Fletcher
Producers: Todd Lieberman, Sandra Bullock, David Hoberman, Alex Kurtzman, Roberto Orci,Kristin Burr
Written by: Pete Chiarelli
Distributor: Touchstone Pictures
Cast:
Sandra Bullock - Margaret Tate
Ryan Reynolds - Andrew Paxton
Mary Steenburgen - Grace Paxton
Betty White - Annie Paxton
Craig T. Nelson - Joe Paxton
Malin Akerman - Gertrude
Synopsis/Plot/Storyline:
Andrew Paxton(Ryan Reynolds) woke up late one morning and rushed to his office, where he reached in the nick of time before his boss gets in for work. Shortly, his boss, Margaret Tate (Sandra Bullock) strides into the office, giving everyone a cold stare and it seemed that the atmosphere in the office changed from lively to dead quiet as Margaret walks in.
Being the book editor for a big NYC publishing company, Margaret seems to be the one to hold the fort in the office with Andrew as her assistant and definitely not one with a good relationship with her subordinates, let alone her co-workers.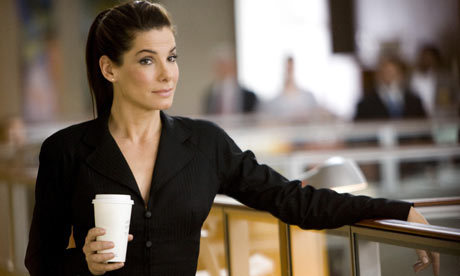 That morning, Margaret sacked an editor, Bob Spaulding, who was being rude to her and she threatened to have him escorted out by the security guards. She then informed Andrew that he will need to work over the weekend with her, causing the poor guy to dismiss his plans to go home and celebrate his grandmother's birthday.
Margaret was then called into her bosses' office where she was informed that due to her leaving the country a few months earlier which sped up her visa's expiry which meant that she would be deported almost immediately and her position would be filled by the other editor, Bob, the guy she just fired. Desperate to retain her position and to stay in the country, she held onto Andrew who walked into the office at that moment to inform her of a phone call from a writer and she informed her bosses that she and Andrew will be getting married soon, to her bosses' and Andrew's surprise.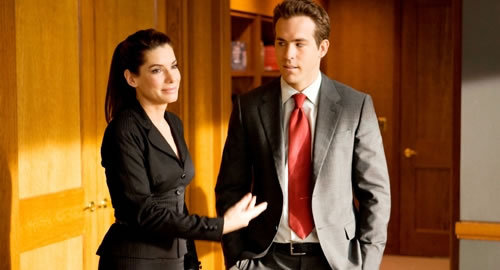 Margaret and Andrew then left the office to head over to the Immigration office to sort out her visa details, and she blackmailed a confused Andrew to just go along or lose his job.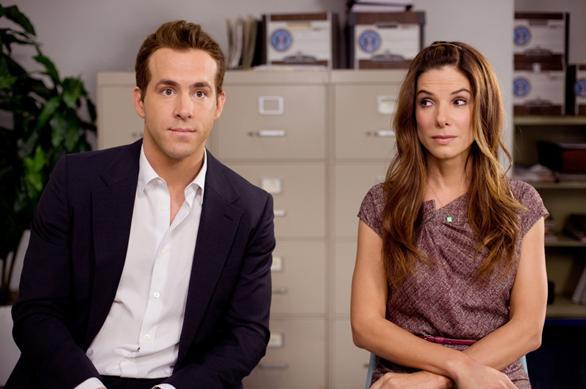 At the immigration office, they were interviewed by Mr Gilbertson who seemed to have seen such situations before and remained skeptical over their relationship. Andrew then decided to play along, using promotion as his motivation and blackmail factor, and announced to the officer that they will be spending the weekend at his hometown to celebrate his grandmother's birthday and at the same time, announce their engagement to the family. Margaret was surprised but went along, when Andrew mentioned that his hometown is in Sitka, Alaska.
Once they are outside the Immigration office, Andrew makes his demands to have his manuscript published and be promoted or he will let the cat out of the bag, much to Margaret's displeasure. He then proceeded to make her propose to him in public; where she knelt down on her knees to ask him to marry her, in the middle of NYC! (Classic scene!)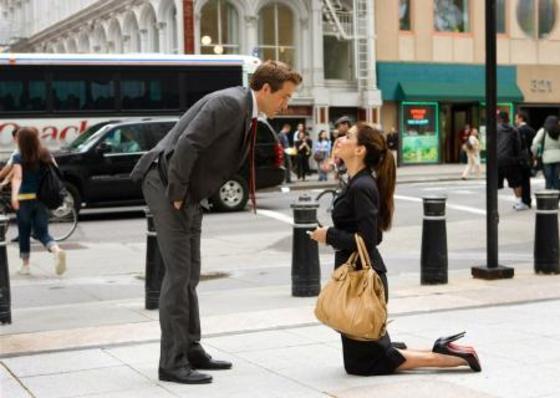 They then traveled together that weekend to Sitka, Alaska, where Andrew's from and were greeted at the small airport by Andrew's mother, Grace (Mary Steenburgen) and grandmother, Annie (Betty White). As they drove through town, she was surprised to learn that Andrew's family was quite wealthy as they owned most of the businesses in town. Then she was also surprised when his mother mentioned that she had cancelled their hotel reservations and had planned for them to stay at home with the family.
Margaret was complaining about the small dingy which they had to take from the pier to get to Andrew's home, which she uncomfortably did so in her high heels, much to the amazement of Grandma Annie (or Gammy, as Andrew fondly calls her).
They arrive at the Paxton's home, which was a mansion and Margaret questions Andrew as to why he never mentioned he was rich and he said his family is rich, but he is not. Andrew was also surprised to see the whole town at his home in a welcoming party thrown by his family as he had been away for three years.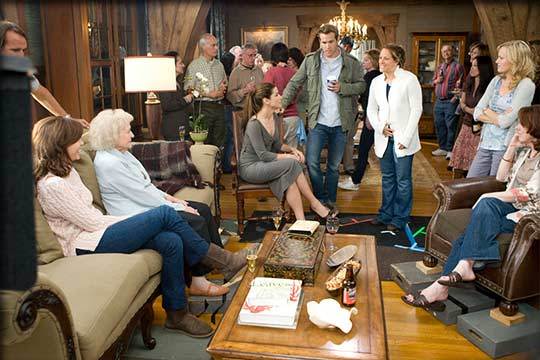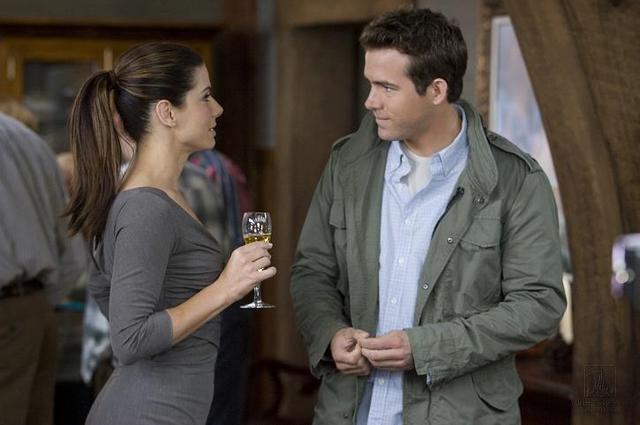 He was seen to be in an estranged relationship with his father, who seemed to look down on him. Frustrated, Andrew proceeded to announce his engagement to Margaret and the two proceeded to spin a story about how they met and how Andrew proposed (another classic scene!)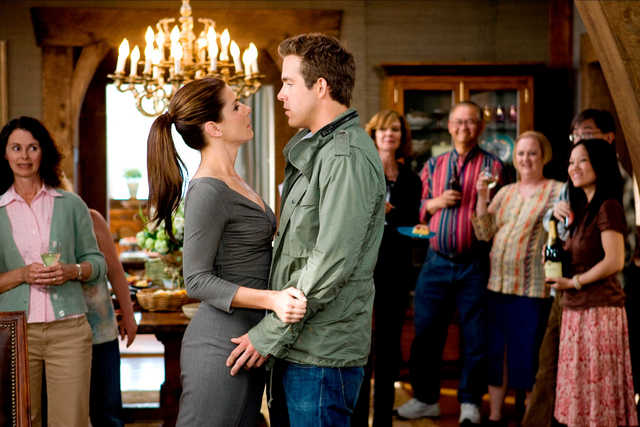 As the crowd cheered, they were applauded and forced to kiss in front of everyone (very funny!)
Margaret then also met Andrew's high school sweetheart, Gertrude (Malin Akerman).
The couple were then led to their room; which Grace had prepared and was a huge bedroom with an awesome view of the lake. That night, Margaret made Andrew sleep on the floor while she tosses uncomfortably in her bed to avoid the sunlight which was the norm even during night in Alaska.
The next morning, they woke up to a Margaret's phone ringing and as she tries frantically to get a signal, she ran downstairs and out of the house, followed by the family's cute little puppy. The eagle swooped down and took the dog, leaving Margaret frantic to get it back.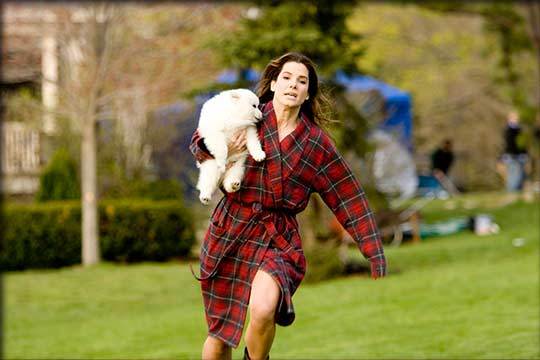 When the eagle releases the puppy, it took Margaret's phone instead (she was in the middle of a conversation)!
Then Andrew told Margaret to get dressed as his family wanted to bring her to some place.
It turned out that Margaret was led to a bar with a stripper performing and Margaret was given a lap dance which she was uncomfortable with. At the same time, Andrew and his father proceeded to have an argument and his father tried to apologize but he wouldn't accept.
Back at home, Margaret was taking a shower when she realized that she had forgotten her towel and tried to run out to get it and run into Andrew who was also completely naked! (This is another classic scene)
They both shared a light moment sharing her heart's contents that night as they both lay to sleep.
The next morning, they awoke to Grace bringing them breakfast, and the two pretended to snuggle in bed before she arrives. Grace then suggested that they should get married the next day in the barn where he and his dad got married, and Grandma persuaded them by saying that she wanted to see her grandchild before she's dead.
Margaret was touched by the kindness shown by Grandma and Grace when she was kidnapped to try on Grandma's wedding gown. She then rushed to tell Andrew that she is worried about what would happen to his family; particularly his mother and grandmother if they were to find out about their lie and Andrew assured her that it will fine, but accidentally caused her to fall overboard the speedboat. He rescued her and the two returned to the mansion.
They arrived to find that the Mr Gilberson, the Immigration officer had arrived and informed that he had contacted Andrew's father to discuss about what he believed to be the reason for their engagement. Andrew then announced that they are to be married the next day.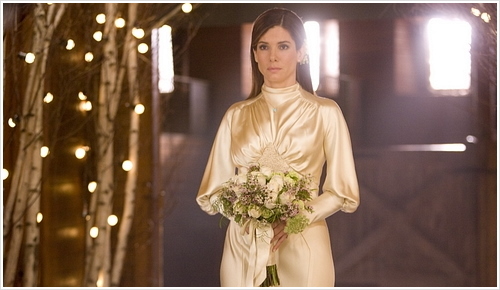 The next day, Margaret was wearing Gammy's wedding gown and was walked down the aisle by Gammy to Andrew. However, at the altar, Margaret broke down and confessed, to Mr. Gilbertson's delight who informed her that she has 24 hours to pack before she is deported back to Canada. Andrew tried to run after Margaret but was stopped by his father. It was then that Gammy collapsed, and thinking that it was a heart attack, they rushed her on the plane to the hospital where she made Andrew and his father promising to bury the hatchet. She then revealed that she was faking her heart attack to make them reconcile.
In the last scene, Margaret was packing her stuffs in the office and Andrew arrives, begging her to stay and confessing that he had fallen in love with her and proposed to her. They then kissed , to the applause of their colleagues in the office.
They informed Mr Gilbertson that they are engaged, and for real this time!
Christy's review:
Alright, usually I don't really believe in short flings and how people could just fall in love within such a short time (that's me), but this movie, I will make an exception.
I have lost count over the number of times/scenes which made me hold my stomach and laugh, as it just keeps getting better!
If there is a movie to just purely entertain and yet maintain a little romance in the category of rom com, this would definitely be it!
I am a huge fan of the leads; and they definitely proved their capabilities all right in this movie!
Likes about this movie:
Any scene on Sandra Bullock and Ryan Reynolds in it; there is never a dull moment whenever they are around!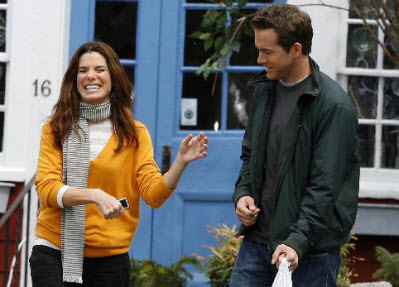 There are so many classic scenes:
1. Immigration office whereby Andrew mentioned Sitka and Margaret was surprised but yet went along.
2. Andrew blackmailing Margaret into proposing to him on the streets, of NYC! She got down on her knees (Definitely the best scene ever!)
3. Margaret, in her heels trying to get down from a steep ladder and Andrew trying to grab her butt
4. They were forced to kiss in front of everyone
5. Them running naked into each other
6. Margaret waving the cute little puppy in the air to get the eagle's attention
7. The cute little puppy!
8. The awesome view of the lake and Alaska
Dislikes about this movie:
Nothing; in fact, the movie is too short, as I was just enjoying it too much!
The Verdict:
Watch, watch, watch! Even I have watched it three times already, and it's still so good!
Rating: 4/5