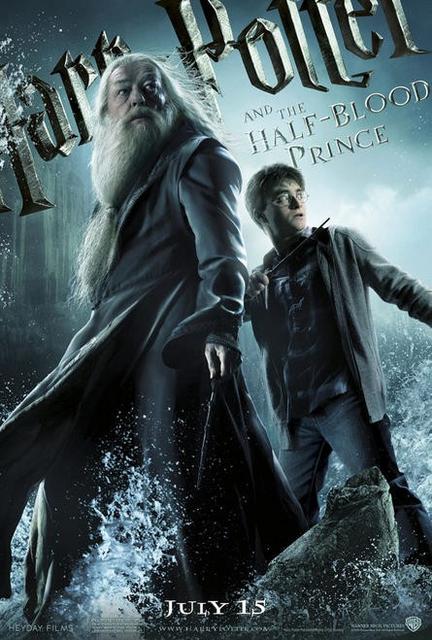 The 6th book adaptation of the highly acclaimed Harry Potter series, creation of JK Rowlings.
The movie starts with Death-eaters appearing everywhere in the world; creating havoc and killing innocent Muggles in their own world.
Harry Potter was surprised to see Professor Dumbledore at the train station and he was told to hold to apparate with the professor himself where they found themselves in a small little village; surrounded by darkness and marshes.
He followed the professor into a rundown cottage where they found Professor Slughorn who had apparently turned himself into a couch in order to hide from the pursuits of the Death-Eaters who had earlier invited him into their recruitment.
Professor Dumbledore's purpose was to convince Slughorn to return to teaching in Hogwarts; where the latter initially declined. However, fearing for his life with the Death-Eaters' continuous pursuits, he finally relented.
Harry disapparated and landed into a marsh while Dumbledore has disappeared, he found that he was near his best friend, Ron Weasley's house in the middle of the nowhere.
Excited, he made his way to the house and Ron's sister, Ginny, who heard the commotion and found Harry's pet owl, Hedwig in the kitchen was convinced that Harry was there.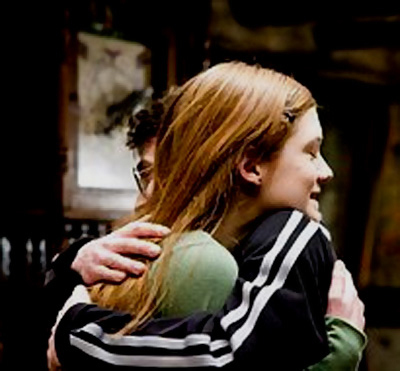 The Weasleys were excited to see Harry in their house, and the three friends were reunited again as they prepared to go back to school in Hogwarts, much to the disapproval by their parents. (Hermione happened to be staying with the Weasleys at the time).
Ron's two elder brothers, Fred and George's had opened a shop selling their creations of magical merchandise in Diagon Alley and the trio paid a visit to the shop.
Upon leaving the shop, Harry and Ron followed Draco Malfoy and his mother who was seen disappearing suspiciously into Borgin & Burke's along the same alley.
Draco's father, Lucius Malfoy had apparently fallen out of favor in the Ministry of Magic and Draco had currently been entrusted to an important mission by the Dark Lord. He had been recruited as a Death-Eater and his mother, Narcissa, entrusts her son to Severus Snape during his mission.
Bellatrix Lestrange, disbelieving Snape's intentions forced him to make a pact with Narcissa unto which she sealed it with the Unbreakable Vow Spell.
On the train journey back to Hogwarts, Harry still continues to be bothered by Draco's behavior and disguised himself to spy onto Draco; which unfortunately was foiled by Draco who put a spell so that Harry will be unseen. Fortunately, Harry was saved by Luna Lovegood, who had on Spectre specs and could see him.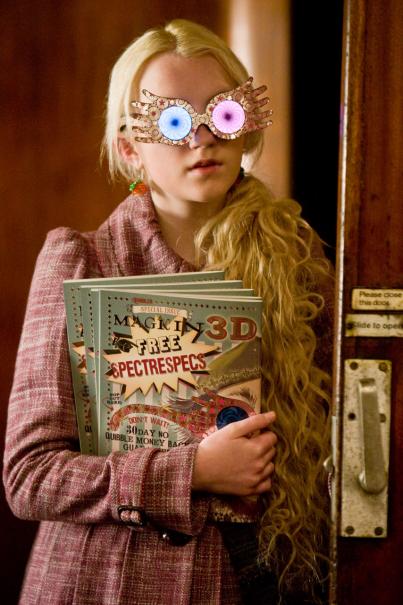 Back at Hogwarts, Dumbledore introduced Slughorn as the new Potions master while Snape resumes his position as the Defence against Dark Arts master.

While loitering in the hallway, Harry and Ron were approached by Professor McGonagall who told them to go for Slughorn's NEWT levels' Potions class, and Harry dragged a reluctant Ron along.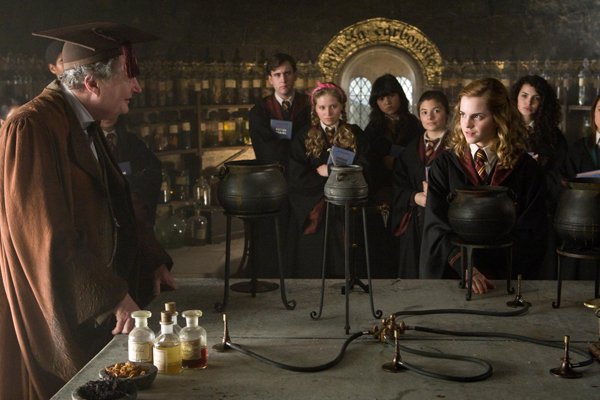 Professor Slughorn was pleased to welcome them into his class and while he was conducting his lessons, he told the duo to take their textbooks from the old cabinet in the classroom and Harry found a book with annotations in it; stating that it was a property of the Half-Blood Prince.
The annotations helped him in preparing his potions and even won himself the vial of luck, Felix Felicis, by preparing the potion correctly, even defeating Hermione, winning the favor of the Professor.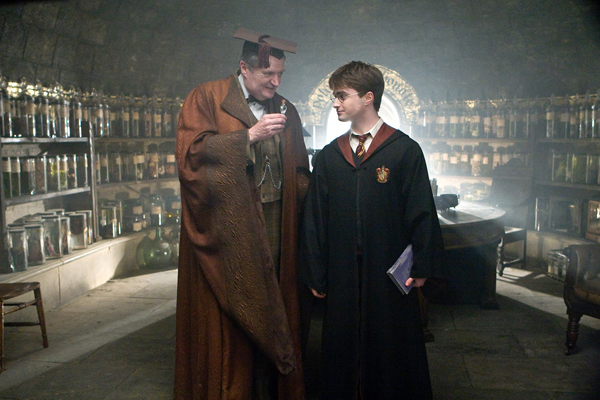 During the Quidditch qualifying round in assigning their new players, Ron made it as the Keeper; beating Cormac McLaggen who had his eyes on Hermione.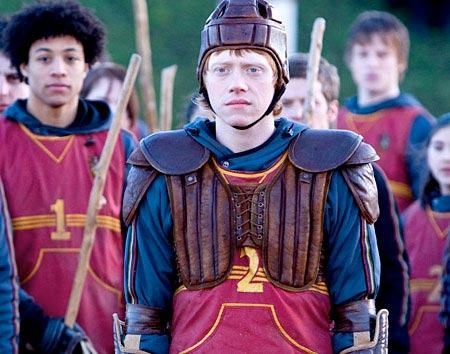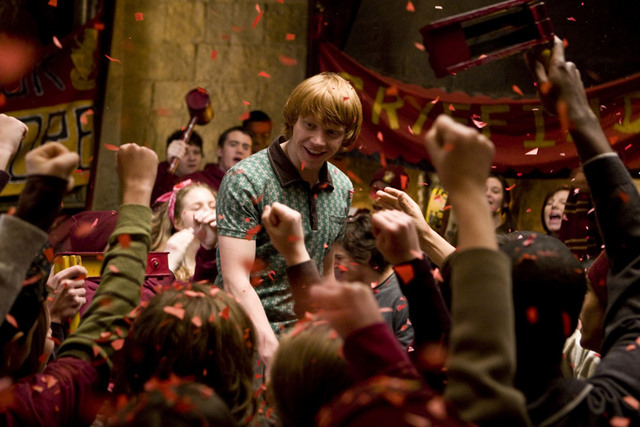 Ron, upon making it as the Keeper was proud of his achievement and drowned in his moments of glory, made out with Lavender Brown who then became his girlfriend, much to the disappointment of Hermione.
Ginny Weasley, at the same time, was also in a relationship with Dean Thomas, much to Ron's fury and Harry's disappointment as well.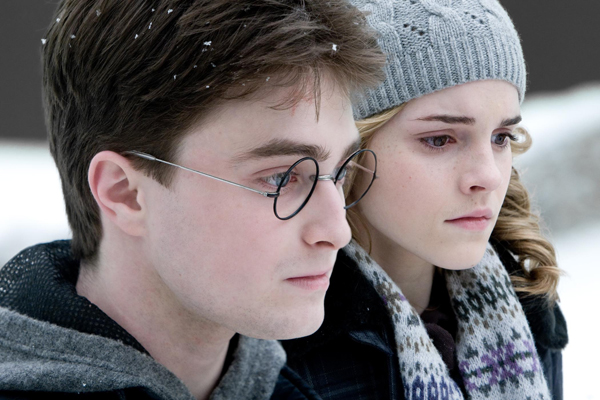 While the young adults deal with their own feelings in the complicated romance triangle, they remain best friends and decided to spend Christmas in Ron's home.
They were reunited with Remus Lupin and Nymphadora Tonks (members of the Order of Phoenix) and during their warm celebration, they were attacked by Bellatrix Lestrange and Fenrir Greyback. While no one was harmed, the Burrow was burnt to flames.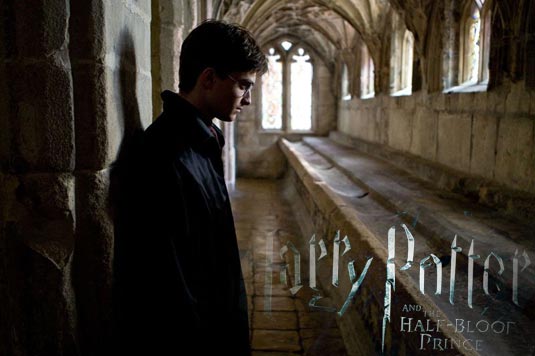 Back in Hogwarts, Harry was suspicious with Draco's sneaky attitude and followed him; ending in a battle in the loo where Draco was injured.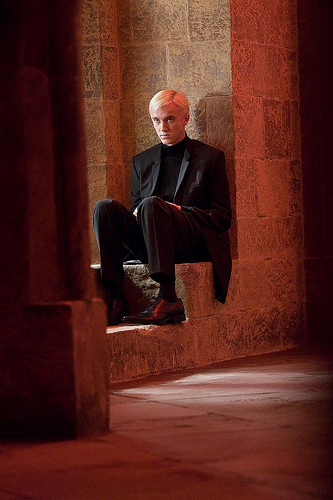 Snape rushed in and healed him; much to Harry's chagrin.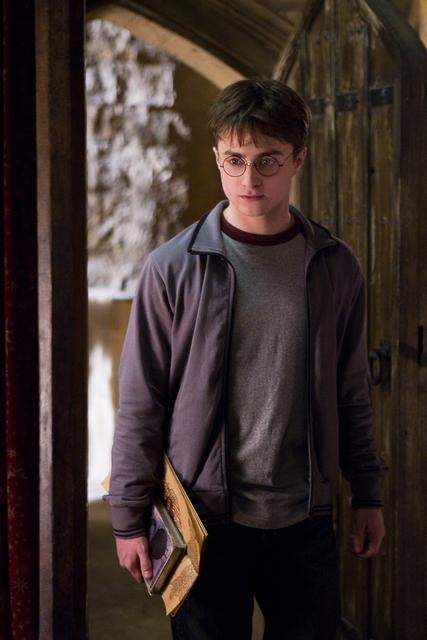 At the same time, Harry was forced to give up his Potions book which he was clearly getting obsessed with and he obligingly went with Ginny to the Room of Requirement to discard and hide the book where they kissed.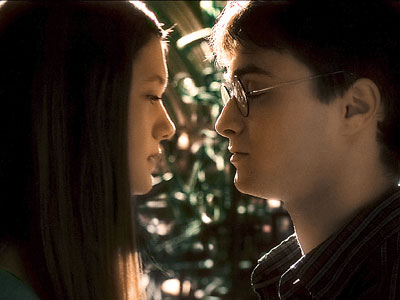 Ron also broke up with Lavender during one of his injuries and he was admitted to the school ward and he cried out Hermione's name, leaving Lavender in dismay.
Harry had his secret private meetings with Professor Dumbledore who showed him the memories of Tom Riddle which he collected and Harry had a preview into Tom's childhood memories and how Dumbledore brought him out from the orphanage and into Hogwarts, not realizing that he would one day turn into the age's darkest lords.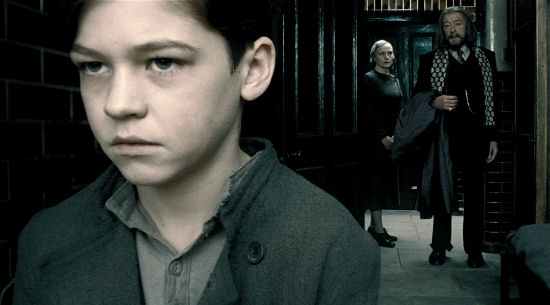 Harry was surprised to find that Slughorn was Tom's teacher and understood finally the reason Dumbledore invited Slughorn back to Hogwarts to teach when Dumbledore entrusted Harry to find out from Slughorn the missing part of Tom's memory which was suspected to be tampered with.
Harry then used his vial of luck and managed to get the answer from Slughorn; Tom was asking the use of Horcruxes.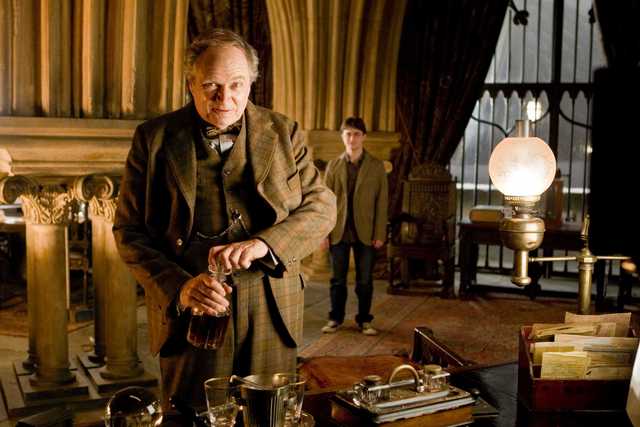 Dumbledore was then shocked and explained that Horcruxes are a method or a way to separate one's soul and guard it in an object; granting the person immortality until all the Horcruxes have been found and destroyed. The Horcruxes are found in seven; and can be hidden in seven different objects and stored in the varying locations.
He then explains that is the only way to destroy Voldemort; and told Harry that two of the Horcruxes have been found and destroyed; Tom Riddle's diary and his mother's ring.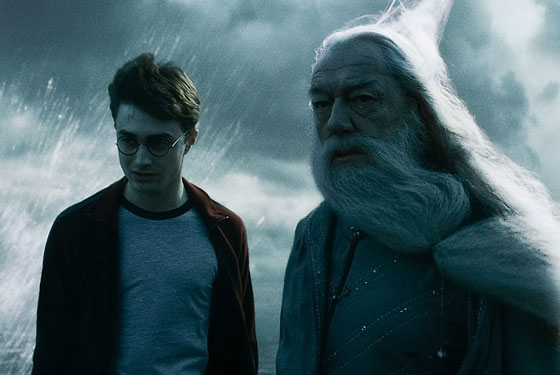 After locating another of the Horcrux, Dumbledore brings Harry along to help him to retrieve and destroy the Horcrux which was hidden in a cave; near a raging sea.
Inside the cave, Dumbledore forced himself; with Harry's help to drink a foul potion which hides the locket in which the Horcrux is hidden.
Dumbledore was weakened by this potion but yet manages to fend themselves off the attacks of the Inferi inside the cave and apparates them back to Hogwarts' Tower.
They heard noises and Dumbledore forced Harry into hiding; telling him to stay there no matter what he saw or heard.
Dumbledore was approached by Draco Malfoy who was sent to kill him and he let in the Death-Eaters; Bellatrix and Fenrir who ordered him to kill Dumbledore immediately.
When Draco cowers and weeps, Snape emerges from his hiding place which he told Harry to remain hidden and kills Dumbledore himself and helped the Death-eaters to escape.
Harry was furious and chased after Snape, screaming that Dumbledore trusted him.
As Snape fends off his spell, he reveals that he is the Half-Blood Prince and that Harry is using his own spell on him.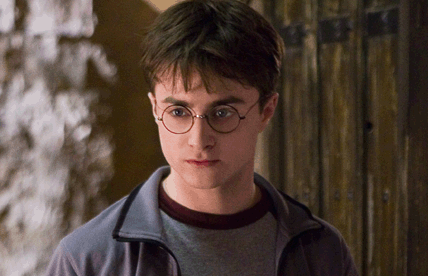 Harry returns to the castle and found that all the staffs and students of Hogwarts have found Dumbledore's body.
They lifted their wands to illuminate in final respect to their dead headmaster.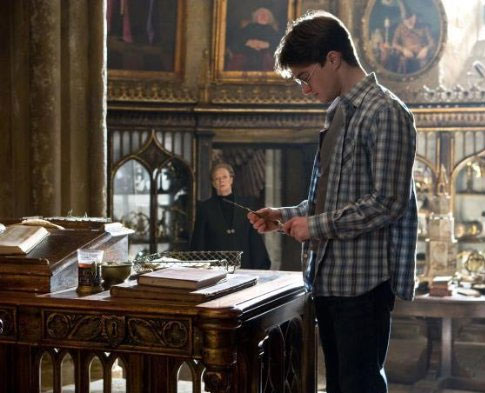 As Hogwarts mourn Dumbledore's death, Harry took a look at the Horcrux and realized it was a fake. A note was left in it that the person has found the real Horcrux and hopes to destroy it along with the other Horcruxes.
He revealed it to Hermione and Ron and they vowed to find the person with the initials R.A.B and destroy all the Horcruxes instead of returning to Hogwarts for their final year.
It was a long watch; a total of 2.5 hours; close to 3 hours and mind you, this installation is slightly long due to the numerous parts of the story which needs to be told.
In fact, the book itself revealed too much to be summarized in a 3 hour movie and hence, this should be understood before complaining about how long and boring it is.
I remembered seeing people getting restless in the cinema and some leaving early.
All I can say is, unless you have read the book or a Harry Potter fan, it is not recommended to watch it as you may not even know what it is all about.
This installation brings back a lot of old memories and flashbacks from the previous books and it is advisable, even for Harry Potter's readers, to read the books prior to watching this movie to make head or tail out of this.
At the same time, personally, I felt David Yates could have choreographed his movie in a more interesting and faster-paced movie.
Overall, I can't wait for the final installation...I heard that it is already in the making and they are going to break it into 2 parts to tell the story?
That sounds promising:)