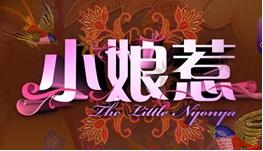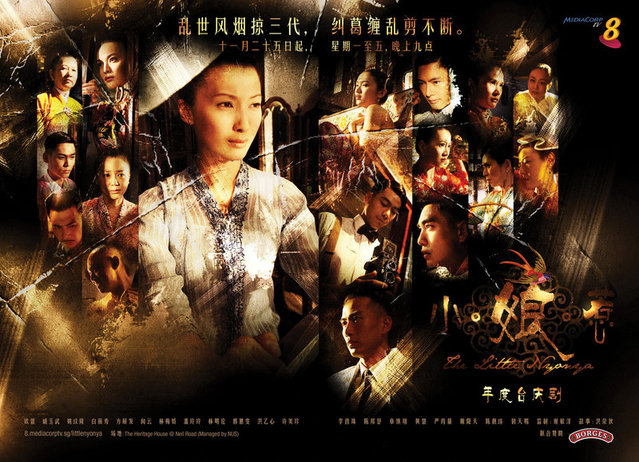 The Little Nyonya has garnered one of the highest ratings of the Singaporean dramas since it was released at the end of 2008.
This drama spins an intriguing tale of three generations in a local Peranakan family.

The interesting theme of using the Peranakan tradition and culture as the background of the story is the part which wooed most of the viewers to watch the drama.
Furthermore the story includes the engaging plot of a family drama; with its twists and turns and trailing across the Straits Settlement; mainly Singapore and Malacca as the plot background but include Penang in some of the filming.

The Straits Settlement has always been well known for their sisterhood secrets and the unique Peranakan culture is definitely one of them.
The producers have definitely done a good job on the research of the traditions and cultures practised by the Peranakan folks; more fondly known to the locals as Baba and Nyonya.

The story starts with the present; with Anqi (Felicia Chin) on a bus ride to Malacca after she returns from Canada to visit her grandmother and to put the past of her unhappy love relationship behind her to the trip.
Her arrival in the Historical City commences on a nostalgic journey back to the past, and continues to dazzle us viewers with the beautiful and unique traditions preserved by the present Peranakan culture, with a tale dating back to the past.

The Little Nyonya is a story that starts from the present and trails back to 70 years ago, to tell us the fate of a family alongside the strict conservative minds of the Peranakan folks back then.

Back to the story, it tells of a prominent family in Malacca; the Huangs who are involved in the trade and financial business.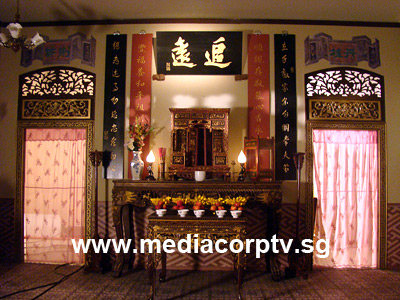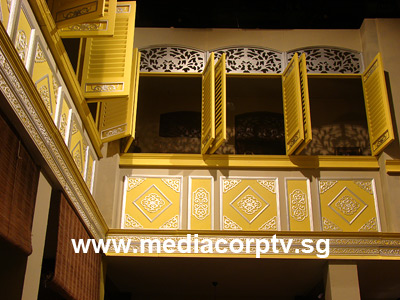 Following the death of old Mrs Huang, her only son stayed in the ancestral house with the occasional visits of his elder sister.
Mr Huang himself has a wife who has borne him a son and a daughter, who were close to his sister's two daughters as well.

Then comes our protagonist; Juxiang and her mother who were depicted as the servants in the house, cooking and serving to the masters and mistresses of the house.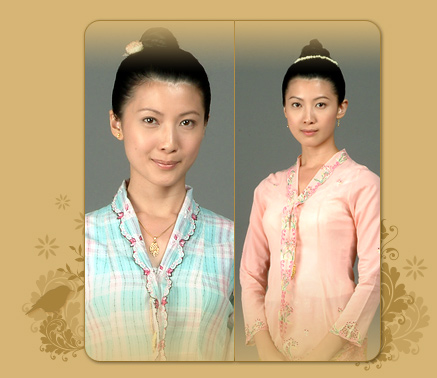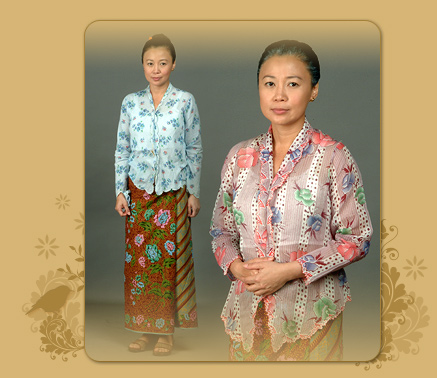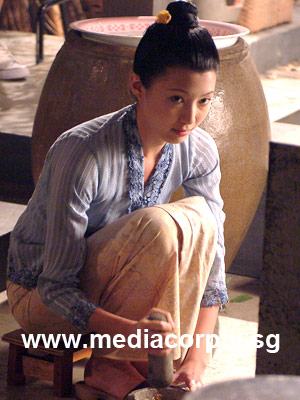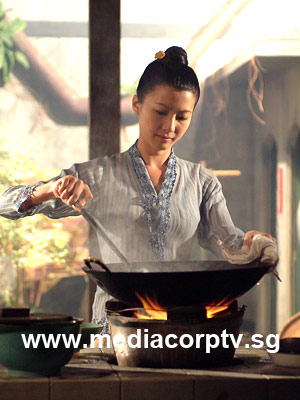 The three girls often made fun of Juxiang, and constantly bullied her.

Juxiang is actually mute and deaf; a fate that befell upon her after her distressed state following the death of old Mrs Huang who dotes on her. Her mother, Tian Lan (aka Auntie Lan) was the maid servant of the dear old Mrs Huang and was raped by the current Mr Huang.
Old Mrs Huang considered her as one of the daughter in law along with Huang's first wife, much to her anger.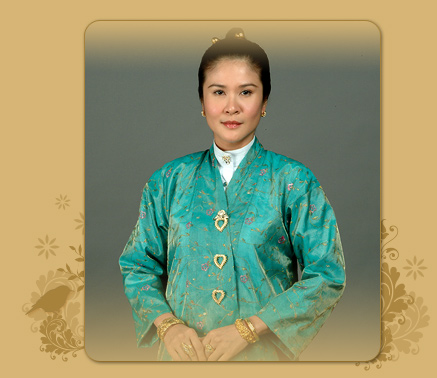 However, after the death of old Mrs Huang, the first wife, GuiHua, resumed her position as the maid servant, along with her daughter Juxiang, whom she does not recognize as the legitimate daughter of the Huangs and hence, the mother and daughter had to live an ill-fated life in the kitchen.
Ah Tao is another servant, who was an amah (maids sworn to celibacy), who was loyal to both Juxiang and her mother.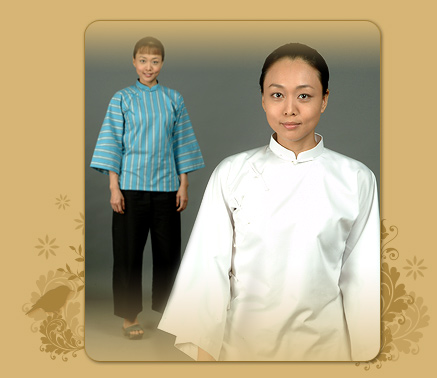 When the Chens (another prominent family in Malacca) comes to attend the tok panjang (a feast), the Huangs were interested to do matchmaking and tried to promote their daughters to the Chens.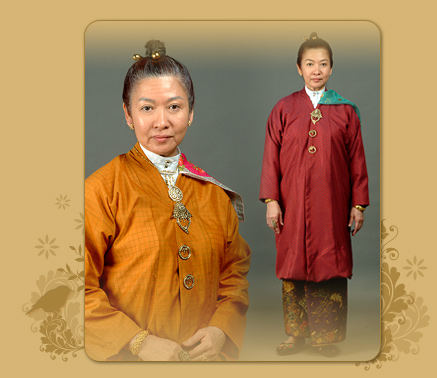 Old Mrs Chen was the bosom friend of old Mrs Huang and it was this friendship that maintained the bond between the two families for the few generations.
Old Mrs Chen took an immediate liking to Juxiang and was impressed by her skills in cooking and embroidery.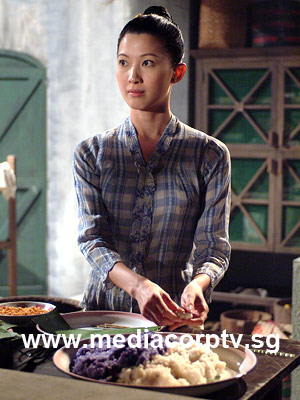 However, her handicap was an issue and thus, old Mrs Huang chose Meiyu instead to marry her grandson, Chen Sheng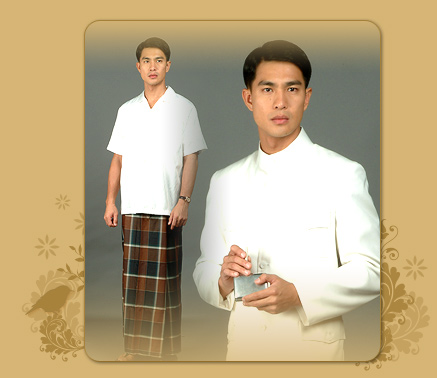 On the other hand, their own son, Jincheng married his cousin, Xiufeng although he was already in love with Xiujuan, Xiufeng's younger sister.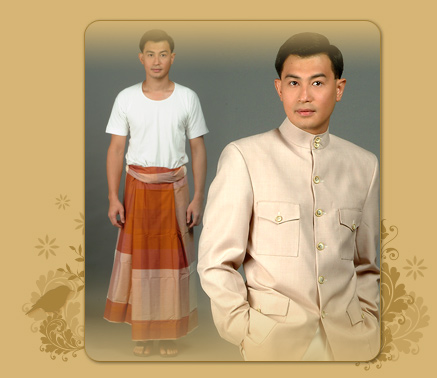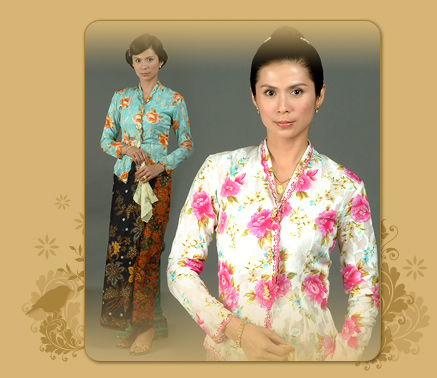 Juxiang was then forced into marriage with another influential businessman, Charlie Zhang, a man who turned his back on his own ancestors in favor of the western culture to win their trust in him.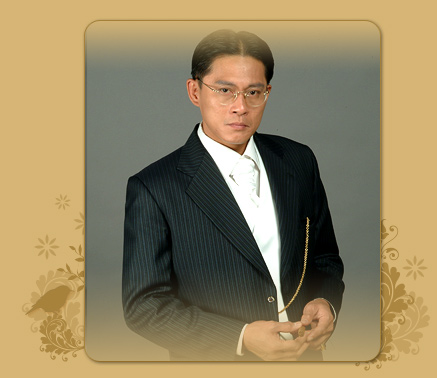 Charlie Zhang was not just a cunning businessman but an equally despicable person in character. His attitude disgusts Juxiang, and she protested strongly against the marriage; to no avail and as a last resort, she ran away from home and was almost doomed to prostitution when she was saved by Yamamoto Yousuke, a Japanese photographer who was based in Singapore.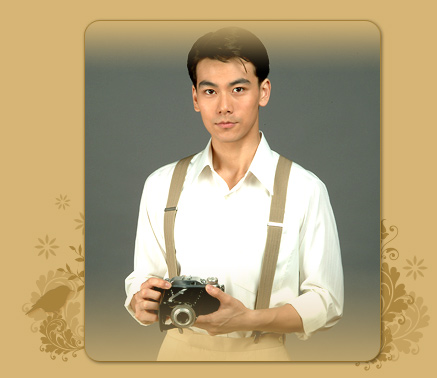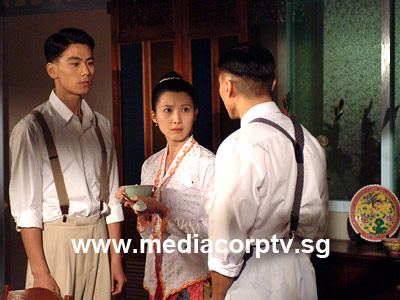 He proposed to her after bringing her back to his house and they got married, to escape from Charlie Zhang's pursuit for his runaway bride.
Juxiang then led a blissful life with Yamamoto who loved her, leaving a distraught Auntie Lan back home. Ah Tao occasionally acts as the messenger for the mother and daughter.

Yamamoto then had to go back to Japan during Juxiang's pregnancy and then war struck after Juxiang gave birth to her daughter, Yueniang.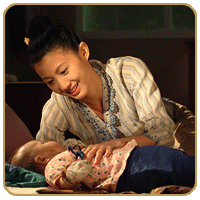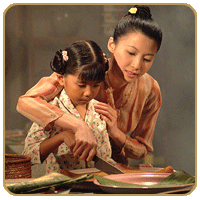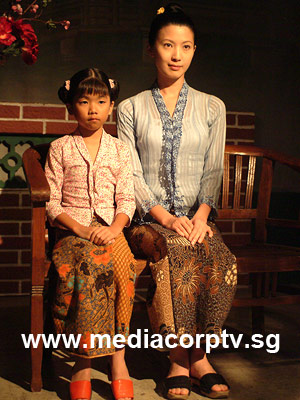 She waits in hope for the return of her husband, and then bumps in Chen Sheng (the grandson of old Mrs Chen) who is now married to Meiyu.
He took care of her and Yueniang, and then Yamamoto comes back. He was held captive and forced to serve the Japanese army to which he managed to escape.
For the sake of his wife and daughter's welfare, he begged Chen Sheng to take them away to England, along with the Chens and Huangs.

Juxiang was then thrown off the ship by the cruel Meiyu and her mother upon being seen by them and she swam back to the shore with Yueniang (beats me how she did it) and went back to her husband.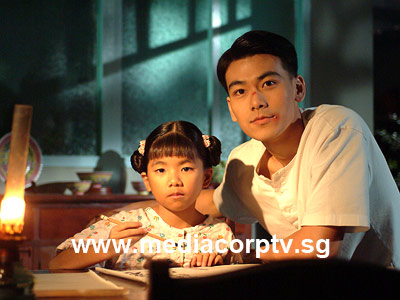 The family reunited, only to have Yamamoto being killed by the soldiers then after, who were being tipped by Charlie Zhang. Juxiang soon died of depression, leaving Yueniang to fend for herself.
The courageous little girl then demands the corpse of her father from the Japanese quarters and proceeds to bury her parents together.

She then travels back to Malacca (how she did it?) and reunites with Ah Tao and her grandmother, who was sick with missing Juxiang and mistaken her for Juxiang.
Yueniang grew up to look just like her mother, and again, led the life of what her mother and grandmother used to lead when the Huangs soon return to their ancestral home after the war. Yueniang was more defiant and independent than Juxiang, and
never let them bully her the way Juxiang was. She stood up to the injustice, only to be subjected to constant beatings.

She became best friends with Xiufeng's younger daughter, Yuzhu, who taught her English.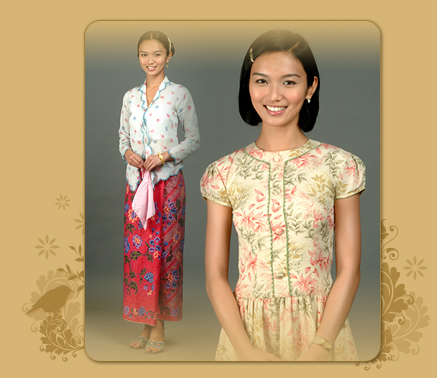 Zhenzhu, the elder sister, was a selfish person and constantly bullies her own sister.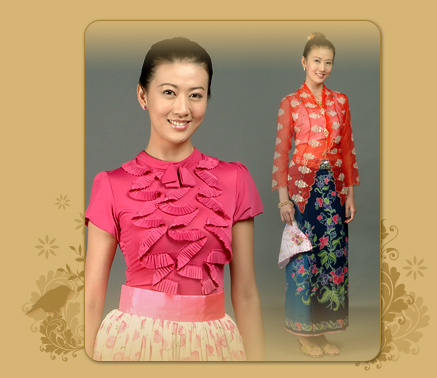 When the Chens reunite with the Huangs again, they are once again looking at the prospect of bonding through another arranged marriage for their only grandson and great-grandson, Chen Xi.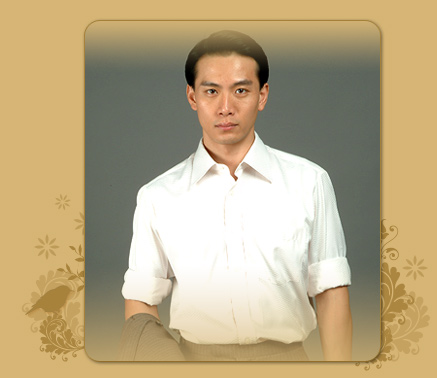 Zhenzhu and Yuzhu were both the prospects for his future bride, but Chen Xi had someone else in mind; he had already fallen for the cheeky Yueniang.
Their relationship was encouraged by Chen Sheng, his uncle, who often regretted his lack of courage to win Juxiang's hand in marriage and had to live his life in misery.
He has neglected his own wife, Meiyu, who then took part in separating Chen Xi and Yueniang, in favor of her own nieces.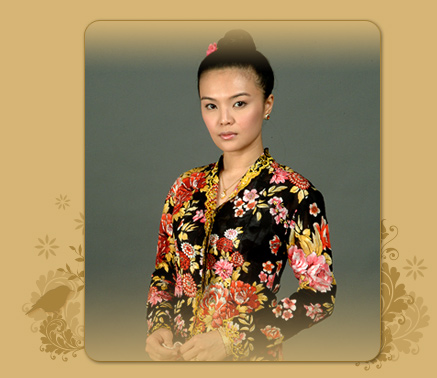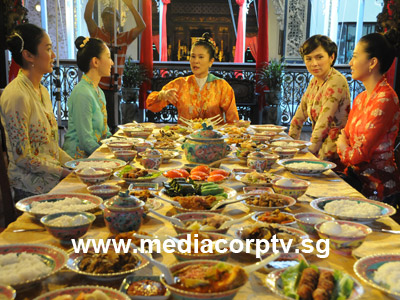 Chen Xi and Yueniang had a rocky relationship with the constant meddling of the women from the Huangs and in the end, in a twist of a fate, Yueniang was forced into marriage with a butcher whom they sought shelter from before, Liu Yidao.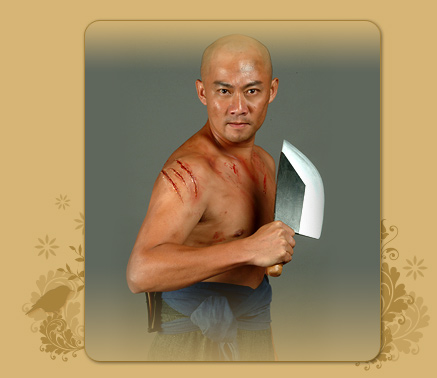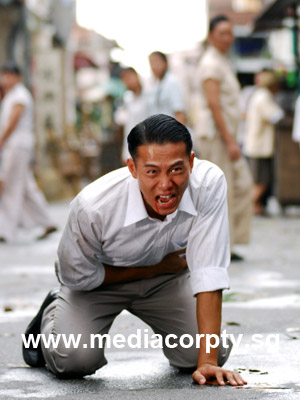 However, they didn't consummate their marriage and instead, they became sworn brothers and sisters.
Chen Xi, on the other hand, fell sick and was arranged into a marriage with Zhenzhu.
(They initially favored Yuzhu, but she was raped while helping Yueniang elope with Chen Xi).

Due to the guilt, Yueniang could not bring herself to be with Chen Xi and their love story was left behind, in a cliffhanger, as Yueniang was shown as accepting a proposal from the Englishman, Mr Smith while Chen Xi was said to have married his classmate from England, Libby.

Anqi was also revealed to be the granddaughter of Yuzhu and Robert Zhang; the man who raped Yuzhu and subjected her to a lifetime of misery and sexual abuse.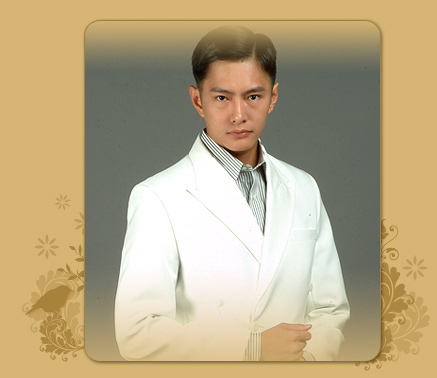 Nevertheless, it was a dramatic tale, spanning from a few generations and decades; filling in the pieces of jigsaw puzzle to form the present.
It is one of the most used ideas, but MediaCorp has certainly done a little more than just the usual story-telling to spin this intriguing tale of the Peranakan family.
The series was detailed in its narration; even touching the daily lives, culture, dressing and the spread of the food!

At the same time, the drama is touching everyone's heart as we follow the ill-fated lives and love stories of the mothers and daughters; from Auntie Lan to Yueniang, who never seem to have a happy ending in their love lives.
Juxiang was both loved by Yamamoto and Chen Sheng, while Yueniang was also loved by Smith and Chen Xi.

It was a rather sad ending; and I heard rumors that there is a possible sequel in which Anqi will find a letter from her late grandmother, Yueniang's box which tells the story from which Chen Xi never really married Libby after all.
Wow, that is something to look forward to!

I am definitely addicted to Singaporean dramas; it has been so since my first drama back in the 90's (Rising Expectations starring Zoe Tay)

I give this drama a thumbs up, and would definitely leave it on my "Will watch again" shelf!
Highly recommended and bravo to MediaCorp for such a brilliant piece of work!

The full cast (from MediaCorp)
Jeanette Aw - Huang Juxiang/Yamamoto Yueniang
Dai Yang Tian - Yamamoto Yousuke 山本洋介
Pierre Png - Chen Sheng
Qi Yuwu - Chen Xi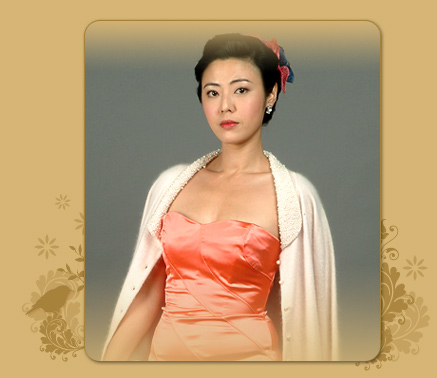 Cynthia Koh - Xiujuan
Pan Lingling - Xiufeng
Apple Hong - Huang Meiyu
Darren Lim - Huang JinCheng
Lin Mei Jiao - Gui Hua
Xiang Yun - Tian Lan
Huang Hui - Ah Tao
Li Yin Zhu - Old Mrs Chen


Andie Chen - Alexander Huang Tianbao
Eelyn Kok - Huang Zhenzhu
Joanne Peh - Huang Yuzhu
Desmond Sim - Charlie Zhang
Zzen - Robert Zhang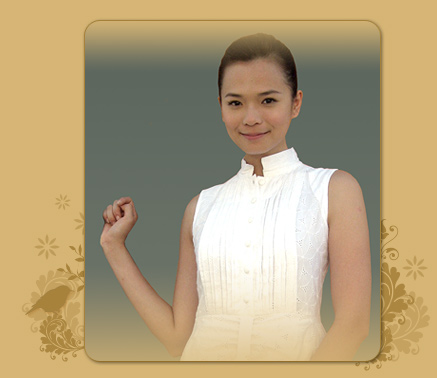 Felicia Chin - Angela/ Anqi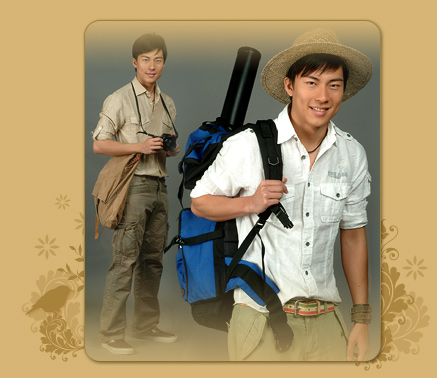 Nat Ho - Li Xiuwen

For further information, do visit the official site
(All photos used here are taken from MediaCorp official website and only for illustration purpose)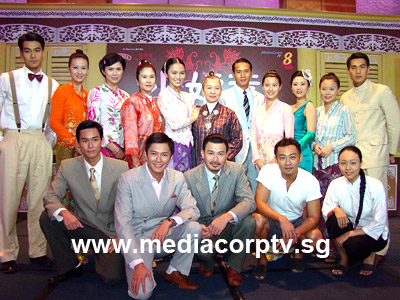 One word, this drama will definitely relive that love for Nyonya food and Peranakan culture for anyone!
Nyonya food anyone?