Annie Liu as Ma'ertai Ruolan/2nd wife to 8th Prince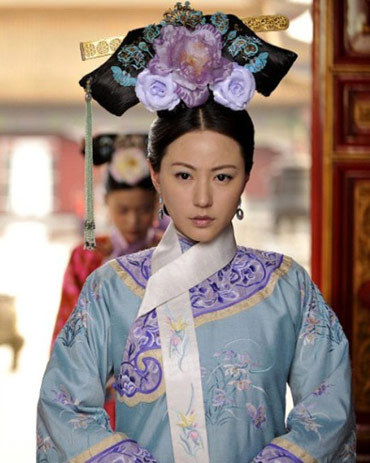 She is the probably one of the saddest characters in the drama; with her loyal undying love for a man and yet was forced to marry another. To add to the complications, the man she married ended up being the indirect reason for the death of her true love and she could never forgive him for that.
Ruolan was the eldest daughter of the Ma'ertai General and is the elder sister of Ruoxi, who was married to Yinsi, the 8th Prince as his second wife. She was unwilling as she was in love with another general working for her father, but due to political reasons, her father arranged for her marriage to Yinsi, who also had his eyes on her. Yinsi claimed that he fallen for her at first sight and had always wanted to find out about her and was extremely happy when he found that his second wife granted by the emperor was Ruolan. However, Ruolan appeared to be miserable on their wedding night which stirred Yinsi's curiosity about the man in her heart and as he tried to find out about him, his actions led to Ruolan's father trying to hide the truth to avoid trouble and thus sent Qingshan (Ruolan's true love and childhood sweetheart) to war which led to his death. Upon knowing about his death, Ruolan, then pregnant with Yinsi's child suffered a miscarriage and then turned cold towards Yinsi. She could never forgive him for Qingshan's death and kept her distance from him. Besides Ruoxi with whom she seems to be more warm and caring, she treated the rest with a graceful subtlety which made her the epitome of grace and feminity in the whole drama. However, one can see the sadness behind her eyes all the time.
Acting Skills
I have always liked Annie Liu since I watched her performance in the Taiwanese drama I Do, and I was surprised to see her in this drama as it is a first to see her in a period role but thumbs up for her convincing performance in playing that pained damsel in distress who is always waiting to be reunited with her loved one. I feel sad for Ma'ertai Ruolan, as she lived her whole life waiting and hoping to reunite with a dead lover and worrying about whether she can get off her title and connection to Yinsi and Aisin-Gioro family (back then, they believed that when you are married to the family, your soul also belong to them after your death). It was finally a happy ending for Ruolan when Yinsi agreed to divorce her and thus granting her the freedom she had always wanted.
She never loved Yinsi and I think Annie Liu managed to carry that part really well. Maybe it was because of her natural facial expression as well and I could not think of anyone else to play this role besides her. Annie is definitely a believable ladylike daughter of a general who was brought up in a noble background, she is just so charming that it is no wonder anyone could fall for her at first sight!
Shi Xiaoqun as Gororo Minghui/8th Princess Consort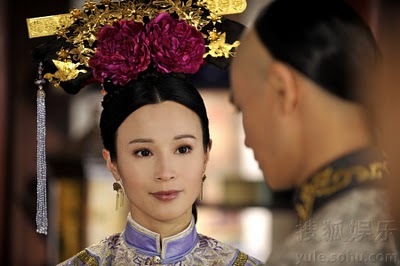 The first wife of Yinsi, and also a woman who came from a very respectable family background which made her such a suitable candidate to be a prince's first wife. She appeared to be a rather jealous and domineering character in the beginning, but slowly, it was obvious that all she was doing was out of her love for Yinsi. She is one who truly loved and gave him her all; starting from her sister, Mingyu who mentioned that she fell in love with Yinsi at first sight and had decided to dedicate her entire life to him by marrying him and no other. Her love was pure and strong, although she was constantly jealous of Yinsi's affections for Ruolan and that was the reason that she believed that Ruolan was constantly playing tricks to win Yinsi's love. In her relationship with Yinsi, she was definitely the giver and she sacrificed almost everything for him including her own life in the end. Although she loved him unconditionally, she did realize that Yinsi never reciprocated her love in full and that he was treating her more with respect than love but it did seemed like Yinsi was starting to learn to cherish her towards the end of the series. Undoubtedly another sad female character (why are all the women in the past so sad???), and I was impressed with her loyalty and devotion despite her hatred towards Ruolan because she was just a poor woman in love and desperate for her husband's attention.
Acting Skills
Amazing performance from Shi Xiaoqun; and this is my first time seeing this actress but she did a great job seriously in portraying the conservative devoted wife who fights for her husband's attention and is willing to sacrifice for her husband's life. I loved this actress and her effortless subtlety in playing the well-educated and cultured lady/first wife of a prince.
Liu Yuxin as Gororo Mingyu/10th Princess Consort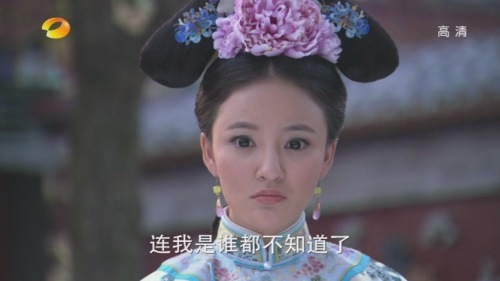 Mingyu is the younger and more temperamental sister of Minghui who was always jealous and at loggerheads with Ruoxi but it was all because of her concern for her elder sister, who was competing with Ruoxi's sister, Ruolan for Yinsi's affections. She was rather spoilt due to her noble status and also her family's connections to the royal family, and rather arrogant too, especially towards Ruoxi and Ruolan. When she was betrothed to Yin'e by the Emperor, she was a little upset as Yin'e did not seem to want her as his wife but then she accepted it as a sign of victory over Ruoxi whom Yin'e seemed rather infatuated with; thus beginning her life as the first wife of the 10th Prince.
She was always suspicious of Yin'e's relationship with Ruoxi and it was also her jealousy which led to the endless fights between her and Yin'e and even stirring up rumors about them as she is constantly said to hit her husband. She slowly mature throughout the series and it was apparent especially after the fight where Yin'e almost divorced her that they realized they loved each other the most. Like her sister, she was content to devote her life to her husband and was willing to sacrifice for Yin'e.
Possibly one of the happier characters around who had a better end compared to the rest.
Acting Skills
I heard that Liu Yuxin is a rather new actress as well, but she did well as the demanding and bratty girl who slowly grew up through the series. I just can't help enjoying her performance and her appearance often lighten up the mood of the series especially towards the middle when it starts to get rather dramatic and moody. Love her scenes with the 10th Prince!:-)
Cristy Guo as Princess Min Min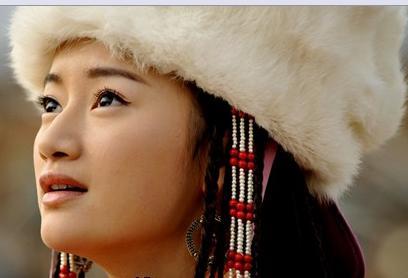 She is a rather childish yet cute princess; daughter of Prince Suwan-Guwalgiya who had a serious crush on the 13th Prince, Yinxiang. She was just so bubbly and sweet that it was impossible not to like her, but her dubbed voice did tend to get a little annoying at times. When she found out that Yinxiang did not like her in the way she liked him, she was extremely upset but she found comfort in Ruoxi who helped her to get over Yinxiang and she soon found her true love in Prince Irgen-Gioro Zuoying whom she ended up marrying. She is also a bold, defiant and loyal friend who stood up for her friends and could not stand being betrayed. This is a lovable character who seemed to be rather carefree and simple compared to the drama faced by all the other female characters in the series.
Acting Skills
Christine Guo is just cheerful and enthusiastic enough to play this gullible and naive princess and she made Minmin likeable!
Dai Chunrong as Empress Xiaogongren/Consort De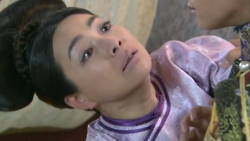 The biological mother of the 4th and 14th Prince, but she seemed to gravitate towards the 14th, Yinti in her affections and I just felt that she can be so biased as a mother. She claimed that her style in being stern towards Yinzhen (the 4th) was to ensure that he could be a role model as the elder brother to Yinti, but did she realize that she was stripping Yinzhen of his right to a happy childhood and also the feeling of being loved? It was just so obvious her affections for Yinti and she rarely looked at Yinzhen even when they were both talking to her, that like Yinzhen, I found myself wondering the same question whether Yinzhen was her real son as well? I just dislike her character, because as a mother, there should never be a display of favouritism as it would only lead to disharmony between the children, and she still had to wonder why her two sons are so cold towards each other. Did she even realize that she was the real root cause of it all?
Acting Skills
What can I say of a veteran actress? But I do have to say, Dai Chunrong, why do all your characters just seem to end up making others miserable; especially the emperor's children? In HZGG, I can understand since Little Swallow and Zi Wei were not her own children but in this drama, Yinzhen was her own son! Still, great job in playing that biased and annoying mother whom everyone cursed because of her obvious preference in the younger son.
Zhang Lei as Crown Prince Aixin Gioro Yinreng
I couldn't find photos of this guy (will probably post a screen capture later).
The crown prince, who, in history was supposed to have lost his mother at birth and was then living off his father's obvious favor of him; thus leading to him being arrogant and complacent as he believed that only he can inherit the throne. His mother's position as the then empress further attributed to his confidence in owning the throne. Unlike the crown prince in Palace (another drama), this is a very believable crown prince who was ambitious and cautious yet at the same time, lack in his own wits and tend to just appear as aggressive.
Acting Skills
A good actor to play the arrogant Crown Prince, and I could not think of anyone else!
Ye Qing as Yutan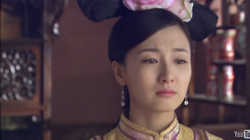 The sweet and devoted palace maid who was also Ruoxi's best friend. I am impressed with the honor of this character who, although was faced with Ruoxi's obvious popularity among the princes did not cave into jealousy, envy and hatred to do anything to harm Ruoxi and maintained loyal to her. She was one of the best and most noble characters, in my opinion as she never harbored any ill feeling towards Ruoxi and did not even scheme to take over her position when Ruoxi lost the favor of the Emperor and she was the one assigned to take Ruoxi's position at that time. She just kept waiting for Ruoxi to return and even helped her secretly in the laundry department. A true friend indeed who never forsake her in times of need. Many questioned whether Yutan was still sincere to Ruoxi when she stayed by her side as Yintang's spy when Yinzhen became the Emperor, I do think that she never intended to harm Ruoxi at all in any way and just kept her work discreet from Ruoxi as she knew that Ruoxi was in love with Yongzhen and she did not want Ruoxi to be torn between her and Yongzhen. She was devoted to Yintang, the 9th Prince, who was her saviour and benefactor and therefore, she just wanted to repay his favor although she was also deeply in love with him. Another sad female character who just gave and gave and yet never received anything in return and even met with a tragic end, but the thing is, at least there was only Ruoxi who never doubted her even when she knew that she worked for Yintang.
Acting Skills
I like the subtlety and sweet appearance of Ye Qing, and like all the actors in the series, she is perfect for the role and did an excellent job as well.
Cao Xinye as QiaoHui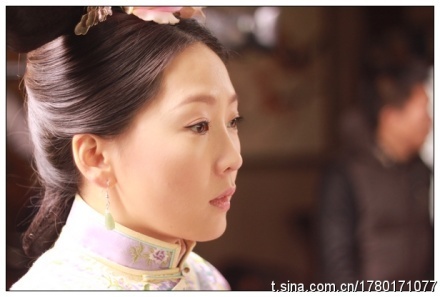 If there was ever an award for the best and most loyal servant girl/maid, Qiaohui would definitely win it! She is one of the best in the drama, yes, even surpassing Yutan as she was just so devoted to her mistresses. I just pitied her for having to go through the deaths of all her mistresses and even master; from Ruolan to Ruoxi and then the 13th Prince who left her to care for his daughter Cheng Huan.
She never left their sides and just kept serving and serving and for that, I am truly impressed with the loyalty of this lady.
Acting skills
Not too bad, I find her very subtle and natural and I love her character who was always there for her mistresses in times of need.
To be continued with the next part; Relationships Analysis and review...stay tune!