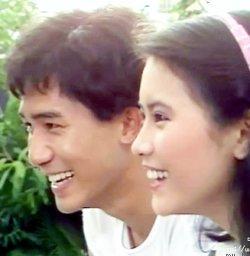 I remembered watching this sweet and light-hearted drama when I was very young. My mum used to record and keep a set of the drama for the purpose of watching it again and again.
The plot of the entire story is very simple; and they focus on how a couple who married young. They have known each other since young and were very much in love.
The series start with the couple who could not bear to be apart with each other; where we see a very young Tony Leung Chiu Wai matched with an equally pretty sweet Yammie Lam Kit Ying.
Yaw Kar Kei and Poon Ching Man knew each other since they were kids and were sweethearts all the way until college.
They were inseparable from each other; and when Ka Kei obtained his results, he was elated and the duo was eager to celebrate until Ching Man's family broke the news to her that they have successfully obtained their immigration visa to Canada where she is to further her studies for the next three years.
Although it was heart-breaking to both at the time, they have decided to act their age and accept the fact that they are about to be apart from each other for only three years; and it is for their future.
Both set a probationary period where they will not see each other for a week.
Initially all went well; but due to their close relationship, they found difficulty to spend time with other friends (or even find any enjoyable activity with anyone since they have enjoyed each other's company). They are unable to stay away from each other and they finally broke the period by meeting each other and that was when they have decided that they want to get married.
Both parents obliged; despite Ching Man's parents stating that she is too young.
However, they loved their daughter too much and could not bear to see her unhappy and therefore, they agreed to the marriage.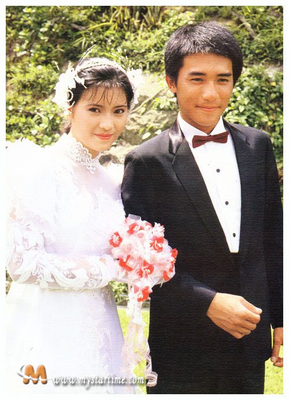 (Image taken from
http://www.mystartime.com
- credits to the original owner. Image do not belong to me or my site; and it is only for illustration)
After their wedding, the young couple moved into Kar Kei's family villa in the suburb district. Kar Kei had to look for a job to start supporting the family while Ching Man was to stay at home to be a full-time homemaker as Kar Kei was not agreeable to her being exposed to the public working world (strong male chauvinism!)
With his bachelor's degree in his hand and facing the competition from tons of other graduates which include his own coursemates, he found it a hard time to find a decent job.
Worried over their financial situation, Ching Man confided in her cousin, Ann Siew Kei Kuan (Carol Cheng) who was a renowned architect in her firm.
Ann decided to help Kar Kei by recommending him to her boss; however, the latter declined her offer and insisted on being independent in searching for his job.
This sparked off a small argument among the couple and Ching Man explained her worries about their finances if Kar Kei does not get a job soon.
Kar Kei softened and took up Ann's offer and went for the interview.
Kar Kei was hired and was due to report to Ray Lui Leong Wai (forgot his character name). Ray was actually a playboy and on Kar Kei's first day of reporting to work, he accidentally disturbed his little rendezvous in the elevator and Ray started to harbour hatred towards him.
When he learns that Kar Kei reports to him, he started to play tricks on the poor boy; sending him on errands and objecting to his ideas.
Kar Kei was under a huge pressure to perform well; instigating more petty arguments at home with his wife when she complains to him of trivial matters.
He contemplated resigning from his job but decided to stay on to fight back and prove his capability, as advised by Ann.
Meanwhile, Ray was feeling insecure with Ann's performance and in their struggle to win the favor of the boss to secure the promotion, Ray decided to pretend to court Ann to make her concentrate on her romance and forget about her work.
It succeeded and Ann soon lost her chance for promotion and starts to really fall for Ray. She was devastated and furious when she found out about the truth after the guilt-ridden Ray decided to confess to her and she swore him off forever, leaving for a long vacation overseas.
During her absence, Ray was chided and beated by Kar Kei who felt angered by his actions towards Ann as well. Ray secretly helped Kar Kei in his career, to compensate for his misdoings to the poor Ann.
Kar Kei climbed up the corporate ladder through his performance in the projects assigned to him.
At the same time, Ray came across an exotic and exciting woman by the name of Flora (Carrie Ng Kar Lai) who was actually one of the heiress to a famous and wealthy family and was frustrated with the family feud with her elder brothers who wanted her approval to sell the old ancestral mansion to which she refused.
Ray was attracted to her; but Flora turned him down.
Ray soon realized that he had also fallen for Ann when he saw her again after she returned from her trip.
Ann has transformed from an old-fashioned spinster to a trendy and attractive career woman and was approached by a famous architectural company to rejoin their crew.
She accepted the offer and was surprised to meet Ray in the same company.
Ray tried to approach her and she kept their meetings to strictly business. However, slowly, the duo found true love with each other and finally confessed to each other.
They were hitched shortly after and became a loving couple; with Ray quitting his old philandering ways.
Ray and Ann went for their honeymoon trip and the lonely Kar Kei tagged along since Ching Man had gone to Canada to visit her parents and brother.
Ray and Ann left early due to some commitments and Kar Kei stayed back, where he met Flora.
Their brief meeting bloomed into a friendship where they were both mutually attracted to each other.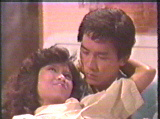 Their attraction soon launched into an affair; which Kar Kei kept hidden from his wife, Ching Man who started becoming suspicious when Kar Kei occasionally surprised her with luxurious gifts.
On one of her window-shopping trips, she chanced upon the adulterous couple in Flora's antiques shop whom she had gotten acquainted with Flora earlier.
She was devastated and hurt, but she held back the confrontation with her husband and worked to improve herself.
She cooked meals to have Kar Kei back at home; but was disappointed with his various excuses when he came home late at night.
She finally confided in Ann; who set to work things right. Ann confronted Kar Kei and told him about Ching Man's discovery and her emotions; causing the latter to be conscious of his own guilt.
He promised Ching Man that he will end the affair with Flora; but kept returning and lying to Ching Man.
When Ray found out that his lover was Flora, he warned Kar Kei and confronted Flora at the same time; warning her to stay away from Kar Kei.
The final straw came when Kar Kei promised to have dinner with Ching Man and did not come home and the latter packed her bags and left the house.
Kar Kei was with Flora and when he found out that Ching Man had left him, he made up his mind to be with Flora, arranging for his lover to move in with him.
Their romance did not last long; when Flora whose free-willed and adventurous ways annoyed Kar Kei to no end when he came home after a long day's work to no dinner and playing in the rain.
They argued and Flora decided to leave him; stating her loss of interest in a boring man like him.
At the same time, Ching Man was arranging to migrate to Canada and had gotten her visa; when Ann and Ray informed Kar Kei after Ching Man revealed to Ann that she still had feelings for Kar Kei.
On the day when Ching Man was due to fly off to Canada, Kar Kei appeared in the car to drive her to airport and begged her to stay.
The couple reunited with each other again; and it was a happy ending!
Personally, I loved how Yammie Lam looked...she was just so sweet and lovely as the innocent and kind-hearted Ching Man.
I think her character has done a good job as a homey wife and in no way should Kar Kei treat her like that.
I laughed when I saw how young Tony Leung was in this drama and how their fashion was like back then.
His character was despicable; seriously, not just because I was consumed by my emotions and let me analyze why he had no reason (at ALL) to treat her the way he did in the drama:
1. He asked Ching Man to let go of her studies and her future and her own family by staying back to marry him and she was left all alone in HK because she loved him!
2. He did not even allow her to work and to do what she liked; it was all to his liking and his own opinion without regarding her thoughts and emotions
3. He lost his temper at her when he was stressed at work and blamed her for it??? That's so unreasonable! What had she done, apart from cooking and cleaning up the house and not even losing her temper?
4. He cheated on her and still lost his temper at her!
5. She did not even confront or showed her anger at him when she found out about his affair with Flora
To be frank, I don't think Kar Kei deserved Ching Man at all....she was definitely TOO GOOD for him!
As for Ann and Ray, I think they are also a lovely couple and I loved how the two of them had gone through the tribulations and transformed and mature along the way.
They are definitely one of the best couple in this drama!
I love this drama; I think I have watched it more than 2-3 times....not enough to beat my record for A Taste of Bachelorhood, I think :P