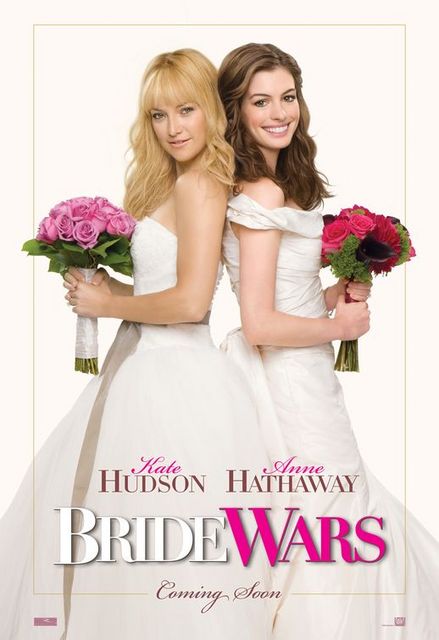 Liv (Kate Hudson) and Emma (Anne Hathaway) have been best friends since they were little girls.
They have been connected to each other through the idea of a perfect wedding ever since they both attended a tea party with both of their mothers at the Plaza Hotel sometime in June where they witnessed a beautiful wedding taking place and they had wished that they will someday experience that lovely moment with the man of their dreams and it must be in June and in that magical Plaza Hotel which they loved so much and dreamed of it as their perfect wedding venue.
With the shared notion and dreams of their wedding, they have been planning their wedding all their lives, to make it the perfect one and the two girls are inseparable and they share every single secret and details in their lives.
Now in their mid-twenties, they have both found the man in their lives and surprise sprung unto them when they boyfriends proposed to them at about the same time.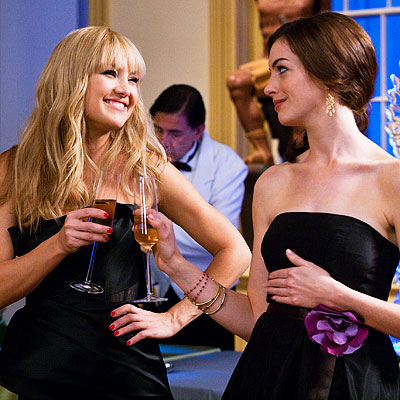 Actually, Liv found a Tiffany box hidden in her closet when she was clearing her closet with Emma and she was expecting her boyfriend, Nate to propose.
However, before Nate could propose (he was waiting for the right time), Emma's boyfriend Fletcher proposed first and Emma was on her way to planning her wedding at Plaza Hotel.
Desperate and rushing against time, Liv got agitated with the delay Nate is putting on his proposal and ran to his office to propose to him, instead.
Nate laughed it off and told her that if she had waited for that night, he was definitely proposing.
Now both best friends are engaged and they sought the advice and service of New York's most popular wedding planner and booked their dates; respectively on the 6th and 27th of June and made each other the maid of honors.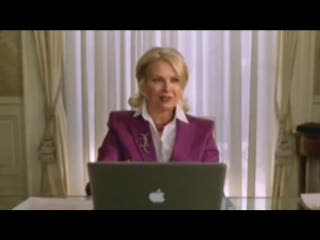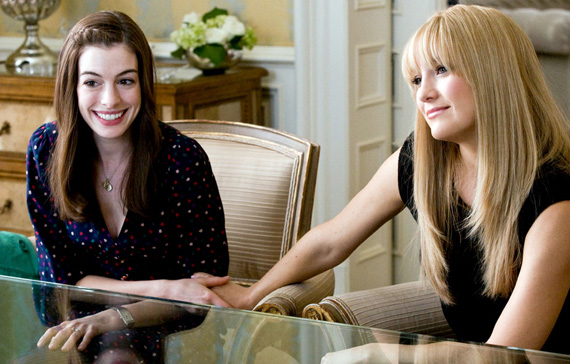 They were thrilled and started going shopping for wedding gowns when the wedding planner called to inform them that there has been a mistake and that their weddings have been scheduled on the same date; by her secretary whom she sacked immediately.
Both best friends were annoyed and tried to persuade the other lady who was mistakenly booked on one of the dates to give up her wedding date to Emma/Liv and it didn't work.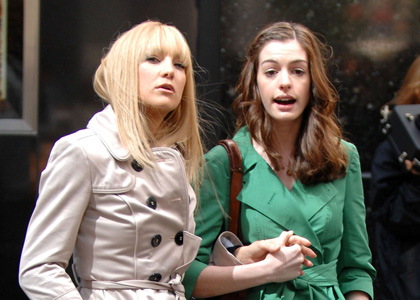 Both girls then told each other that "one of them" would have to shift the date or the venue and until they have decided, they will put all their wedding plans on hold.
So it was, but deep down inside, both girls have confided in their fiances that they expect their best friend to back down; because they know them well enough.
The fiances both suggested that they can consider the idea of a double wedding but both girls refused to comprehend the idea.
When Emma found out from Fletcher that Liv has gotten her "Save-dates cards", she immediately thought that Liv had betrayed her and gone back on her word.
Furious, she decided that two can play the game and she whipped out her white laptop (which was pretty classy by the way) and sent out an email to all her girlfriends; carefully omitting Liv to inform them of her set wedding date; on June 6th at Plaza Hotel.
Liv was equally furious at Emma when they met at the girls' gathering and both declared war at that point; following which they started to launch secret attacks behind each other's back to spoil the wedding for the other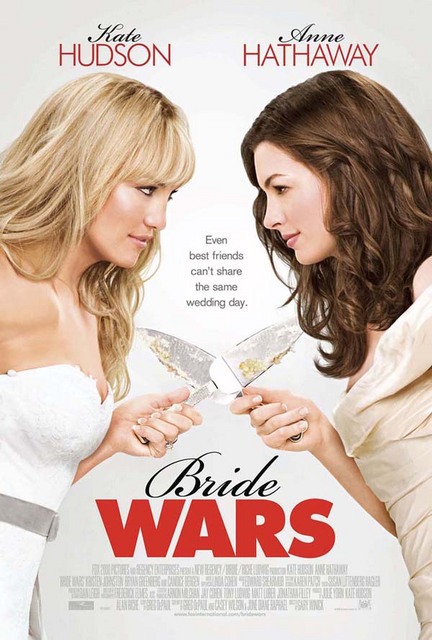 Emma had to seek the help of her colleague whom she hates to be her maid of honor while Liv had to ask her male colleague to do it. Emma was then brainwashed by her mean colleague to start sending cookies, chocolates and all those sweet treats to Liv; as courtesy of her fiance to make Liv put on weight so that she couldn't fit into her Vera Wang dress.
Liv struck back by sneaking into Emma's tanning session and caused her to end up with a orange tan a week to the wedding. Emma lashed back and caused Liv's bleaching session to turn her hair into blue.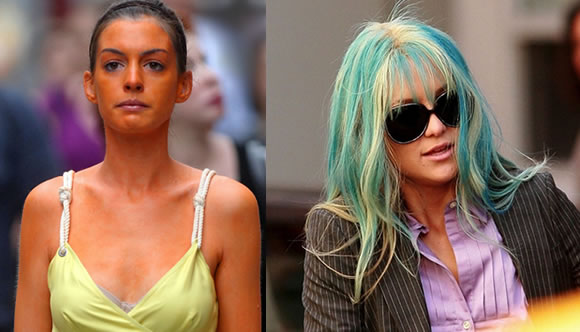 Emma even went to Liv's bacholerette party to outshine her.
Deep down inside though, both girls are already starting to miss each other and started feeling guilty about being mean to each other.
They even wanted to get back to each other.
On the wedding day itself, both were getting ready and were secretly wishing the best for each other.
They met at the hallway; and they both smiled and waved right before the ceremony.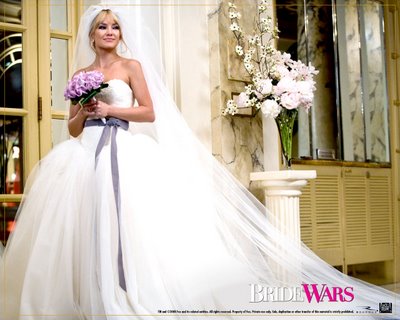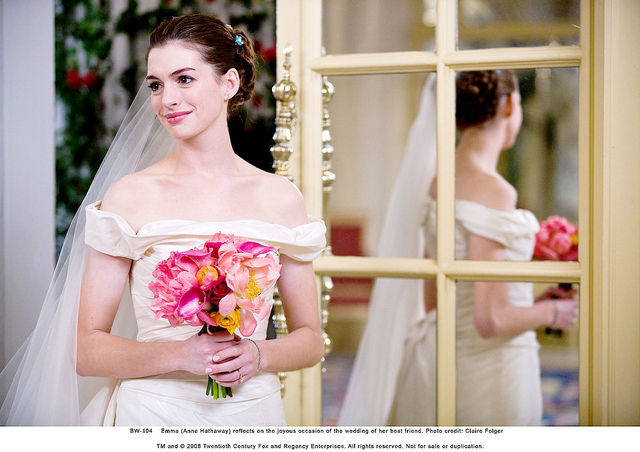 Emma was being led down the aisle by her father to the beautiful tune of the wedding march when all of a sudden, when she was midway on the aisle, the song turned into a video which showed a woman dancing the same way as Emma on the night of the bachelorette party and Fletcher was annoyed.
Emma, screamed and stormed into the other hall where Liv was getting ready for her walking down the aisle as well, when Emma jumped on her and the two had a catfight.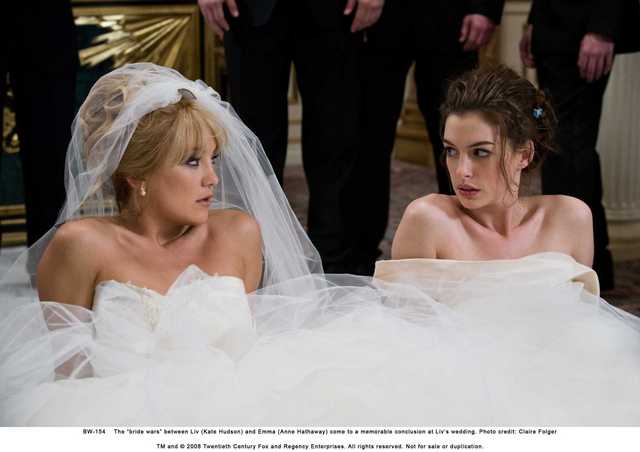 Liv's brother told the others not to tear them apart and let them have it.
The girls calmed down and they apologized to each other, while Emma decided that Fletcher was too controlling and skeptical of whatever she did and they broke off at Liv's wedding.
The best friends reconciled with Emma resuming her role as the maid of honor and walked her down the aisle.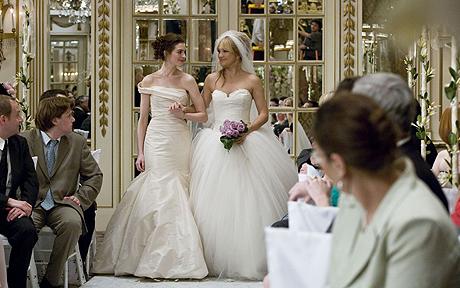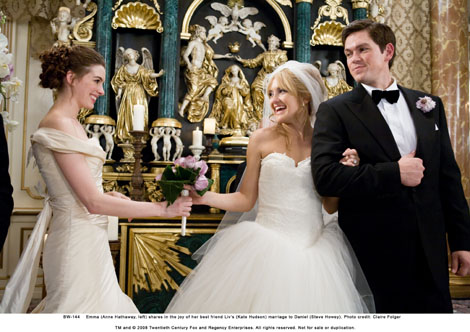 One year later, both girls were pregnant (Emma married Liv's brother - I've always thought that he was much better suited for her right from the start of the movie!)
and guess what, they are both due on the same date again!
I really loved this movie to bits; and I have wanted to watch it the moment I saw the trailer and the much advertised posters and storyline.
Ironically, I didn't get to watch until 2-3 months later and I loved it so much.
It made me think of my best friend and how girl best friends are just the best
It was touching and heart-warming; I was moved to tears towards the ending.
I can't decide whether it was tears of joy or sadness, but I guess, I just felt that at one part, I was just connecting it to real life and since I really missed my best friend as well, it just flooded my eyes.
Watch it for the following reasons:
1. If you are girl
2. You have a girl best friend whom you trust a lot and shares all sort of stories
3. You are a boy and you would love to see how girls bitch about each other when they are mad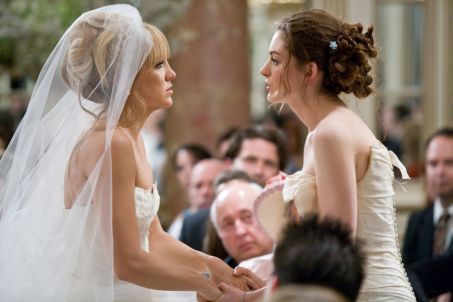 For whatever reasons, just watch it....
Better still, watch it with your best friend
Cry along with her, and who knows you may both end up hugging and sharing even more stories with each other...a good chatting session!
Frankly, I don't even want to imagine being in a fight with my bestie; it's like fighting yourself since we've both known each other so well! YUCKS!
*pushing thought out of mind*
I LOVE this movie....
Rating: 4.5 out of 5
(I love it!)